MICROBIOLOGICAL ORGANISMS AND THEIR ANTIMICROBIAL SENSITIVITY CAUSING VENTILATOR ASSOCIATED PNEUMONIA (VAP)
Antimicrobial Sensitivity Causing Ventilator Associated Pneumonia
Umer Ul Haq

Combined Military Hospital Lahore Pakistan

Haq Nawaz Awan

National University of Sciences and Technology, Islamabad Pakistan

Waseem Raja

141 Medical Battalion Rawalpindi Pakistan

Waseem Wali

Military Hospital/National University of Medical Sciences Rawalpindi (NUMS) Pakistan

Nadia Sultan

*Military Hospital/National University of Medical Sciences Rawalpindi (NUMS) Pakistan
Keywords:
Bacteria, Drug sensitivity, Resistant organism, Ventilator associated pneumonia.
Abstract
Objective: To determine the frequency of different causative bacteriological organisms and their antibiotic
sensitivity from Endotracheal Aspirate (EA) of patients suffering from Ventilator Associated Pneumonia (VAP).
Study Design: Prospective cross sectional study.
Place and Duration of Study: Intensive Care Unit (ICU), Combined Military Hospital (CMH) Lahore, from May
2013 to Nov 2013.
Material and Methods: A total of 180 cases of VAP, fulfilling the ınclusion criteria and admitted in the ICU, were
included in the study using the non-probability consective sampling technique. A written informed consent was
obtained from the family. All these patients underwent endotracheal aspirate for microscopy and culture.
Antibiotic sensitivity was determined using standard antibiotics regimens.
Results: Out of 180 patients, 165 (91.7%) were culture positive while 15  (8.3%) were culture negative. Gramnegative
bacilli accounted for about 70% of all isolates. The most common organism isolated was Pseudomonas
aeruginosa 25% (n=45) followed by MRSA 18.9% (n=34), Klebsiella 15.6% (n=28), Actinobacter spp 13.3% (n=24),
E.coli 11.7% (n=21) and Citrobacter spp 4.4% (n=8). Carbapenem was the most sensitive drug that was seen in our
setup but still 43.9% of the isolates showed resistance against it and resistance was noted still higher with
Actinobacter spp, where 83% isolates were resistant. Quinolones showed resistance in 100% of the isolates of
Actinobacter, MRSA and Citrobacter. While more than 50% strains of Pseudomonas, E.coli and Klebsiella were also
resistant to quinolones. Cephalosporins showed excellent sensitivity towards gram negative bacteria which
included Citrobacter (100% sensitive) and E.coli (80% sensitive). Polymxins showed more than 50% sensitivity to
Pseudomonas aeruginosa, Actinobacter, E. coli and Klebsiella.
Conclusion: VAP remains a very important hospital-acquired infection. The most prevalent etiological organism
in our study was Pseudomonas aeruginosa and the most effective antibiotics were carbapenems.


Downloads
Download data is not yet available.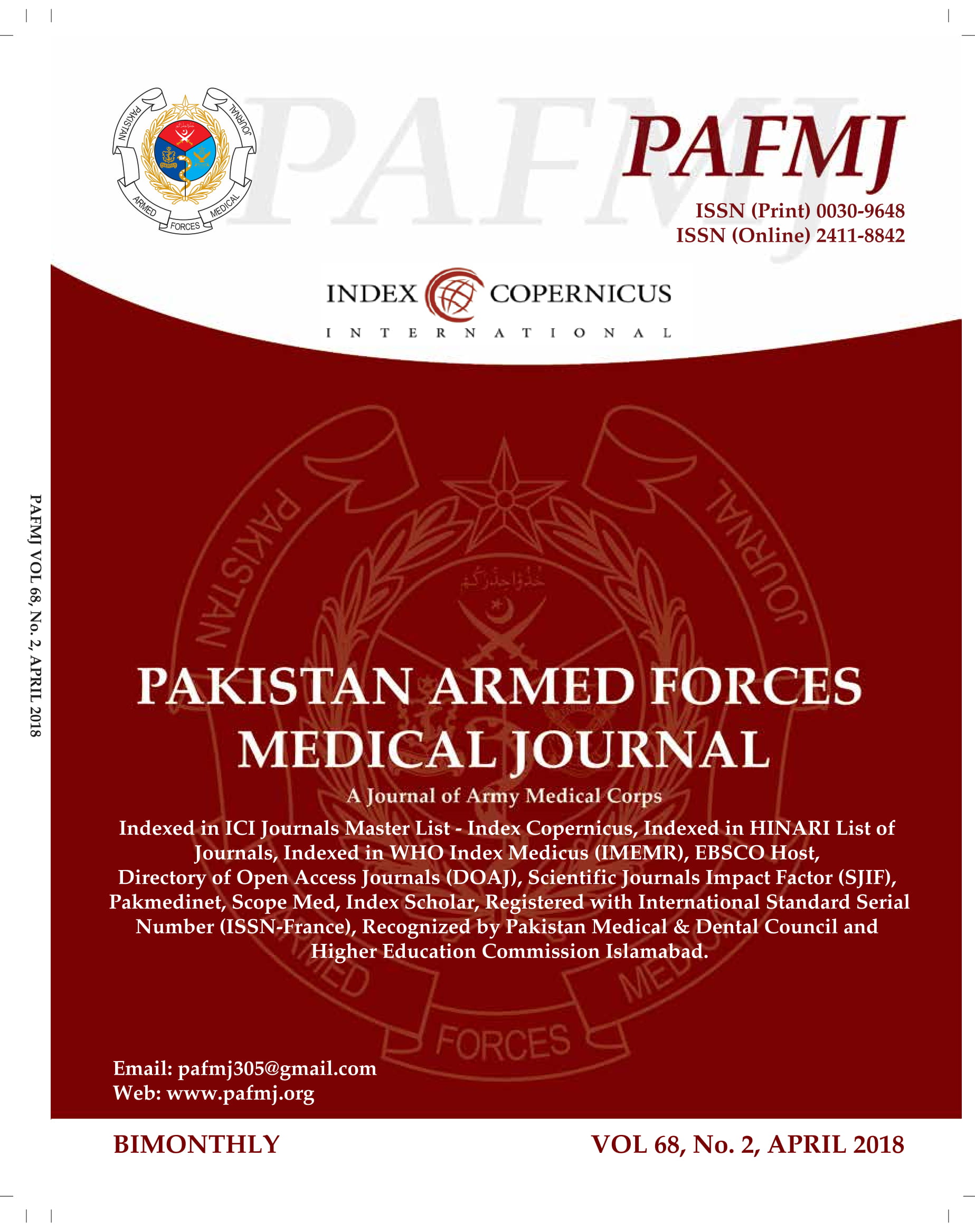 How to Cite
Haq, U., Awan, H., Raja, W., Wali, W., & Sultan, N. (2018). MICROBIOLOGICAL ORGANISMS AND THEIR ANTIMICROBIAL SENSITIVITY CAUSING VENTILATOR ASSOCIATED PNEUMONIA (VAP). PAFMJ, 68(2), 191-97. Retrieved from https://www.pafmj.org/index.php/PAFMJ/article/view/130
Section
Original Articles