ORGANISM CAUSING VENTILATOR-ASSOCIATED PNEUMONIA IN CHILDREN PRESENTING AT TERTIARY CARE HOSPITAL, KARACHI
Organism Causing Ventilator-Associated Pneumonia
Mohammad Iqbal,

Ziauddin Medical University, Karachi Pakistan

Ameer Ali Jamali

University of Medical Health Sciences, Nawabshah Pakistan
Keywords:
Children, Mechanical ventilation, Ventilator-associated pneumonia
Abstract
Objective: To determine the prevalence of organism causing ventilator associated pneumonia (VAP) in children presenting at Tertiary Care Hospital, Karachi.
Study Design: A cross-sectional descriptive study.
Place and Duration of Study: The study has been conducted at MICU of Zia Uddin Hospital Karachi, from Aug
2015 to Jul 2016.
Material and Methods: Patients required mechanical ventilation were included in the study from the age range of 6 months to 15 years. Information for the assessment was retrieved from the hospital databases with hospital's ethical approval and consent from patients' parents or guardians.
Results: Prevalence of VAP had been high among males and the children belonging to age range of 6 months to 4 years. Out of 83 patients, Pseudomonas aeruginosa (38.6%), E. coli (30.1%), Staphylococcus aureus (9.6%), Klebsiella (9.6%), Streptococcus (7.2%) and Acinobacter (4.8%) with VAP.
Conclusion: The need for preventive measures and treatment options to avoid the bacterial colonization in the patients undergoing mechanical ventilation.


Downloads
Download data is not yet available.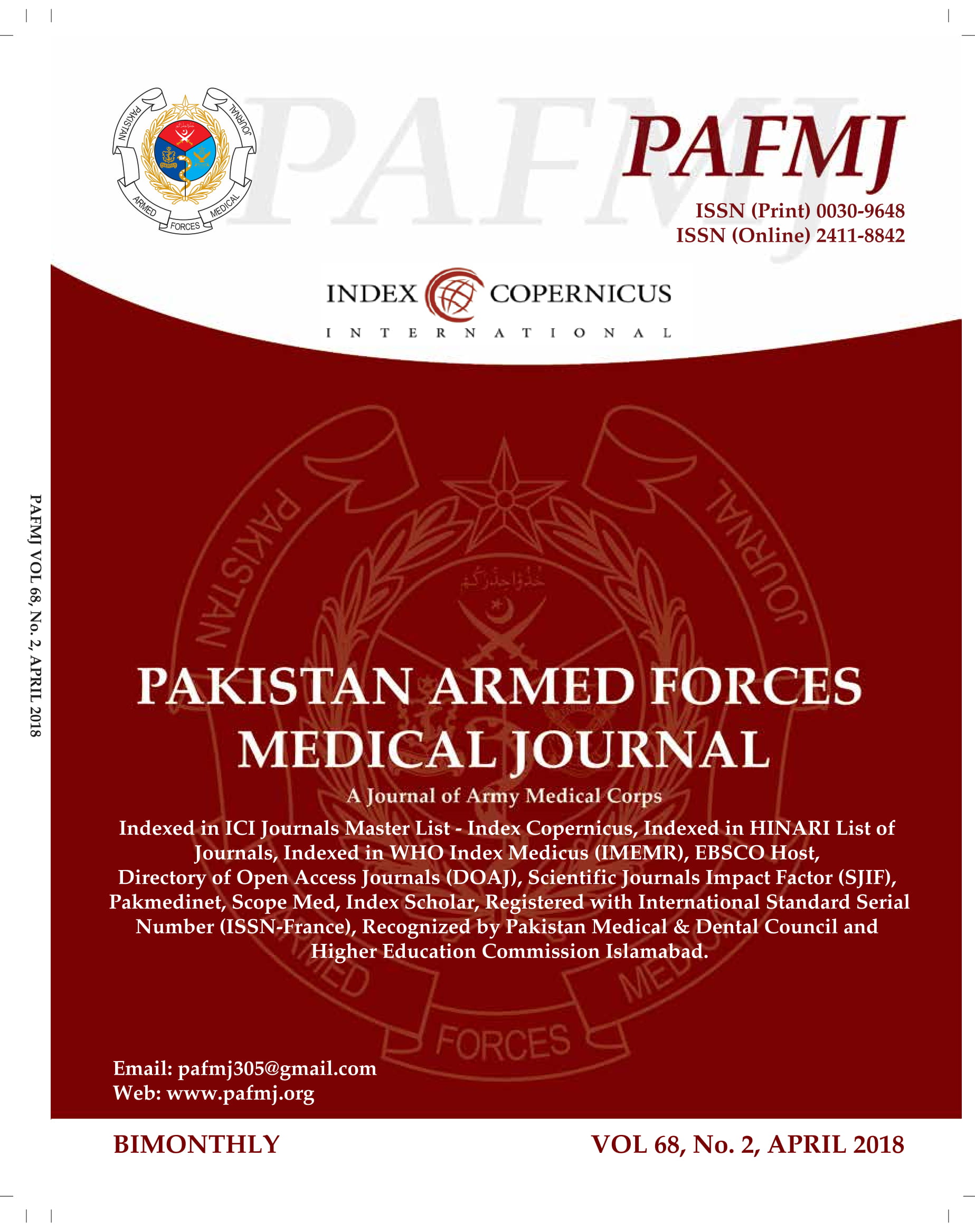 How to Cite
Iqbal, M., & Jamali, A. (2018). ORGANISM CAUSING VENTILATOR-ASSOCIATED PNEUMONIA IN CHILDREN PRESENTING AT TERTIARY CARE HOSPITAL, KARACHI. PAFMJ, 68(2), 294-99. Retrieved from https://www.pafmj.org/index.php/PAFMJ/article/view/1314
Section
Original Articles