ROTAVIRUS INFECTION IN CHILDREN UNDER 2 YEARS OF AGE AT TERTIARY CARE HOSPITAL
Rotavirus Infection in Children
Syed Saddam Hussain

Pakistan Naval Ship (PNS) Shifa Hospital Karachi Pakistan

Nazir Ahmed Malik

Military Hospital/National University of Medical Sciences (NUMS) Rawalpindi Pakistan

Fahim Ahmed Subhani

Military Hospital/National University of Medical Sciences (NUMS) Rawalpindi Pakistan

Sana Yousuf

Military Hospital/National University of Medical Sciences (NUMS) Rawalpindi Pakistan
Keywords:
Acute watery diarrhea, Children, Pakistan, Rotavirus infection
Abstract
 Objective: To determine frequency of rotavirus infection in children under 2 years of age presenting with acute watery diarrhea at tertiary care hospital.
Study Design: Cross sectional study.
Place and Duration of Study: Department of Pediatrics, MH Rawalpindi, from Jan to Jun 2016.
Material and Methods: Total 246 children, hospitalized with complaints of non-bloody acute watery diarrhea at the time of admission were included. Stool samples were collected and transported to Armed forces institute of Pathology (AFIP) for stool antigen detection for Rotavirus. Descriptive statistics were calculated. Stratification was done and post stratification Chi-square test was applied. A p-value <0.05 was considered as significant.
Results: There were 48.8% (120) male and 51.2% (126) female children. Mean no. of stools per day were 6.62 ± 1.92 in children whose stools for Rotavirus antigen were positive in 174 (70.7%) patients, no. of stools per day was significantly associated with positive results.
Conclusion: Rotavirus was found to be positive in majority of children causing substantial morbidity. There was significant association of rotavirus infection with increased no of watery stools per day.


Downloads
Download data is not yet available.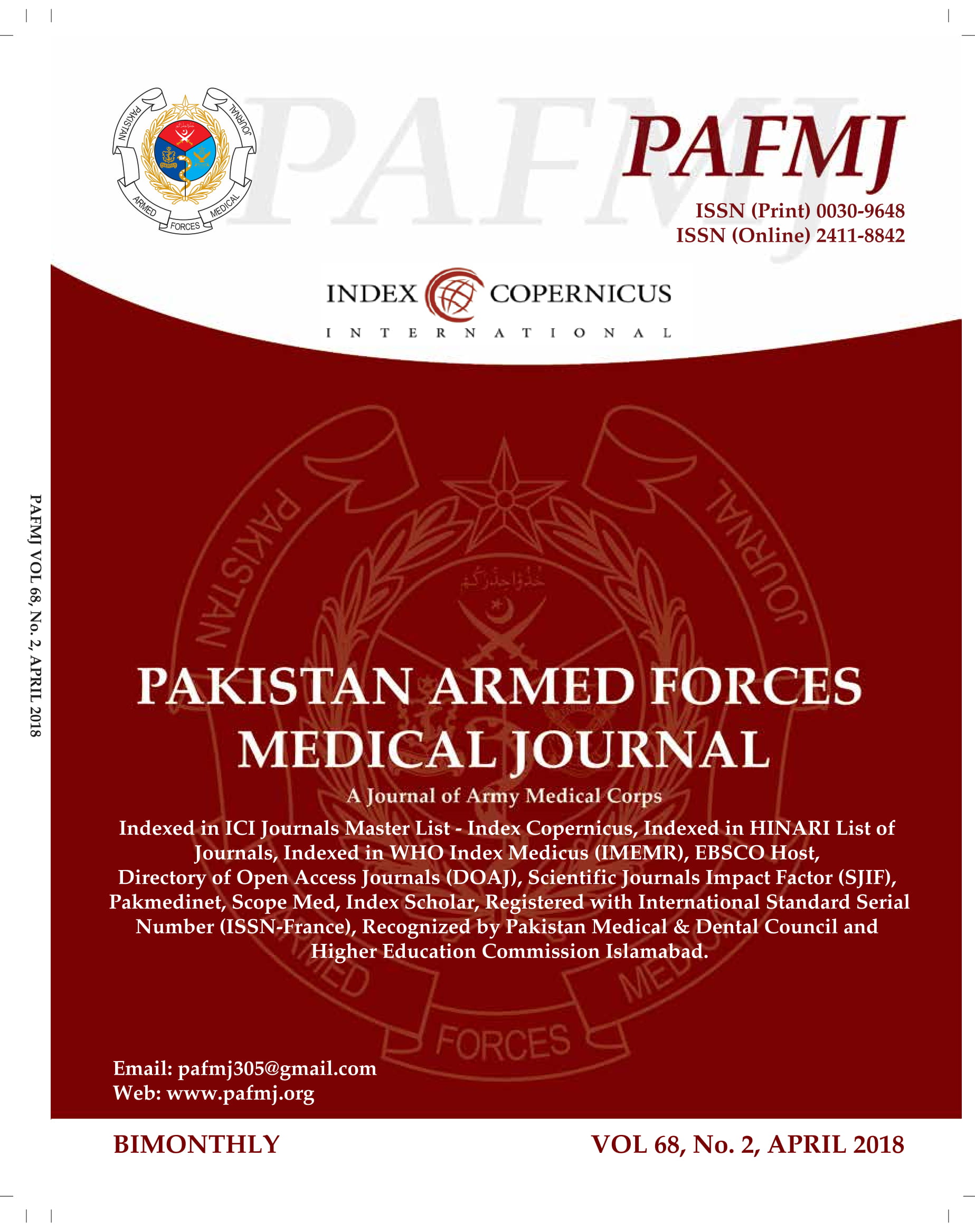 How to Cite
Hussain, S., Malik, N., Subhani, F., & Yousuf, S. (2018). ROTAVIRUS INFECTION IN CHILDREN UNDER 2 YEARS OF AGE AT TERTIARY CARE HOSPITAL. PAFMJ, 68(2), 305-09. Retrieved from https://www.pafmj.org/index.php/PAFMJ/article/view/1389
Section
Original Articles