ASSOCIATION OF SERUM P1NP (N-TERMINAL PROPEPTIDE OF TYPE1 COLLAGEN) AND BONE MINERAL DENSITY (BMD) IN OSTEOPOROSIS
BMD And P1NP
Afshan Iftikhar

Ziauddin Medical University, Karachi Pakistan

Tayeb Asim

Ziauddin Medical University, Karachi Pakistan

Anwar Ul Islam

Ziauddin Medical University, Karachi Pakistan

Syed Tousif Ahmed

Ziauddin Medical University, Karachi Pakistan
Keywords:
Bone mineral density, Osteoporosis, Osteopenia, P1NP
Abstract
Objective: To access the variation of P1NP levels in normal, osteopenic and osteoporotic females and to study its correlation of with BMD in pre and post-menopausal women at hip and spine.
Study Design: Cross sectional study.
place and Duration of Study: Ziauddin Hospital, Clifton Campus, Karachi during Jan to Dec 2017.
Material and Methods: A sample of 267 randomly selected females that fulfilled the exclusion and inclusion
criteria were included in the study. BMD was assessed by DEXA Scan while P1NP levels were measured using
electrochemilluminescnet technique using Roche Cobas analyzer at Ziauddin hospital Karachi. Elecsys 2010,
Modular analytics E170 Cobas e immunoassay analyzer. Data was collected using a self-designed Questionnaire. ANOVA was applied to compare mean differences of P1NP levels in pre and post-menopausal women in normal, osteopenic and osteoporotic groups. Regression analysis was used to determine association between P1NP level and BMD levels at spine and hip.
Results: A significant negative correlation was found between P1NP and BMD at both the sites, while a strong
association was established in P1NP and BMD spine, while for hip bone this association was non significant.
Conclusions: Our study concludes that P1NP is a reliable biomarker for prediction of bone density of spine and is negatively correlated with the density.


Downloads
Download data is not yet available.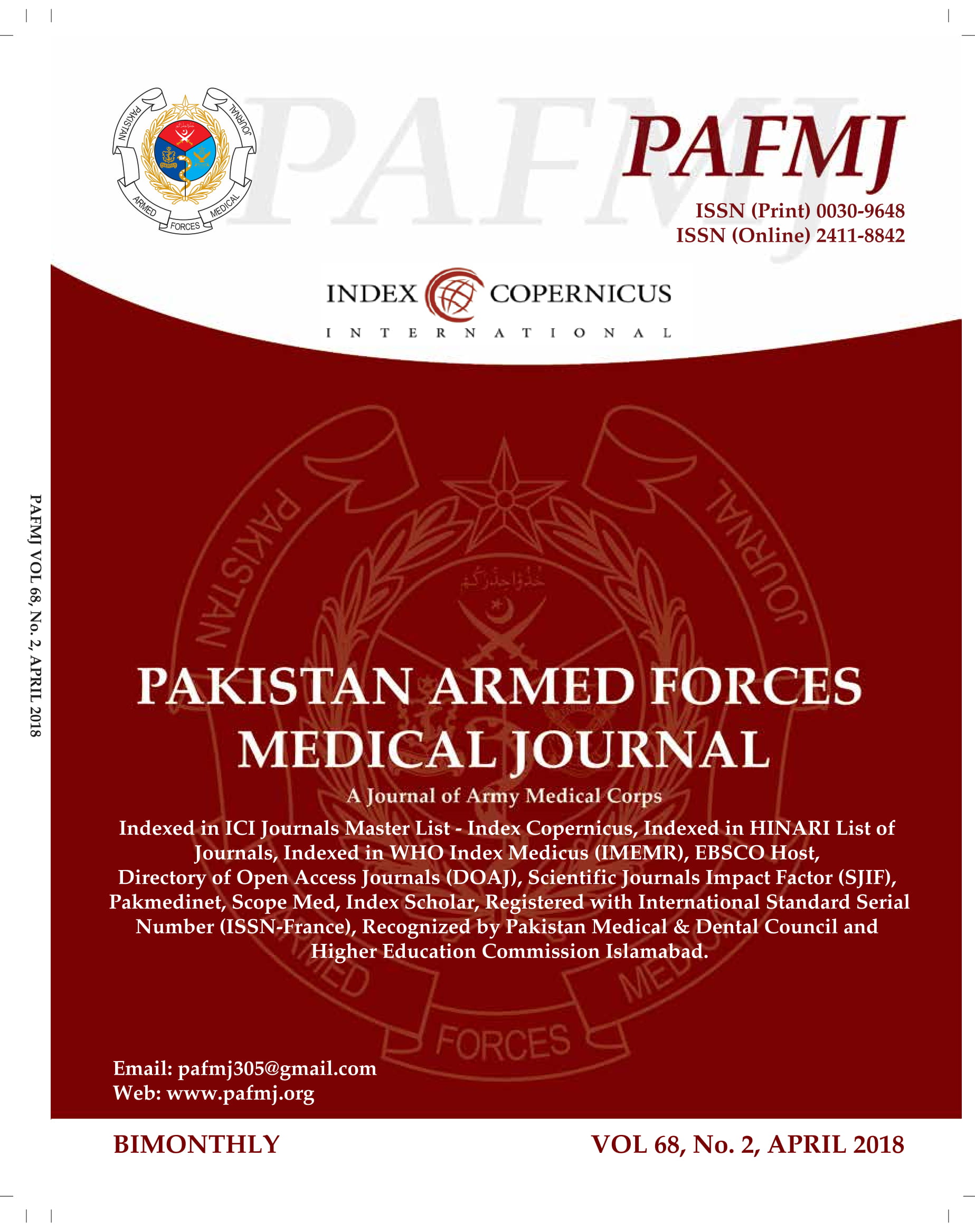 How to Cite
Iftikhar, A., Asim, T., Islam, A., & Ahmed, S. (2018). ASSOCIATION OF SERUM P1NP (N-TERMINAL PROPEPTIDE OF TYPE1 COLLAGEN) AND BONE MINERAL DENSITY (BMD) IN OSTEOPOROSIS. PAFMJ, 68(2), 357-62. Retrieved from https://www.pafmj.org/index.php/PAFMJ/article/view/1461
Section
Original Articles