NEURO-PSYCHIATRIC MANIFESTATIONS OF HASHIMOTO THYROIDITIS; A CASE SERIES
Neuro-Psychiatric Manifestations of Hashimoto Thyroiditis
Jahanzeb Liaqat,

Military Hospital/National University of Medical Sciences (NUMS) Rawalpindi Pakistan

Waseem Raja

144 Medical Battalion Goma Siachin Pakistan

Waseem Wali

Military Hospital/National University of Medical Sciences (NUMS) Rawalpindi Pakistan

Muhamad Umar Javed

123 Medical Battalion Siachen Pakistan
Keywords:
Autoimmune disease, Encephalitis, Hashimoto thyroiditis
Abstract
Hashimoto Encephalopathy (HE) or Steroid-Responsive Encephalopathy associated with Autoimmune
Thyroiditis (SREAT) is a rare autoimmune disease characterized by encephalopathy and elevated anti-thyroid
antibodies in the absence of a central nervous system (CNS) infection, tumour or stroke. Clinical presentation of HE includes amnestic syndrome, seizures including status epilepticus, ataxia, myoclonus and psychiatric
manifestations like depression, mania, psychosis and hallucinations. A good clinical response can be achieved with corticosteroid therapy so early diagnosis and treatment is very beneficial for patients. Here we report fourpatients with Hashimoto encephalopathy who had neuro-psychiatric manifestations of the disease and had detectable thyroid specific antibodies in the serum (thyroperoxidase antibody formerly known as antimicrosomal antibody). All these patients showed an objectively significant response to methylprednisolone treatment.


Downloads
Download data is not yet available.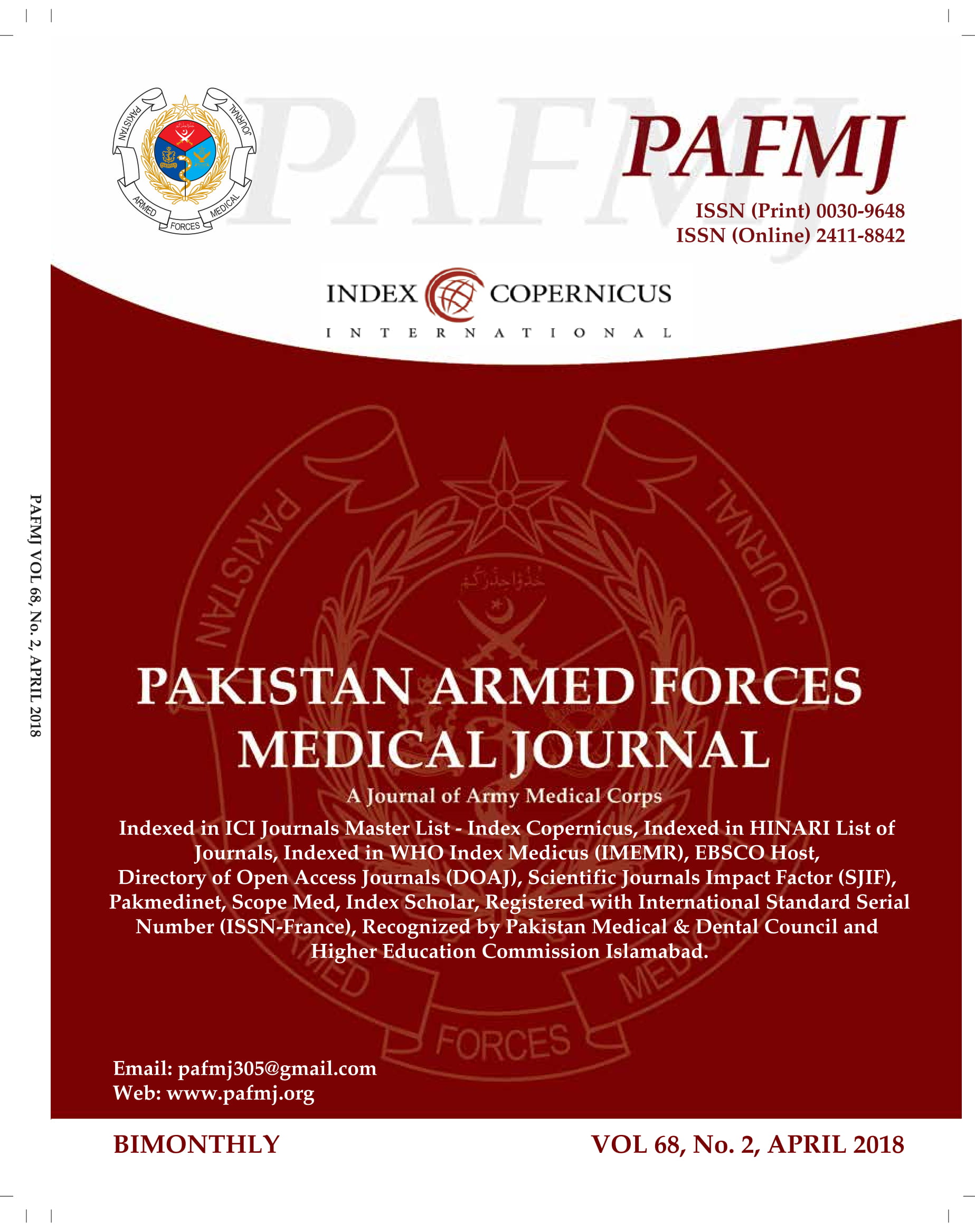 How to Cite
Liaqat, J., Raja, W., Wali, W., & Javed, M. (2018). NEURO-PSYCHIATRIC MANIFESTATIONS OF HASHIMOTO THYROIDITIS; A CASE SERIES. PAFMJ, 68(2), 369-73. Retrieved from https://www.pafmj.org/index.php/PAFMJ/article/view/1470
Section
Original Articles