RISK OF ACQUIRING CUTANEOUS LEISHMANIASIS IN TRIBAL AREAS OF PAKISTAN
Risk of Acquiring Leishmaniasis
Shaista Nayyar

Sahiwal Medical College, Sahiwal Pakistan

Asif Niaz

Combined Military Hospital Okara Pakistan

Muhammad Farooq

Ehsan Zafar

Combined Military Hospital Okara Pakistan
Keywords:
Cutaneous Leishmaniasis, Odds ratio, Risk factors, Waziristan
Abstract
Objective: To assess the risk of acquiring cutaneous leishmaniasis (CL) in tribal areas of Pakistan.
Study Design: A cross sectional observational study.
Place and duration of study: Combined Military Hospital, Okara, from Oct 2014 to Mar 2015.
Material and Methods: A total of 4500 persons between the ages of 22 to 50 years, who were moved from central areas of Punjab to Waziristan on duty, were studied for the occurrence of CL. All cases was developed cutaneous lesions and were confirmed as having CL were included in the study. During the same period, 4300 persons living at Okara, who did not have any exposure to the Federally Administered Tribal Area in same age group, were also observed and studied as control group.
Results: A total of 36 patients suffered from CL in the study population, while one case from the control group developed the disease (p<0.05). This patient was resident of Sindh and had repeated visits to his home station.The risk of developing CL was greater in Waziristan as compared to central Punjab as odds ratio (OR) was calculated as 30.79.
Conclusion: There is substantial risk of developing CL in persons exposed to tribal areas of Pakistan.


Downloads
Download data is not yet available.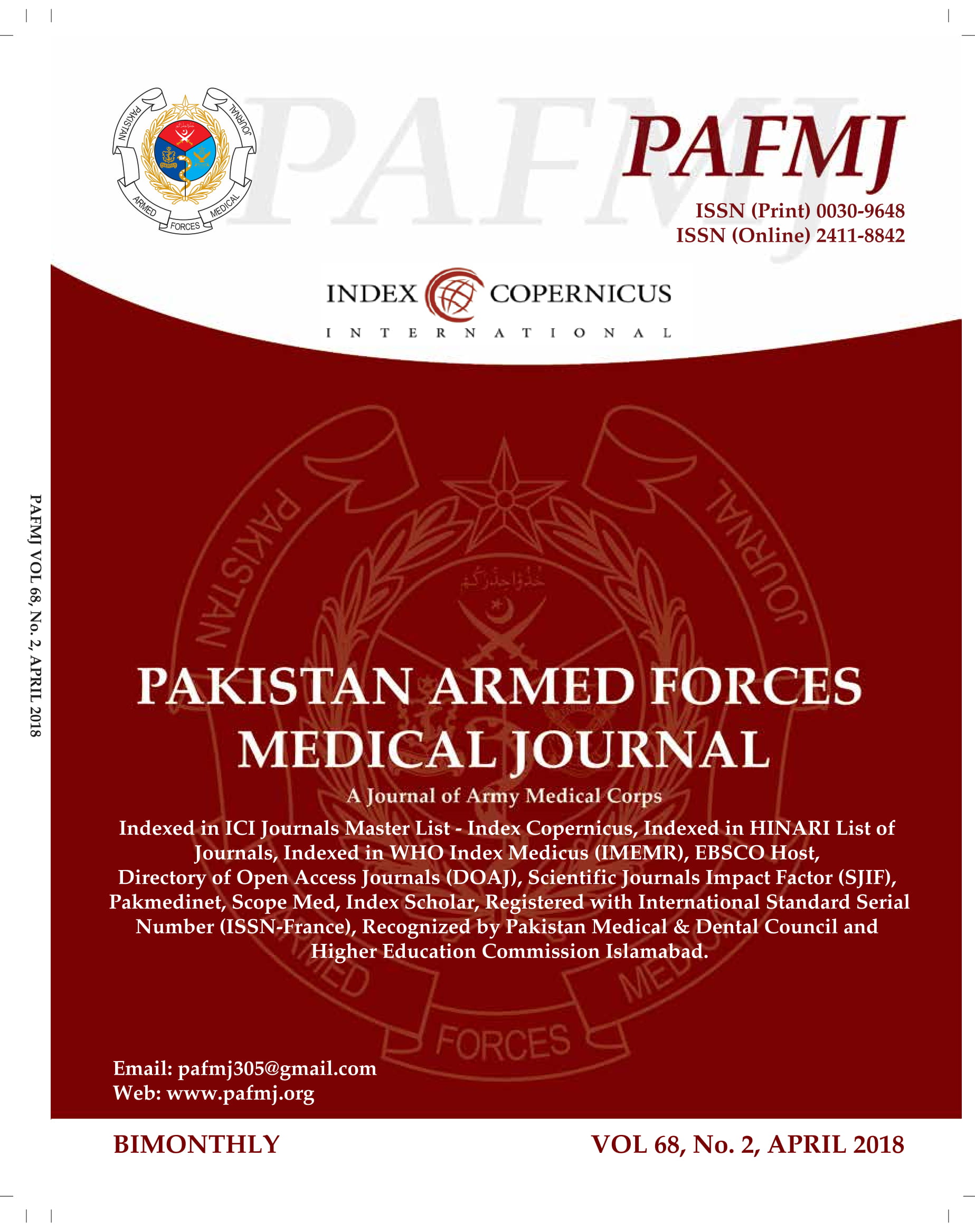 How to Cite
Nayyar, S., Niaz, A., Farooq, M., & Zafar, E. (2018). RISK OF ACQUIRING CUTANEOUS LEISHMANIASIS IN TRIBAL AREAS OF PAKISTAN. PAFMJ, 68(2), 400-403. Retrieved from https://www.pafmj.org/index.php/PAFMJ/article/view/1532
Section
Medical Education