PATTERN OF PERIPHERAL VASCULAR DISEASE IN TROOPS AND TROOP FAMILIES IN ARMED FORCES
Pattern of Peripheral Vascular Disease
Afshan Fayyaz

Army Medical College/National University of Medical Sciences (NUMS) Rawalpindi Pakistan

Ahsin Manzoor Bhatti

Combined Military Hospital/National University of Medical Sciences (NUMS) Rawalpindi Pakistan

Umar Fayyaz Ghani

Combined Military Hospital Multan Pakistan
Keywords:
Femoropopliteal disease, Infrainguinal disease, Peripheral vascular disease
Abstract
Objective: To delineate pattern of peripheral vascular disease (PAD) (upper or lower limb vessels) among troops and their families in the Armed Forces.
Study Design: Cross sectional descriptive study.
Place and Duration of Study: Armed Forces Institute of Cardiology (AFIC) and National Institute of Heart Diseases (NIHD) Rawalpindi and Combined Military Hospital (CMH) Rawalpindi over a 3 year period, from Aug 2012 to Aug 2015.
Material and Methods: All serving and retired army personnel and their families were included in the           study. Method of sampling was non probability convenience sampling. The total number of patients was 156.    All referrals were from CMH vascular surgery department. All arteriograms were performed on Siemens angiography equipment without facility of DSA (digital subtraction angiography). The lesions were placed in one of the following categories: normal category in whom either the vessels were normal or minimally diseased without any flow limitation, short and long segment stenoses, and short and long segment occlusions and diffusely diseased vessels. The arteriogram of infra inguinal region was divided into femoropopliteal segment and infra popliteal segment.  SPSS version 14 was used to calculate the frequency and percentage of various disease patterns.
Results: The pattern of peripheral vascular disease was divided in the lower limb in infra inguinal region into femoropopliteal disease and infra popliteal disease. The predominant pattern of disease in the femoro popliteal segment was long segment occlusion and the disease pattern in the infra popliteal segment was diffuse disease of the involved vessels. The predominant pattern of disease in upper limb was long segment blockage.
Conclusion: Peripheral vascular disease among soldiers and families show advanced disease pattern at presentation.
Downloads
Download data is not yet available.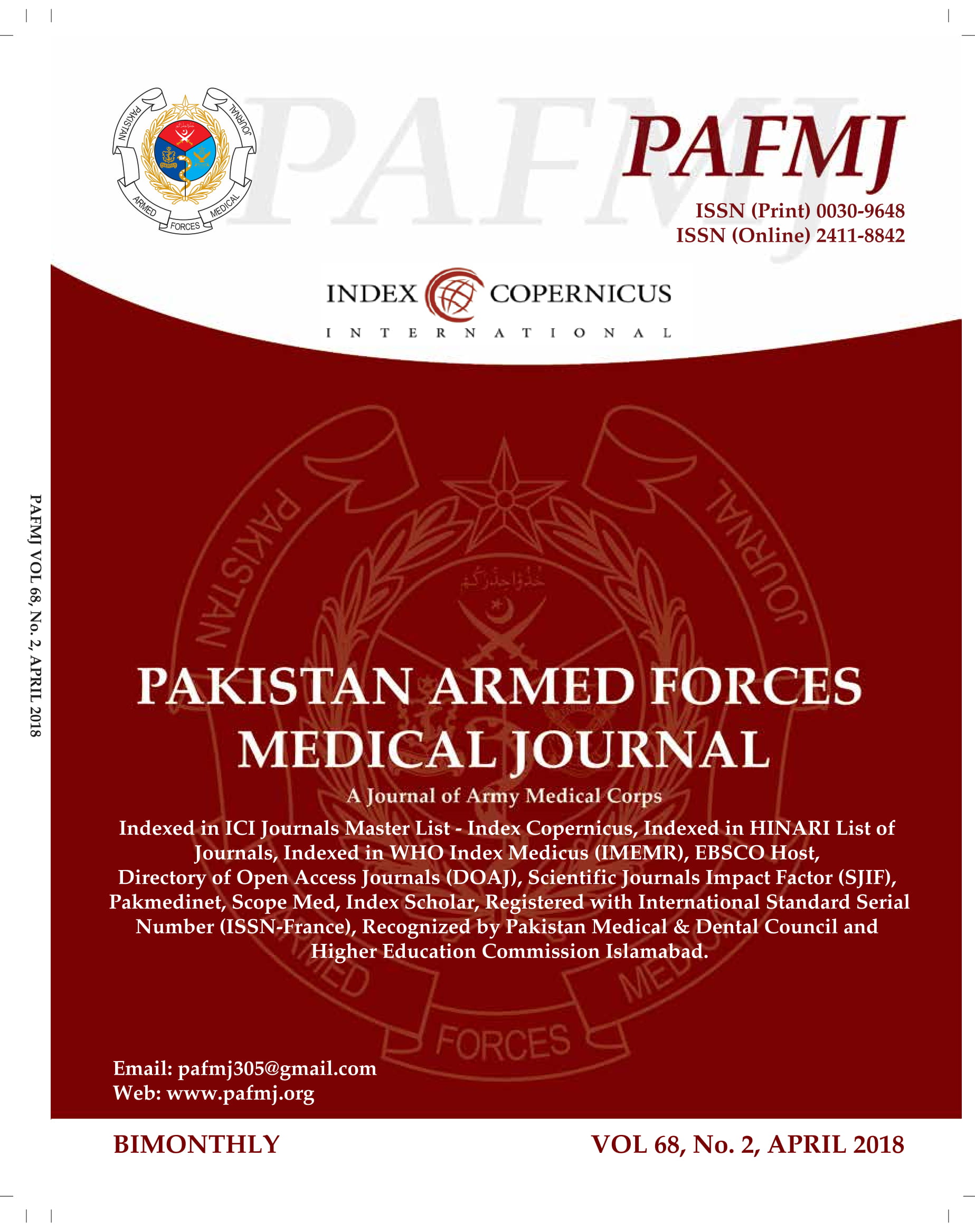 How to Cite
Fayyaz, A., Bhatti, A., & Ghani, U. (2018). PATTERN OF PERIPHERAL VASCULAR DISEASE IN TROOPS AND TROOP FAMILIES IN ARMED FORCES. PAFMJ, 68(2), 269-272. Retrieved from https://www.pafmj.org/index.php/PAFMJ/article/view/2098
Section
Original Articles