TO DETERMINE THE OUTCOMES OF FREE TISSUE TRANSFER FOR LARGE SCALP AND FOREHEAD DEFECTS RECONSTRUCTION
Outcomes of Free Tissue Transfer
Aamna Sanober

Shifa International Hospital, Islamabad Pakistan

Mamoon Rashid

Shifa International Hospital, Islamabad Pakistan

Shumaila Yousaf,

Shifa International Hospital, Islamabad Pakistan

Ishtiaq Ur Rehman

Shifa International Hospital, Islamabad Pakistan

Samia Fatima,

Shifa International Hospital, Islamabad Pakistan

Farhan Ahmed Eitezaz

Shifa International Hospital, Islamabad Pakistan
Keywords:
Forehead defect, Free flap, Scalp defects
Abstract
Objective: To determine the outcomes of free tissue transfer for large scalp and forehead defects reconstruction.
Study Design: A descriptive case series.
Place and Duration of Study: The study was carried out at Plastic surgery department, Shifa International
Hospital Islamabad, over a period of 5 years from Mar 2011 to Feb 2016.
Material and Methods: All the patients who underwent scalp reconstruction for soft tissue or composite defects greater than 6cm2 during the period of 5 years were included in the series and were followed post operatively for 6 months. The patient's demographic data, medical history, surgical history, comorbidities, age, and gender were also analyzed. Indications for surgical intervention included cutaneous malignancy of the scalp, bony tumors, vascular lesions and traumatic tissue loss requiring reconstruction.
Results: A total of 20 patients (60% female and 40% male) with mean age of 38.75 years (SD=14.44), who underwent a reconstructive surgery for scalp defect, were assessed. The scalp defect were secondary to tumor resection(n=10; 50%), post-traumatic wounds (n=5, 25%) and resection of vascular malformations (n=5, 25%). Free flaps used for reconstruction were: Antero Lateral Thigh Free Flap (ALTF) (n=8; 40%), Radial Forearm Free Flap (RFFF)(n=6, 30%), free latissimus dorsi (n=4, 20%) and Transversus Abdominis muscle (TRAM) flap (n=2, 10%).
Conclusion: Scalp and forehead defects, if treated adequately, can heal with stable and aesthetically acceptable results and flap selection should be individualized according to the defects, patient's factors and availability of particular flap.
Keywords: Forehead defect, Free flap, Scalp defects.
Downloads
Download data is not yet available.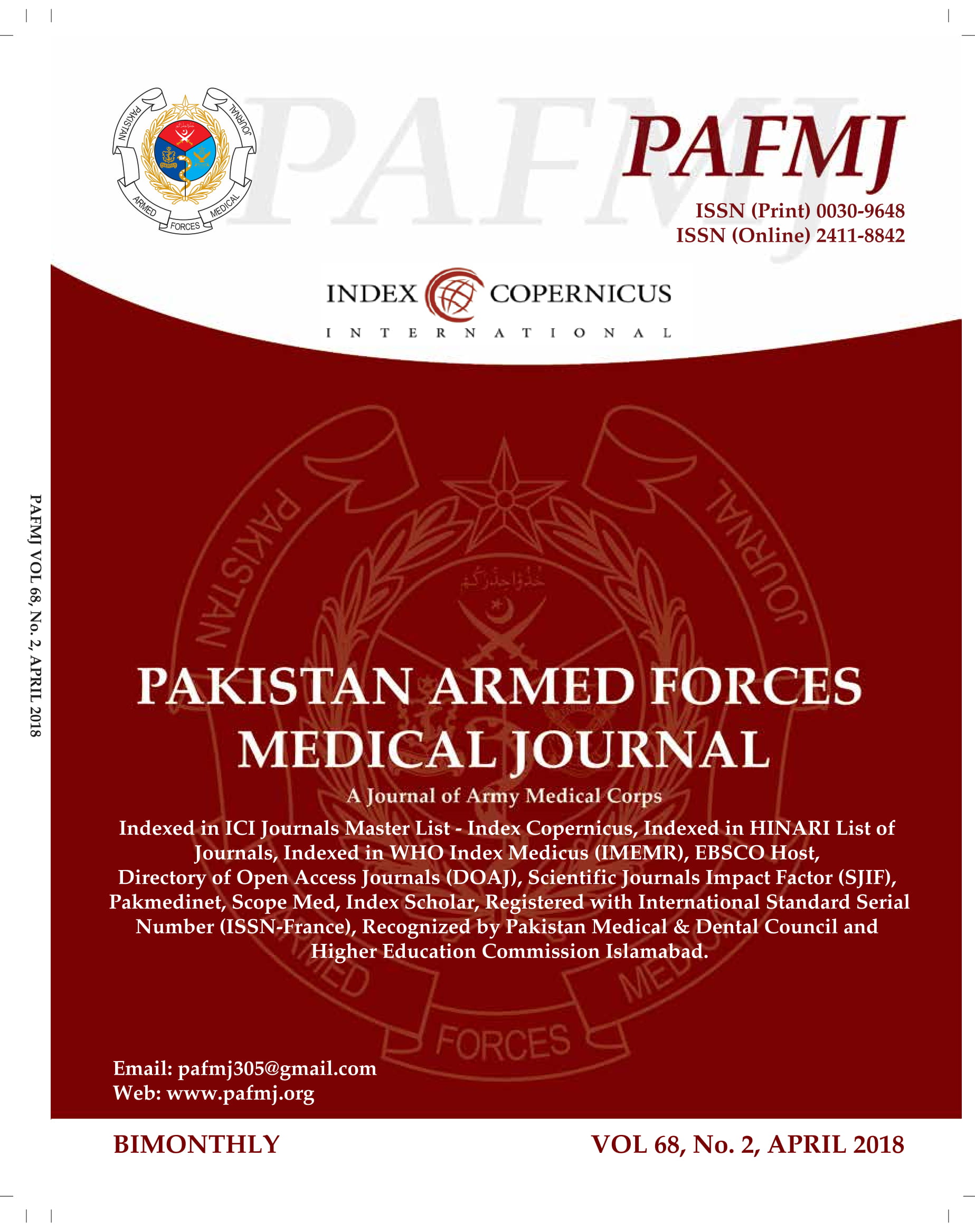 How to Cite
Sanober, A., Rashid, M., Yousaf, S., Rehman, I., Fatima, S., & Eitezaz, F. (2018). TO DETERMINE THE OUTCOMES OF FREE TISSUE TRANSFER FOR LARGE SCALP AND FOREHEAD DEFECTS RECONSTRUCTION. PAFMJ, 68(2), 230-35. Retrieved from https://www.pafmj.org/index.php/PAFMJ/article/view/281
Section
Original Articles