RESULTS OF IRRIGATION OF MAXILLARY SINUS WITH METRONIDAZOLE AFTER ANTRAL WASHOUT IN PATIENTS WITH CHRONIC MAXILLARY SINUSITIS
Irrigation of Maxillary Sinus With Metronidazole After Antral Washout
Amir Ali Khan

Combined Military Hospital Bahawalpur Pakistan

Amanat Ali Shah

*Combined Military Hospital Mangla Pakistan,

Amanat Ali Shah

*Combined Military Hospital Mangla Pakistan,

Tehmina Rehman

Massachusetts University of Pharmacy and Health Sciences Boston Massachusetts America

Abdullah .

Combined Military Hospital Bahawalpur Pakistan
Keywords:
Metronidazole, Rhinorrhea,, Sinusitis
Abstract
Objective: To compare the results of antral washout with and without metronidazole irrigation of maxillary sinus in patients with chronic maxillary sinusitis.
Study Design: Quasi experimental study.
Place and Duration of Study: This Quasi experimental study was carried out in Combined Military Hospital
Khuzdar and Combined Military Hospital Attock, from Mar 2013 to Apr 2015.
Patient and Method: One hundred patients who were between 20-50 years of age were included in this study.Half of them received antral irrigation of metronidazole in addition to postoperative oral antibiotics were compared with the other half who received just oral antibiotics after antral washout procedure. Clinical success was compared in both groups in terms of patients becoming asymptomatic.
Results: Clinical success in both groups at the end of the study was 94% and 80% of patients with antral irrigation of metronidazole and without it respectively showing that metronidazole irrigation is superior method.
Conclusion: Antral irrigation with metronidazole after antral washout procedure in patient with chronic
maxillary sinusitis is very effective in early recovery from the disease.
Keywords: Metronidazole, Rhinorrhea, Sinusitis.
Downloads
Download data is not yet available.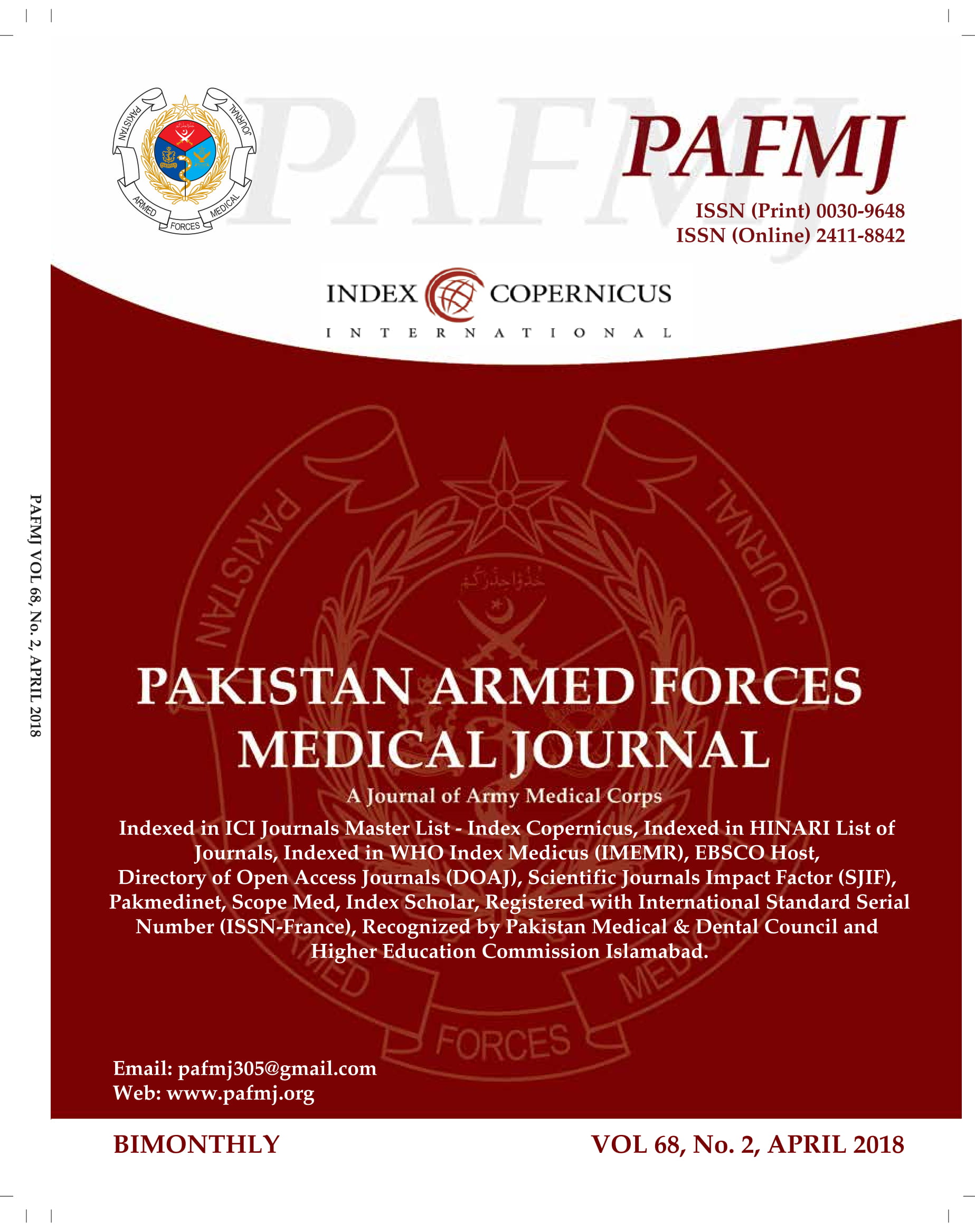 How to Cite
Khan, A., Shah, A., Shah, A., Rehman, T., & ., A. (2018). RESULTS OF IRRIGATION OF MAXILLARY SINUS WITH METRONIDAZOLE AFTER ANTRAL WASHOUT IN PATIENTS WITH CHRONIC MAXILLARY SINUSITIS. PAFMJ, 68(2), 241-44. Retrieved from https://www.pafmj.org/index.php/PAFMJ/article/view/324
Section
Original Articles