CHEMICAL CAUTERIZATION WITH SILVER NITRATE IN CLOSING SMALL DRY TYMPANIC MEMBRANE PERFORATIONS
Sunarays Akhtar

PAF Hospital Shahbaz, Jacobabad Pakistan

Uzma Gul

PAF Hospital Shahbaz, Jacobabad Pakistan
Keywords:
Cautery, Silver nitrate, Tympanic membrane perforation
Abstract
Objective: To compare the effectiveness of chemical cautery by silver nitrate with spontaneous closure in small and dry tympanic membrane perforations.
Study Design: Quasi experimental study.
Place and Duration of Study: The study was conducted at ENT department, Combined Military Hospital Jhelum, from Jan 2016 to Dec 2017.
Methodology: Sixty four patients of either gender, with unilateral, pin hole and dry tympanic membrane perforation in the pars tensa were selected. Written, informed consent was taken and hospital ethical committee approval was obtained. Patients were divided randomly into two groups of 32 patients each. Patients in group A were treated with silver nitrate. Patients in group B were reassured for spontaneous closure. Success rates in both groups were recorded. Impact of age, gender, laterality, etiology and duration of perforation on successful healing in both groups was assessed.
Results: The success rate in group A was significantly higher than group B (p-value 0.0057). The proportion of traumatic perforations was significantly higher in the successful cases of both groups (p-value for group A 0.0180 and for group B 0.0183). In group B significantly more patients were able to achieve spontaneous closure in whom the perforation was <4 weeks old (p-value 0.0047).
Conclusion: Chemical cautery with silver nitrate was an effective means of treating small dry tympanic membrane perforations. Traumatic perforations and those <4 weeks have a higher chance of spontaneous closure.
Downloads
Download data is not yet available.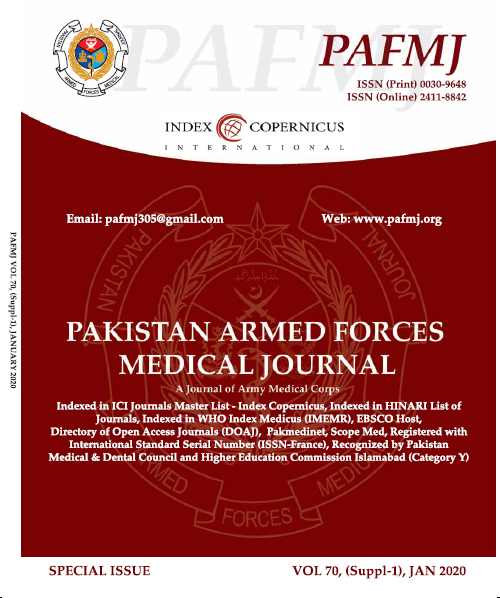 How to Cite
Akhtar, S., & Gul, U. (2020). CHEMICAL CAUTERIZATION WITH SILVER NITRATE IN CLOSING SMALL DRY TYMPANIC MEMBRANE PERFORATIONS. PAFMJ, 70(Suppl-1), S146-50. Retrieved from https://www.pafmj.org/index.php/PAFMJ/article/view/3812
Section
Original Articles