USE OF ENDOLIGHT FOR LOCALIZTION OF LACRIMAL SAC IN ENDONASAL ENDOSCOPIC DACRYOCYSTORHINOSTOMY
Muhammad Ayub Bhatti

Ziauddin University Hospital, Karachi Pakistan

Khalid Hussain Mahida

Ziauddin University Hospital, Karachi Pakistan

Zeba Ahmed

Dow University of Health Sciences, Karachi Pakistan

Amber Khalid

Ziauddin University Hospital, Karachi Pakistan

Shehla Dareshani

Dow University of Health Sciences, Karachi Pakistan

Ali Akber Aftab

Dow University of Health Sciences, Karachi Pakistan
Keywords:
Dacryocystitis, Dacryocystorhinostomy, Endoscopy, Epiphora
Abstract
Objective: To evaluate success of vitrectomy endolight for the localization of lacrimal sac in endonasal endoscopic dacryocystorhinostomy performed for the treatment of nasolacrimal duct obstruction.
Study Design: Prospective observational study.
Place and Duration of Study: Study done in department of Ophthalmology and Otorhinolaryngology, Ziauddin University Hospital Kemari and Dr. Ruth K. M. Pfau Civil Hospital Karachi, from Jan 2011 to Jan 2019.
Methodology: Patients with obstruction of nasolacrimal duct causing epiphora and recurrent swelling at medial canthus due to dacryocystitis were included. Written consents were taken. Stryker endolight system was used to perform endoscopic endonasal dacryocystorhinostomy surgery. Surgical success in terms of percentages was calculated.
Results: Endonasal endoscopic dacryocystorhinostomy was performed in 100 patients, mean age was 35.5 ± 10.5 years. Ninety-Five out of 100 patients had a successful result and got relief from epiphora. Five patients had procedure failure in the form of persistent epiphora. So success rate was 95%.
Conclusion: Use of vitrectomy endolight greatly helped in the localization of lacrimal sac in endoscopic dacryocystorhinostomy. It routine use should be encouraged during these procedures.
Downloads
Download data is not yet available.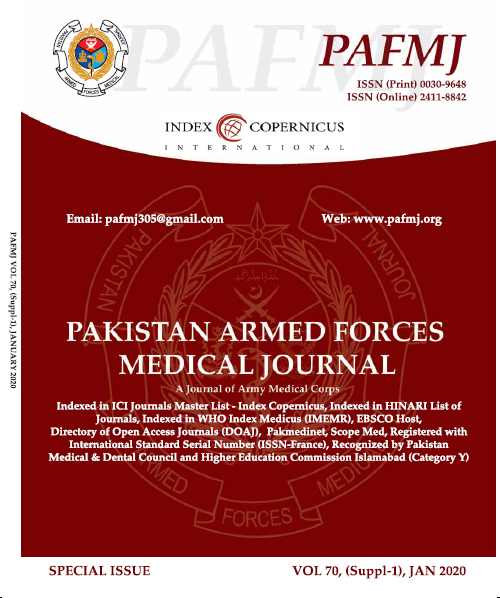 How to Cite
Bhatti, M., Mahida, K., Ahmed, Z., Khalid, A., Dareshani, S., & Aftab, A. (2020). USE OF ENDOLIGHT FOR LOCALIZTION OF LACRIMAL SAC IN ENDONASAL ENDOSCOPIC DACRYOCYSTORHINOSTOMY. PAFMJ, 70(Suppl-1), S156-59. Retrieved from https://www.pafmj.org/index.php/PAFMJ/article/view/3814
Section
Original Articles