CLINICAL SPECTRUM, COMPLICATIONS AND OUTCOME OF ATYPICAL HEMOLYTIC UREMIC SYNDROME
Junaid Ahmed

The Children's Hospital and Institute of Child Health, Lahore Pakistan

Farkhanda Hafeez

The Children's Hospital and Institute of Child Health, Lahore Pakistan

Fauzia Shafi Khan

The Children's Hospital and Institute of Child Health, Lahore Pakistan

Naureen Akhtar

The Children's Hospital and Institute of Child Health, Lahore Pakistan
Keywords:
Atypical hemolytic syndrome, Clinical spectrum, Complications, Outcome
Abstract
Objective: To Determine the clinical spectrum, complications and outcome of atypical Hemolytic uremic Syndrome (aHUS).
Study Design: Case series study.
Place and Duration of Study: The Children's Hospital & The Institute of Child Health Lahore, from Mar 2017 to Jun 2018.
Methodology: Twenty five Children fulfilled the inclusive and exclusive criteria of atypical hemolytic uremic syndrome. Their demographics, clinical characteristics, investigations and treatment modalities used, were docu-mented on the specially designed proforma.
Results: Out of twenty five cases, 15 (60%) were male and 10 (40%) were female with mean age of presentation being 8.47 ± 3.8 years. Seven children (28%) each with preceding history of respiratory tract infection (RTI) and family history of HUS. Twenty four (96%) children presented with anemia, hematuria in 15 (60%). Respiratory distress in 9 (36%) children and seizure in 7 (28%). Fragmented RBCs were present in all children, with throm-bocytopenia in 22 (88%). Plasma therapy in 23 (92%) patients and plasma exchange was offered to 2 (8%) while peritoneal dialysis was done in 18 (72%) and hemodialysis was continued in 10 (40%) subjects. Hypertension was persistent in both acute and chronic phase of illness.
Conclusion: Although not uncommon, atypical hemolytic uremic syndrome have variable presentation with high mortality rate. Therefore one should be vigilant in prompt diagnosis as early detection can improve outcome of disease.
Downloads
Download data is not yet available.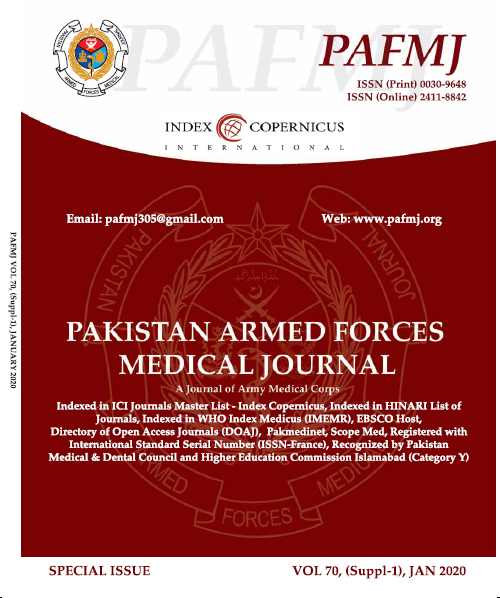 How to Cite
Ahmed, J., Hafeez, F., Khan, F., & Akhtar, N. (2020). CLINICAL SPECTRUM, COMPLICATIONS AND OUTCOME OF ATYPICAL HEMOLYTIC UREMIC SYNDROME. PAFMJ, 70(Suppl-1), S176-81. Retrieved from https://www.pafmj.org/index.php/PAFMJ/article/view/3818
Section
Original Articles