FEASIBILITY OF SHORT TANDEM REPEATS (STR) ANALYSIS FOR CARRIER DETECTION AND PRENATAL DIAGNOSIS IN FAMILIES WITH DUCHENNE MUSCULAR DYSTROPHY (DMD)
Keywords:
Carrier detection, Duchenne muscular dystrophy, prenatal diagnosis,, Short Tandem Repeats
Abstract
Objective: To determine the feasibility of Short Tandem Repeats (STR) based linkage analysis for carrier detection and prenatal diagnosis (PND) in families having children affected with Duchenne Muscular Dystrophy.
Study design: Case series
Settings: Department of Chemical Pathology and Endocrinology in collaboration with Department of Molecular Biology, Armed Forces Institute of Pathology (AFIP), Rawalpindi.
Duration: From February 2007 to January 2008.
Subjects: Six unrelated families with at least one affected child in each family who had characteristic features of DMD (index case).
Materials and Methods: PCR for Duchenne Muscular Dystrophy was carried out with STR based linkage analysis at introns 44, 45, 49 and 50 of DMD gene .Thermal cycling in TC-480 (Perkin Elmer) included 25 cycles each comprising 30 sec denaturation at 94ºC, annealing at 62ºC for 30 sec, extension at 65ºC for 2 min. The final extension was done for 3 min. The amplified products were run on 8% nondenaturing polyacrylamide gel electrophoresis (PAGE) carried out at 200V for three hours on electrophoresis apparatus (Bio-Rad UK). The gels were stained in silver nitrate. By comparing STR pattern of X-chromosome allele of index case with X-chromosome alleles of the mother, the diseased or affected X-chromosome was ascertained.
Results: Carrier detection and prenatal diagnosis was feasible with STR marker at intron 44 in DMD families. It was informative in 5 out of 6 DMD families.
Conclusion: Carrier detection and PND by STR based linkage analysis is technically feasible in Pakistani families with DMD.
Downloads
Download data is not yet available.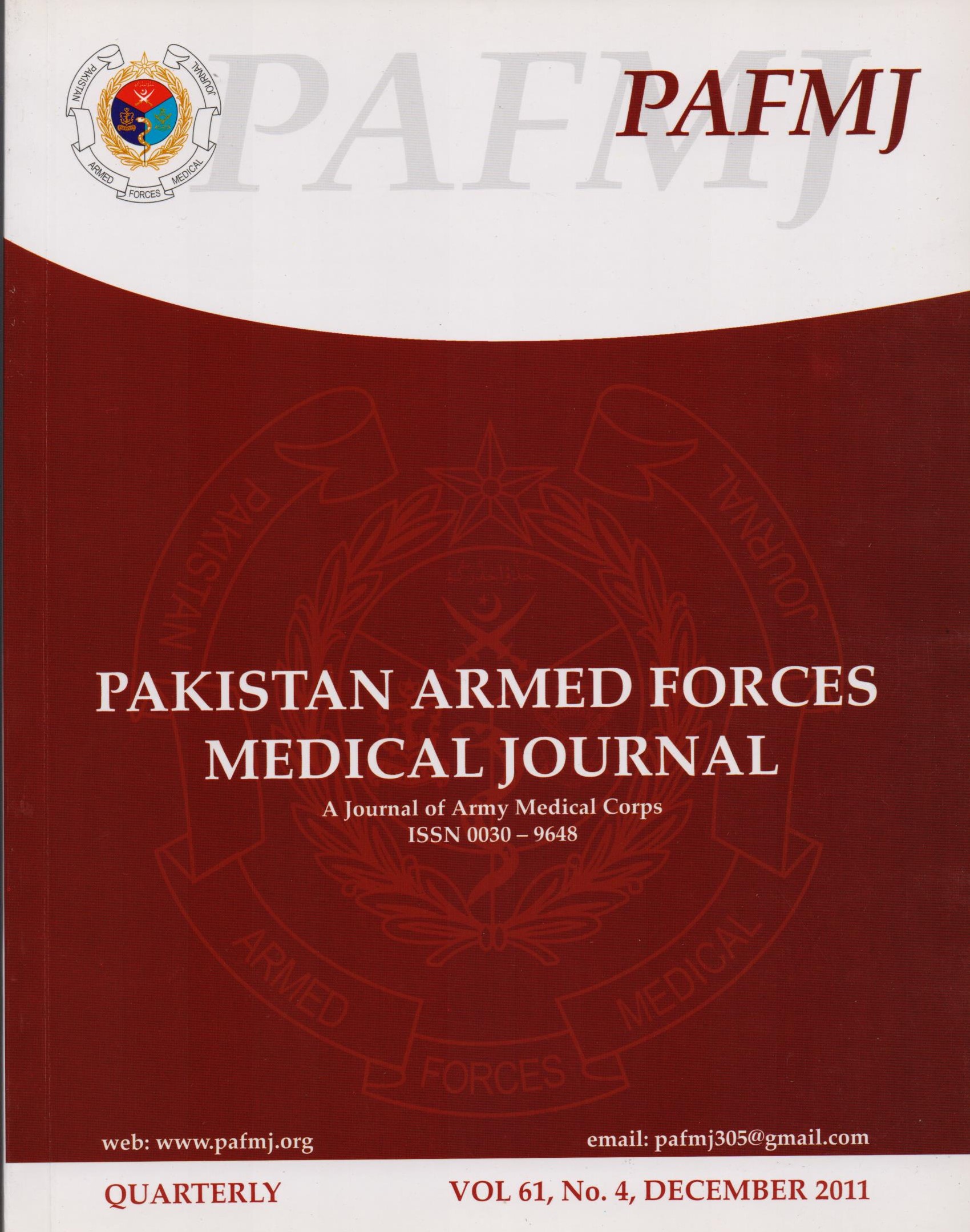 Downloads
How to Cite
Shaheen, S., Ahmad, S., Hashim, R., Sattar, A., & Khan, F. A. (2011). FEASIBILITY OF SHORT TANDEM REPEATS (STR) ANALYSIS FOR CARRIER DETECTION AND PRENATAL DIAGNOSIS IN FAMILIES WITH DUCHENNE MUSCULAR DYSTROPHY (DMD). Pakistan Armed Forces Medical Journal, 61(4), 537–41. Retrieved from https://www.pafmj.org/PAFMJ/article/view/1109
Section
Original Articles