SENSITIVITY AND SPECIFICITY OF ROMHILT-ESTES POINT SCORE SYSTEM FOR DETECTING LEFT VENTRICULAR HYPERTROPHY
Romhilt-Estes Point Score System
Keywords:
Left ventricular hypertrophy, ECG, echocardiography, Romhilt-Estes Point score system
Abstract
The present study was conducted to determine the sensitivity and specificity of Romhilt and Estes point score system of ECG for the assessment of left ventricular hypertrophy by comparing it with the gold standard of echocardiography. Fifty clinically diagnosed patients of LVH were included in this collaborative study of Dept. of Physiology, Army Medical College, Rawalpindi and Department of Cardiology, Armed Forces Institute of Cardiology, Rawalpindi. ECG of the patients were recorded and Romhilt-Estes point score calculated. This was followed by echocardiography and left ventricular mass and left ventricular mass index was calculated. It was found that Romhilt-Estes point score system had a sensitivity of 35% and specificity of 90%. The sensitivity of ECG is low in detecting LVH, however, sensitivity can be increased by combining Sokolow Lyons voltage criteria and Cornell voltage criteria with Romhilt-Estes point score. ECG is however still recommended as a routine investigation because of its cost effectiveness and easy availability.
Downloads
Download data is not yet available.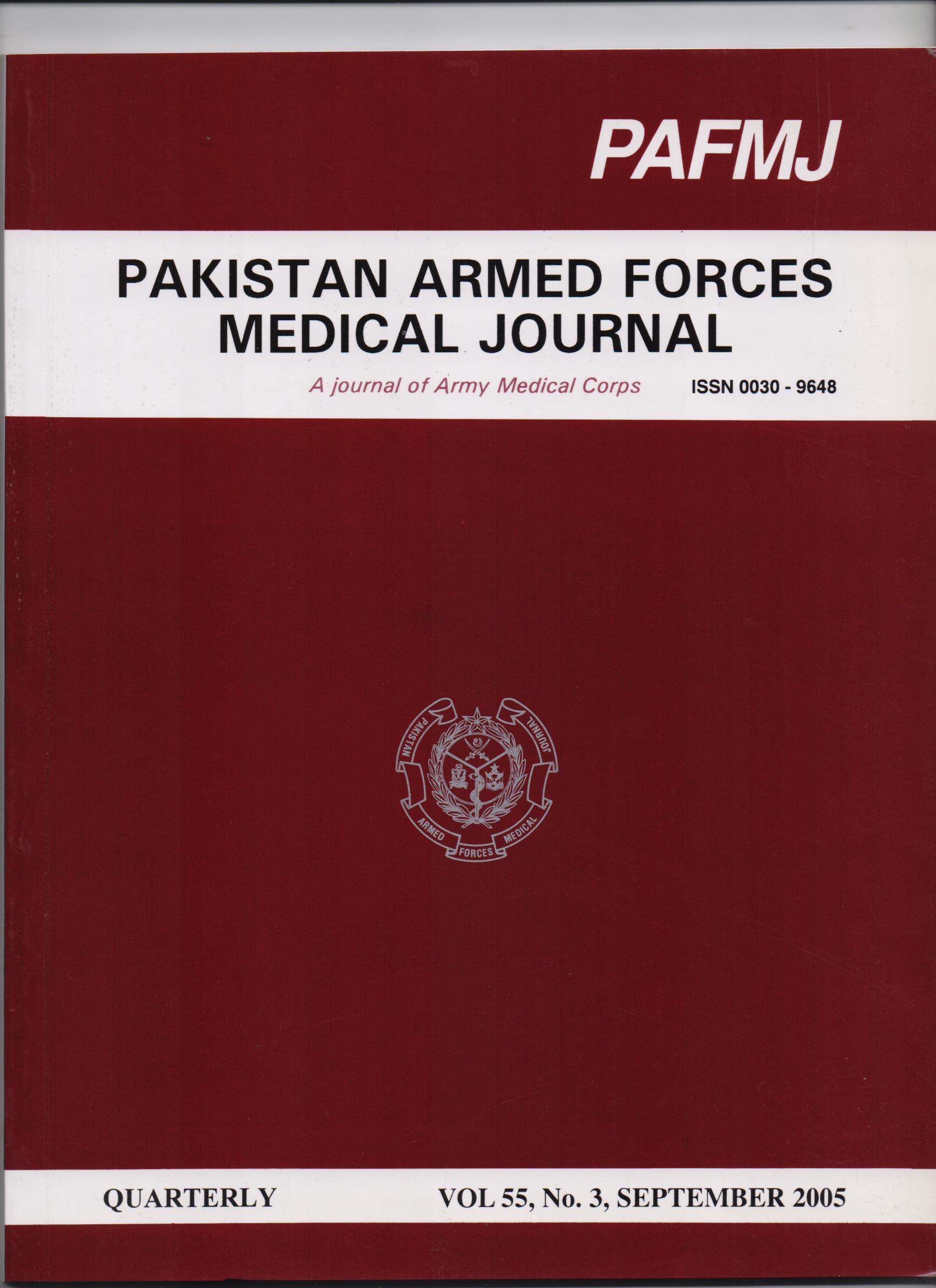 Downloads
How to Cite
Hameed, W., Hussain, M. M., Aslam, M., Aziz, S., Razi, M. S., & Badar, A. (2005). SENSITIVITY AND SPECIFICITY OF ROMHILT-ESTES POINT SCORE SYSTEM FOR DETECTING LEFT VENTRICULAR HYPERTROPHY: Romhilt-Estes Point Score System. Pakistan Armed Forces Medical Journal, 55(3), 224–229. Retrieved from https://www.pafmj.org/PAFMJ/article/view/1252
Section
Original Articles