COMPARISON OF LIPOPROTEINS AS CORONARY RISK FACTORS IN POSTMENOPAUSAL WOMEN WITH AND WITHOUT HORMONAL REPLACEMENT THERAPY IN RAWALPINDI/ISLAMABAD AREA
Lipoproteins As Coronary Risk Factors In Postmenopausal Women
Keywords:
Postmenopausal, Hormone replacement therapy, lipoprotein coronary risk factors
Abstract
Objective: To compare serum concentration of Total Cholesterol, Triglyceride, LDL-cholesterol, HDL-cholesterol and lipoprotein (a) between post menopausal women on HRT and without HRT.
Study Design: Comparative, cross-sectional study.
Place and Duration of Study: The study was conducted in the department of Chemical Pathology and Endocrinology, Armed Forces Institute of Pathology, Rawalpindi from 2006 to 2007.
Materials and methods: Postmenopausal women with no co-morbidities and on any type of HRT for at least one year were selected as cases and healthy postmenopausal women not taking any type of HRT were taken as controls. All these cases were selected randomly. After clinical history and physical examination, blood sampling was carried out for lipid profile including Lp(a) in fasting state.
Results: A total of 50 postmenopausal women on HRT and their age matched healthy controls (postmenopausal women without HRT) were studied. The mean age of HRT treated group was 56.7 ± 5.0 (mean ± SD) years. The mean age of menopause of study group was 50.4 ± 1.6 years and the mean years since menopause were 8.4 ± 4.6 years. There was no statistically significant difference in age, age at menopause and years since menopause between study and control groups.The frequencies for the type of HRT were calculated. Thirty two of the women were using combination therapy i.e.; estrogen plus progesterone while 18 of them were using estrogen therapy alone. None of them were using other types of HRT like SERMs or tibolone. The mean values of TC, LDL-C and Lp (a) were lower than the control group. The mean value of HDL-C and TG was higher in study group as compared to control group.
On comparative analysis of the lipid profile of the two groups employing unpaired t-test, statistically significant difference was observed in the levels of LDL-C, HDL-C and Lp(a). However TC and TG levels were not significantly different in women belonging to either group.
Conclusions: HRT has beneficial effects on lipoprotein levels in postmenopausal women.
Downloads
Download data is not yet available.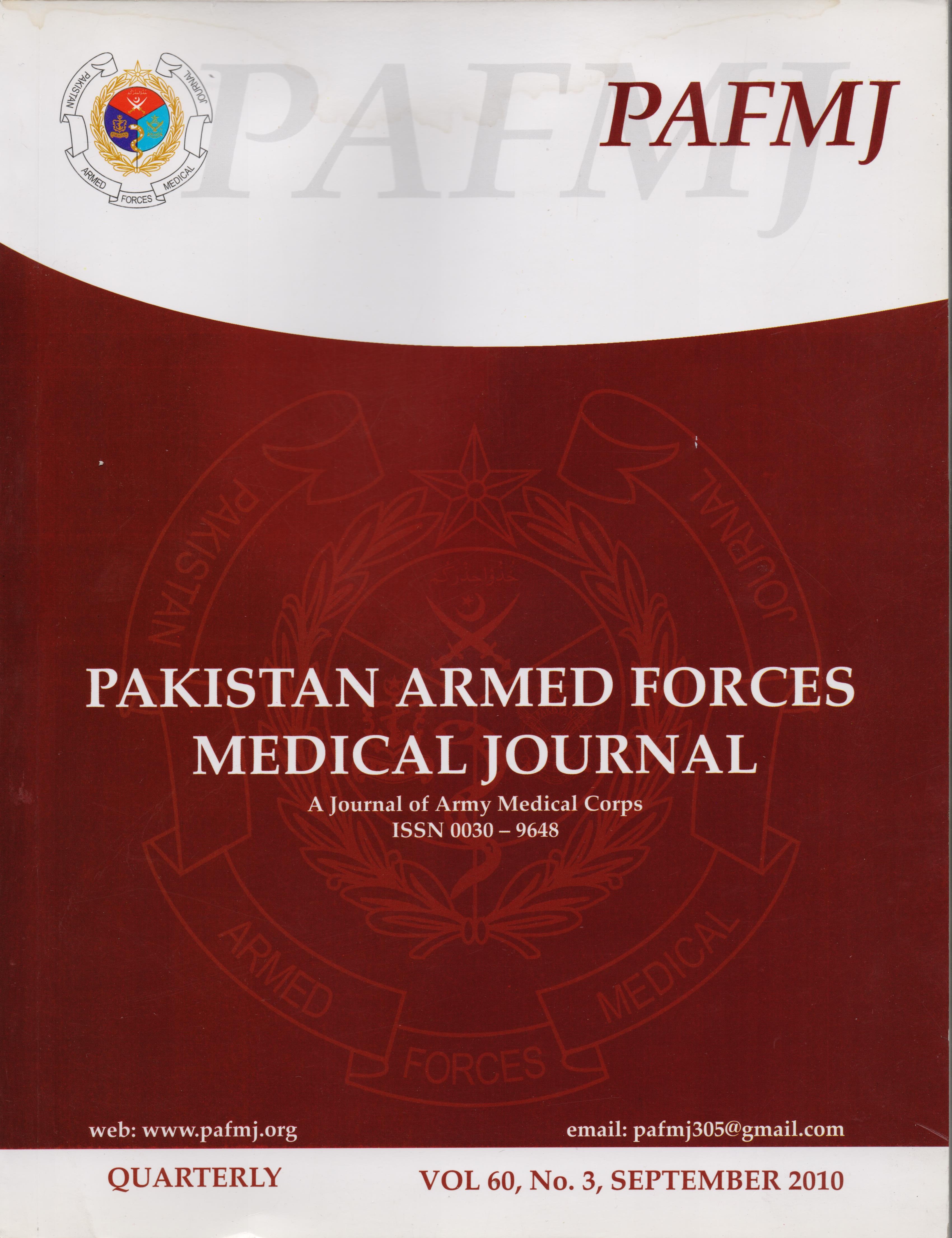 Downloads
How to Cite
Hayat, M. A., Ghayur, S., Sattar, A., Hashim, R., Ijaz, A., & Khan, F. A. (2010). COMPARISON OF LIPOPROTEINS AS CORONARY RISK FACTORS IN POSTMENOPAUSAL WOMEN WITH AND WITHOUT HORMONAL REPLACEMENT THERAPY IN RAWALPINDI/ISLAMABAD AREA: Lipoproteins As Coronary Risk Factors In Postmenopausal Women. Pakistan Armed Forces Medical Journal, 60(3), 343–7. Retrieved from https://www.pafmj.org/PAFMJ/article/view/1306
Section
Original Articles