EVALUATION OF THE ROLE OF THE "TADPOLE" ISLAND FLAP IN THE REPAIR OF POSTOPERATIVE PALATAL FISTULAE
Repair of Postoperative Palatal Fistulae
Javed Ur Rahman

Military Hospital/ National University of Medical Sciences (NUMS) Rawalpindi Pakistan

Mushahid Aslam

Military Hospital/ National University of Medical Sciences (NUMS) Rawalpindi Pakistan

Hashim Zaidi

Military Hospital/National University of Medical Sciences (NUMS) Rawalpindi Pakistan

Habib Ur Rehman

Military Hospital/National University of Medical Sciences (NUMS) Rawalpindi Pakistan

Ijaz Bashir

Military Hospital/National University of Medical Sciences (NUMS) Rawalpindi Pakistan

C. Aqeel Safdar

Military Hospital/National University of Medical Sciences (NUMS) Rawalpindi Pakistan
Keywords:
Mucoperiosteal island flap, Palatal fistula, Tadpole flap
Abstract
Objective: To retrospectively evaluate the role of tadpole (mucoperiosteal island) flap in palatal fistula repair.
Study Design: Descriptive retrospective study.
Place and Duration of Study: It was conducted at Military hospital Rawalpindi and cleft hospital Gujrat from November 2010 to September 2014.
Material and Methods: Total 38 patients underwent island tadpole flap, two layer, closure of palatal fistula. All patients with palatal fistulae following repair of congenital cleft palate along with recurrent fistulae, i.e., those occurring after one or more previous attempts at fistula repair were included. Patients with asymptomatic fistulae, history of palate repair of less than 6 months duration and fistulae other than those developing after cleft palate repair were excluded from the study; these latter included congenital and infectious causes.Experienced surgeons performed all the repairs and results were evaluated by using SPSS version 17.
Results: Surgery was considered successful on complete anatomical closure of fistula. Thirty-eight patients, 23 (60.5%) males and 15 (39.5%) females, underwent surgery for palatal fistula repair. There were 32 (84.2%) anterior fistulae whilst the remaining 6 (15.8%) were located at the junction of soft and hard palate. The mean fistula size was 8 mm ± 1.6 mm, ranging from 6 mm to 15 mm. Recurrence was noticed in 3 (7.8%) cases with a mean follow up of 20.7± 7.3 months; one out of the 3 cases was small and resolved spontaneously.
Conclusion: The tadpole island flap is a versatile and effective single stage, two-layered fistula repair technique suitable for both, large and recurrent fistulae.
Downloads
Download data is not yet available.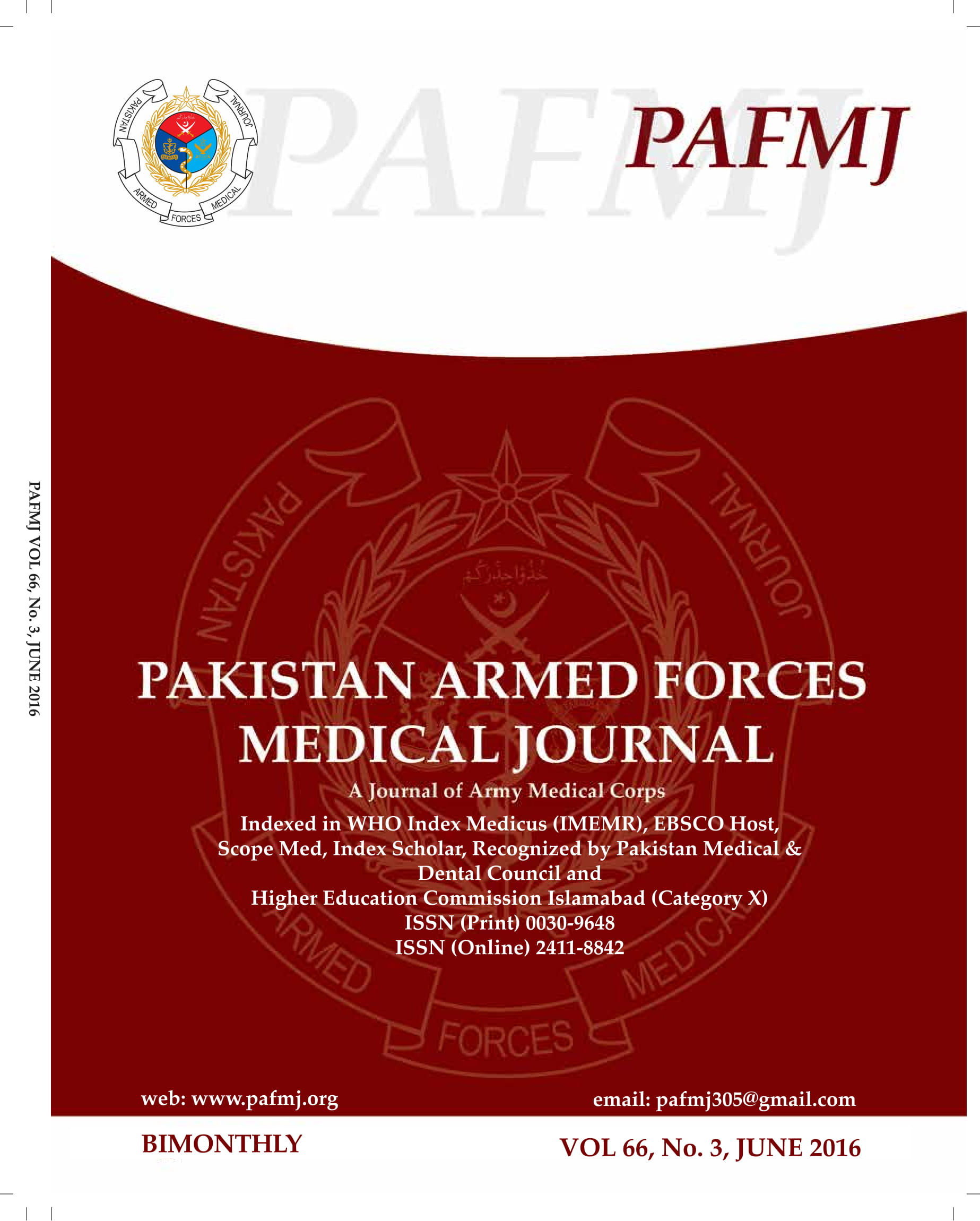 How to Cite
Rahman, J., Aslam, M., Zaidi, H., Rehman, H., Bashir, I., & Safdar, C. (2016). EVALUATION OF THE ROLE OF THE "TADPOLE" ISLAND FLAP IN THE REPAIR OF POSTOPERATIVE PALATAL FISTULAE. Pakistan Armed Forces Medical Journal, 66(3), 390-94. Retrieved from https://www.pafmj.org/index.php/PAFMJ/article/view/1326
Section
Original Articles