OUTCOME OF NEONATES VENTILATED IN NICU OF A TERTIARY CARE HOSPITAL AND FACTORS ASSOCIATED WITH POOR OUTCOME
Outcome of Neonates Ventilated in NICU
Arshad Khushdil, Khushdil

Military Hospital/National University of Medical Sciences (NUMS) Rawalpindi Pakistan

Talal Waqar

Combined Military Hospital/National University of Medical Sciences (NUMS) Rawalpindi Pakistan

Zeeshan Ahmed

Military Hospital/National University of Medical Sciences (NUMS) Rawalpindi Pakistan
Keywords:
Mechanical ventilation, Neonates, NICU, HIE, RDS, Sepsis, Pakistan
Abstract
Objective: To ascertain the outcome of neonates who are ventilated for various reasons in our Neonatal Intensive Care Unit (NICU) and determine the risk factors associated with increased incidence of adverse outcome.
Study Design: Retrospective study.
Place and Duration of Study: Neonatal Intensive Care Unit of Combined Military Hospital Rawalpindi from Jul
2016 to Dec 2016.
Material and Methods: All neonates who received mechanical ventilation during the study period were included in the study.
Results: Total sixty seven (35.8% females and 64.15% males) neonates were ventilated during the study period for various reasons. Of these 67 neonates who were ventilated, 35 (52.23%) died and 32 (47.76%) survived to be discharged home. 10 babies were born less than 28+ 0weeks gestation and all (100%) expired. Of 7 babies born between 28+1-31+6 weeks gestation, only 01 (14.28%) survived. Of 50 newborns between 32+0-36+6 weeks, 20 (40%) died and 30 (60%) survived to be discharged home.
In our cohort of ventilated babies, 7 weighed less than 1000 gm of which 6 (85.71%) died and only 01 (14.28%) survived. Of 18 babies born 1000-1499 gm, 14 (77.77%) died and 4 (22.22%) survived. Of 14 babies born between 1500-2499 gm, 6 (42.85%) died and 8 (57.14%) survived. Of all ventilated babies, 28 weighed more than 2500 gm, of which 10 (35.71%) died and 18 (64.28%) survived.
Out of our cohort of 67 babies, 14 were diagnosed with hypoxic ischemic encephalopathy grade 3, of which 11 (78.57%) died and 3 (21.42%) were discharged. Twenty three had RDS, of which 11 (47.82%) died and 12 (52.17%) survived. Ten babies were ventilated due to sepsis, of which 6 (60%) died and 4 (40%) survived.
Conclusion: We conclude that gestational age less than 32+0 weeks, birth weight less than 1500 gm, Hypoxic
Ischemic Encephalopathy grade 3 and sepsis are associated with a poor outcome in babies who are mechanically ventilated.


Downloads
Download data is not yet available.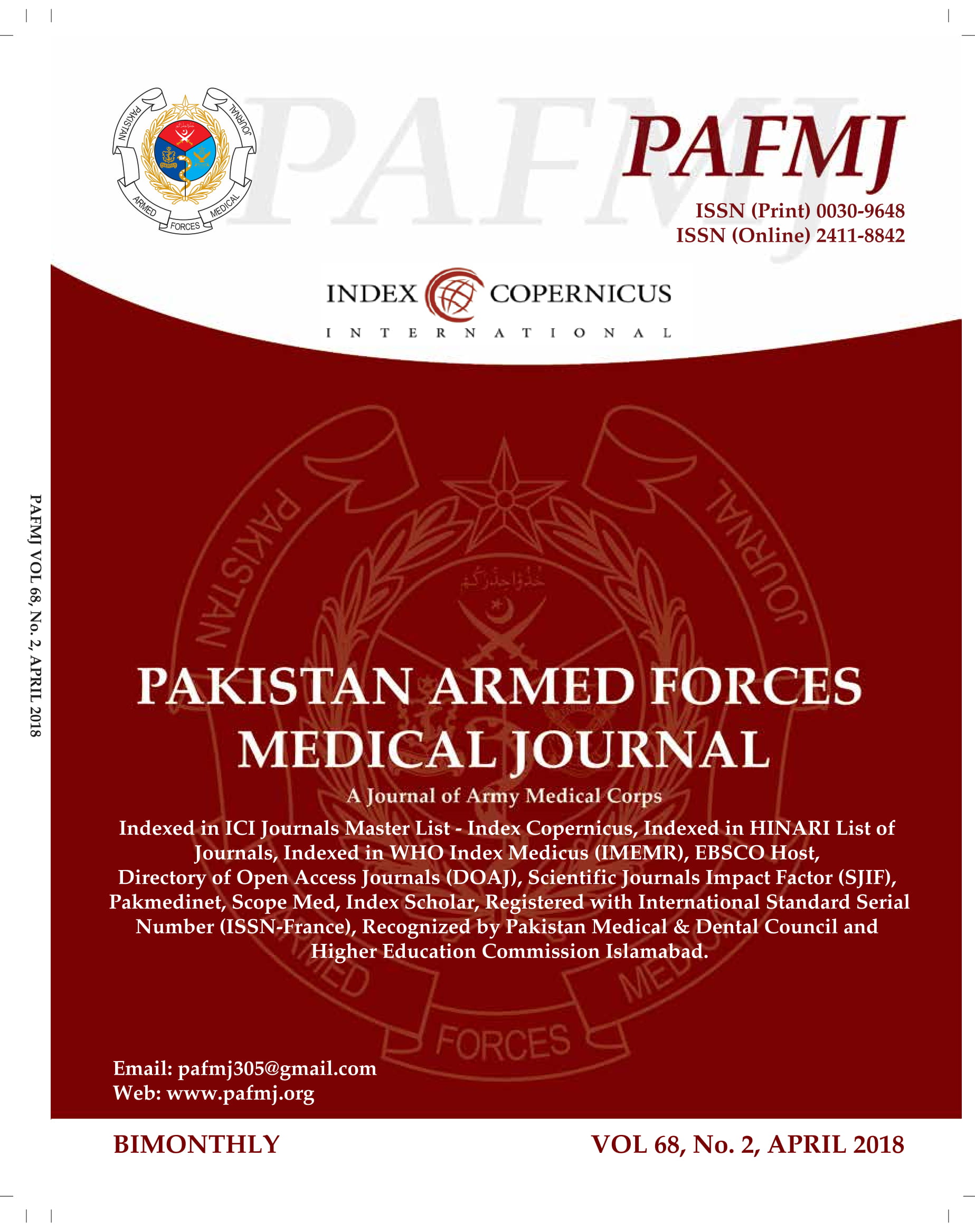 How to Cite
Khushdil, A. K., Waqar, T., & Ahmed, Z. (2018). OUTCOME OF NEONATES VENTILATED IN NICU OF A TERTIARY CARE HOSPITAL AND FACTORS ASSOCIATED WITH POOR OUTCOME. PAFMJ, 68(2), 300-304. Retrieved from https://www.pafmj.org/index.php/PAFMJ/article/view/1345
Section
Original Articles