CHALLENGES FACED BY FEMALE DOCTORS DURING FELLOWSHIP TRAINING HINDERING THEIR PROFESSIONAL PROGRESS IN A CONSERVATIVE CULTURAL CONTEXT
Challenges Faced By Female Doctors During Fellowship Training
Komel Zulfiqar

Mohiuddin Islamic Medical College Mirpur Pakistan

Usman Mahboob

Institute of Health Professions Education and Research, Peshawar Pakistan

Rahila Yasmeen

Riphah Academy of Research and Education Rawalpindi Pakistan
Keywords:
Conservative culture, Fellowship,, Female doctors, Health care delivery system, Semi Government Hospital, Training
Abstract
Objective: To explore the professional challenges faced by female doctors during their fellowship training in semi government hospitals of Pakistan.
Study Design: It was a qualitative study using a collective case study approach.
Place and Duration of Study: This study was carried out in two semi-government hospitals of Rawalpindi i.e.
Fauji Foundation and Pakistan Railways hospital, from Jan to Jul 2016.
Material and Methods: Ten female doctors working as a trainee (irrespective of year of training) were
interviewed by using semi-structured questionnaire. They were inquired about the challenges and issues faced by them in their training. Thematic analysis of the available data was carried out. Themes identified in the data were compared with themes already explored in literature.
Results: Ten in-depth interviews revealed themes related to challenges faced by female trainees. All of them
strongly believed that training was very tough and hectic and they came across many, departmental, institutional and personal problems during their training. All of them expressed their intense motivation for the training, but still felt it to be demanding. They believed they had paid a heavy price for this training by sacrificing prime time of their youth and family.
Conclusion: It was identified by the participants that female encounter countless barriers when they start their fellowship trainings. They come across institutional as well as personal barriers which affect their career, thus hindering their progress.


Downloads
Download data is not yet available.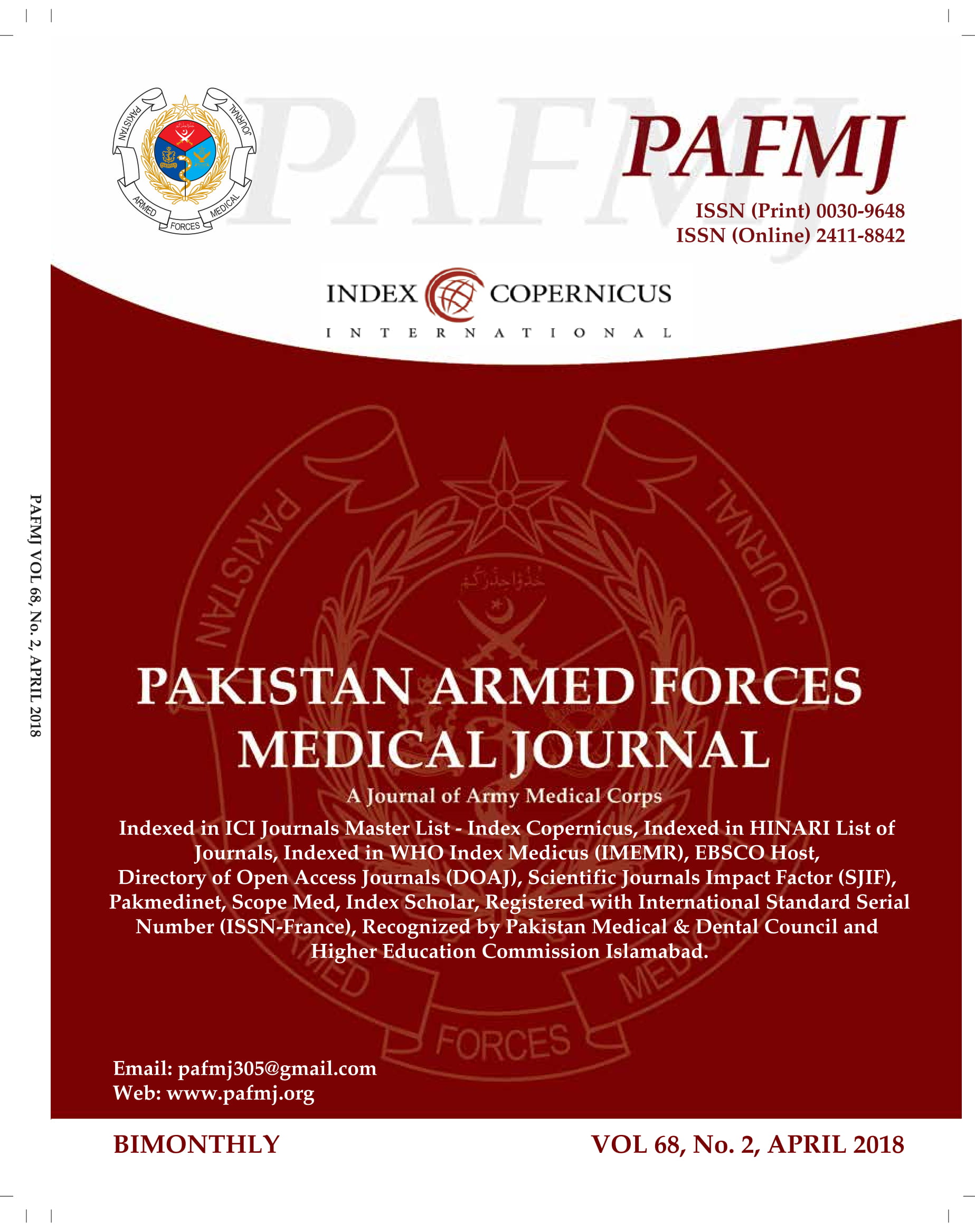 How to Cite
Zulfiqar, K., Mahboob, U., & Yasmeen, R. (2018). CHALLENGES FACED BY FEMALE DOCTORS DURING FELLOWSHIP TRAINING HINDERING THEIR PROFESSIONAL PROGRESS IN A CONSERVATIVE CULTURAL CONTEXT. PAFMJ, 68(2), 310-15. Retrieved from https://www.pafmj.org/index.php/PAFMJ/article/view/1395
Section
Original Articles