ALISKERIN: A DIRECT RENIN INHIBITOR IMPROVES PANCREATIC FUNCTIONAL B CELL MASS IN TYPE 2 DIABETIC MICE
Aliskerin
Keywords:
Diabetes mellitus, Homeostatic model assessment for insulin resistance, Peroxisome proliferator activated receptor gamma, Renin angiotensin system
Abstract
Objective: To evaluate the effects of Aliskerin on functional pancreatic β cell mass in type 2 diabetic mice.
Study Design: Analytical experimental study.
Place and Duration of Study: The study was conducted at the animal house of National Institute of Health,
Islamabad. Duration of the study was of twelve weeks after initial acclimatization of one week.
Material and Methods: Twenty four BALB/c mice, both male and female, of 35 to 40 grams were used for this
study. Animals were randomly divided into four groups. Two served as control, one was normal and the other was diabetic control. The remaining two were used as interventional groups and received either pioglitazone or aliskerin for four weeks after induction of diabetes. Fasting blood glucose levels with fasting insulin levels were estimated. Insulin resistance was determined by calculating homa IR and pancreatic morphology was assessed by evaluating pancreatic beta cell mass.
Results: After treatment, pioglitazone reduced all the biochemical parameters significantly when compared with diabetic control and negative correlation between glucose and insulin was changed into positive correlation (r value, 0.92) with significant p-value (0.015), while aliskerin caused a significant rise (p-value 0.009) in functional pancreatic β cell mass.
Conclusion: Aliskerin has a significant anti-diabetic role as far as pancreatic morphology is concerned.


Downloads
Download data is not yet available.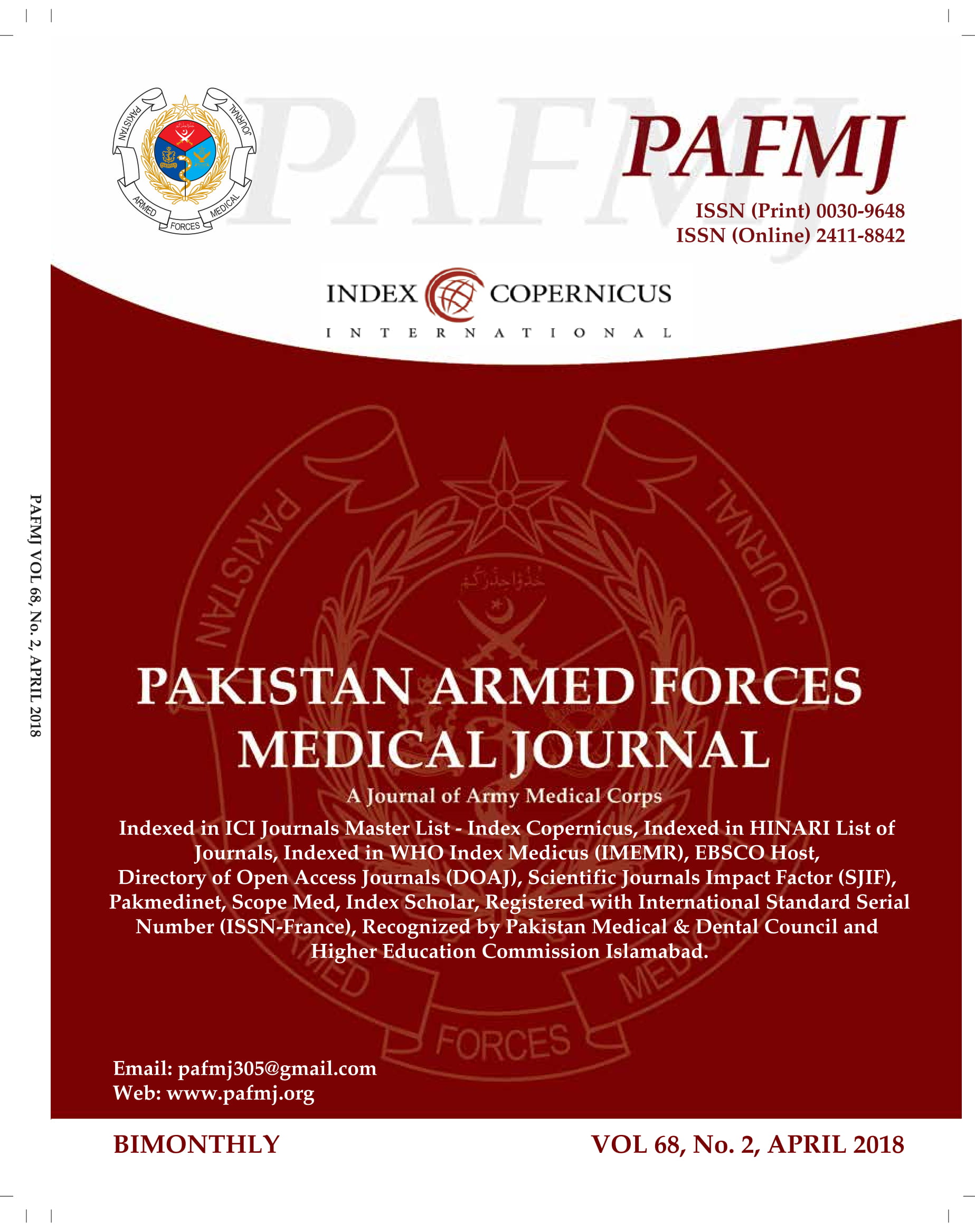 Downloads
How to Cite
Khan, A., Khan, B. T., Bakhtiar, S., & Butt, A. I. (2018). ALISKERIN: A DIRECT RENIN INHIBITOR IMPROVES PANCREATIC FUNCTIONAL B CELL MASS IN TYPE 2 DIABETIC MICE: Aliskerin. Pakistan Armed Forces Medical Journal, 68(2), 345–52. Retrieved from https://www.pafmj.org/PAFMJ/article/view/1455
Section
Original Articles