FREQUENCY OF UROLOGICAL CARCINOMAS PRESENTING AS GROSS HAEMATURIA IN PUNJAB PAKISTAN AND RECOMMENDATION FOR ITS EARLY DIAGNOSIS
Urological Carcinomas Presenting As Gross Haematuria
Saif Ud Din Awan,

Sargodha Medical College Sargodha Pakistan

Ahmad Nawaz Bhatti

Sargodha Medical College Sargodha Pakistan

Amer Fakhr

*Military Hospital/National University of Medical Sciences (NUMS) Rawalpindi Pakistan

Ayesha Noureen Awan

Ayub Medical College Abbottabad Pakistan

Hina Fiyyaz

Ayub Medical College Abbottabad Pakistan
Keywords:
Cystoscopy, Hematuria, Neoplasms, Pakistan, Urologic
Abstract
Objective: To determine the frequency of various causes of gross Haematuria presenting in our hospital and
recommend a working protocol to young doctors.
Study Design: Prospective descriptive study.
Place and Duration of Study: Urology Department, District Headquarter and Teaching Hospital, Sargodha
Medical College, from Mar 2012 to Mar 2014.
Material and Method: All fresh patients reporting to the hospital with complaints of 'blood in urine' were
included in the study, while patients presenting with Microscopic haematuria were excluded. The patients, after being managed by the urology registrar, were given a questionnaire to fill, assisted by a resident, a reference number allotted for follow-up. A request for urine routine examination and urine microscopy/cytology was made to confirm haematuria and exclude malignant cells. Followed by ultrasound, X-Ray KUB, cystoscopy and IVU/CTU scan, as required. The results obtained were recorded and analyzed.
Results: A total of 391 patients presented with complaints of 'blood in urine'. Trauma: was the most frequent
cause seen in 21.7% (n=85), followed by Urinary tract infections (21.0%, n=82), Urolithasis (20.2%, n=79) and
Urological tumors seen 19.4% (n=76) cases. About two thirds of the patients (56.6%, n=43) with urological tumors were not investigated, at primary health care level, to ascertain the cause and presented with advanced disease.
Conclusion: General practitioners should be encouraged to request ultrasound scan for patients presenting with gross haematuria, as urothelial tumours, if detected early, can be managed effectively with better long term outcome.


Downloads
Download data is not yet available.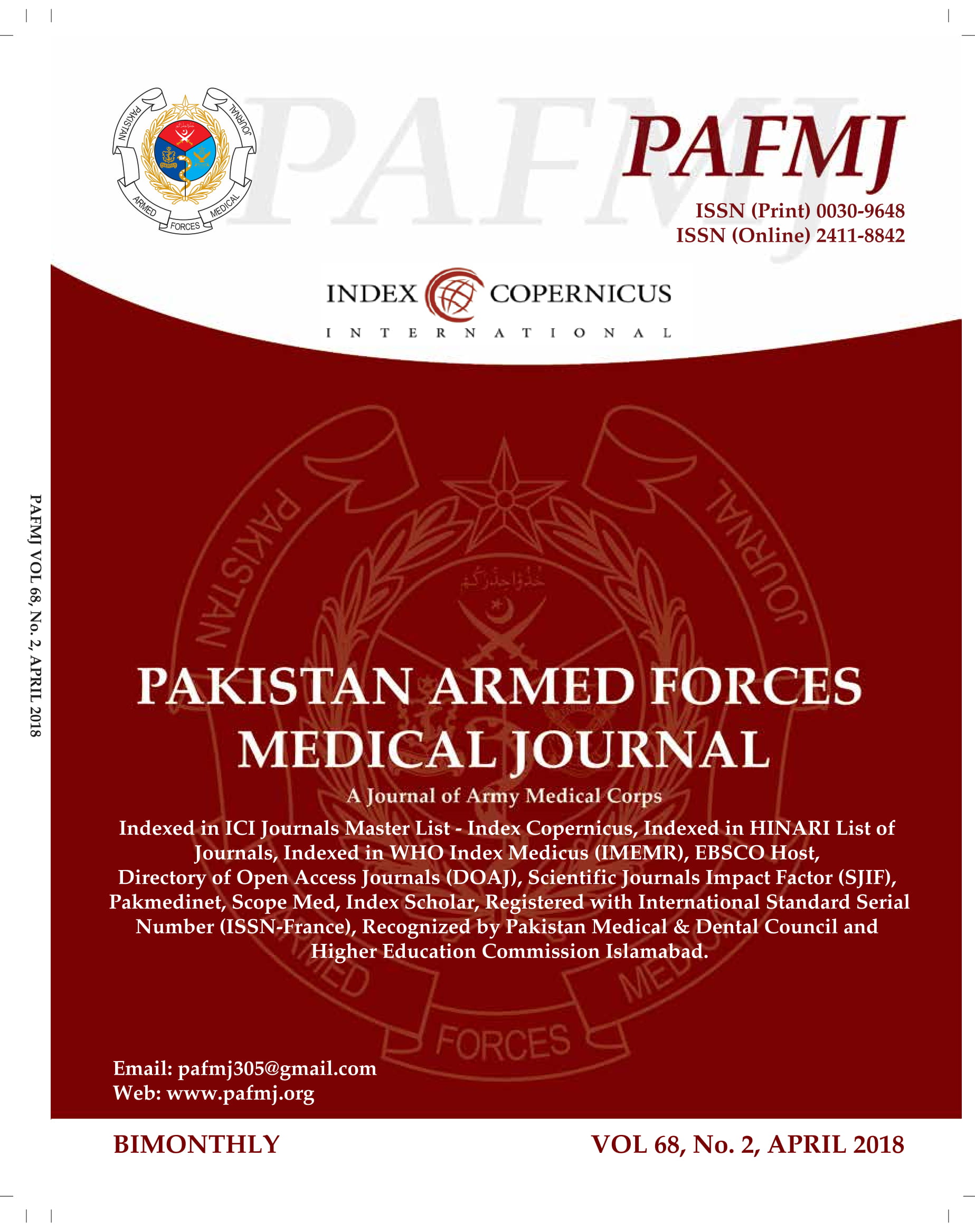 How to Cite
Awan, S., Bhatti, A., Fakhr, A., Awan, A., & Fiyyaz, H. (2018). FREQUENCY OF UROLOGICAL CARCINOMAS PRESENTING AS GROSS HAEMATURIA IN PUNJAB PAKISTAN AND RECOMMENDATION FOR ITS EARLY DIAGNOSIS. PAFMJ, 68(2), 363-68. Retrieved from https://www.pafmj.org/index.php/PAFMJ/article/view/1465
Section
Original Articles