SITE SPECIFIC RESPONSE TO HIGH CHOLESTEROL DIET IN AORTA OF RABBIT
Keywords:
High cholesterol diet, Atherosclerosis, Aorta
Abstract
Objective: To compare the development of atherosclerotic changes in different parts of aorta in rabbits fed on high cholesterol diet.
Study design: Experimental study
Place and duration of study: The Anatomy department of Army Medical College, Rawalpindi; from March 2009 to February 2010.
Methodology: Twenty adult Newzealand white rabbits were randomly allocated to two equal study groups. Group I was given regular lab diet and group II was fed 2% high cholesterol diet. After six weeks, aorta was excised from each animal. Cross sections were taken from each aortic part for microscopic examination. Rest of aorta was opened longitudinally and stained with Sudan IV for gross estimation of lesion.
Results: In contrast to group I, atherosclerotic changes developed in all the animals of group II but of varying intensity and site specificity. In cholesterol-fed rabbits, sudanophilic lesion score was significantly higher in arch versus descending thoracic or abdominal parts. Intimal thickening and intima to media ratio maximally increased in ascending part, followed by arch and then substantially decreased with increasing distance from heart.
Conclusion: Ascending aortion and arch are the most atherosclerosis-susceptible aortic sites in cholesterol-fed rabbits.
Downloads
Download data is not yet available.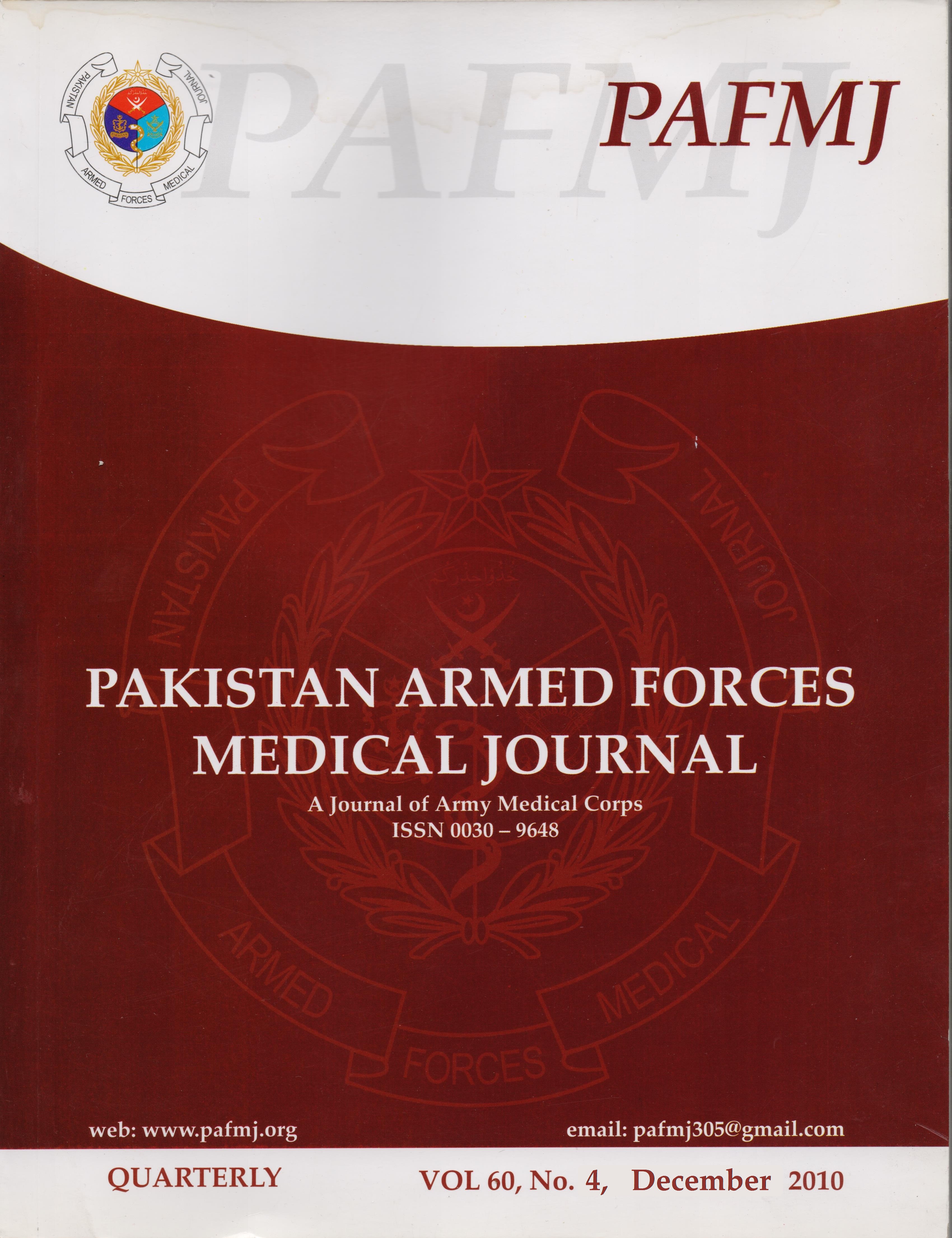 Downloads
How to Cite
Shahid, D. U., Butt, S. A., & Mubarik, A. (2010). SITE SPECIFIC RESPONSE TO HIGH CHOLESTEROL DIET IN AORTA OF RABBIT. Pakistan Armed Forces Medical Journal, 60(4). Retrieved from https://www.pafmj.org/PAFMJ/article/view/1498
Section
Original Articles