TRANSRADIAL ACCESS FOR CORONARY ANGIOGRAPHY: A SINGLE OPERATOR'S EXPERIENCE OF 500 CASES
Keywords:
Transradial angiography, Allen's test,, coronary angiography, transradial intervention
Abstract
Objective: The purpose of the present study was to assess the feasibility, success, and safety of the transradial approach (TRA) for diagnostic coronary angiography.
Design: Descriptive study.
Place and Duration of Study: The study was carried out in Armed Forces Institute of Cardiology– National Institute of Heart Diseases (AFIC-NIHD) over a period of ten months from June 2009 to March 2010.
Patients and Methods: We collected data of 500 consecutive patients who underwent coronary catheterization by the transradial approach. Transradial access was performed only if the Allen's test was normal (positive). Patients with previous CABG or requiring right heart catherization were excluded from this study. Study endpoints included procedure success rate, vascular complications at access site, and major adverse cardiac and cerebrovascular events during hospitalization.
Results: Mean age of the patients was 52 years (range 33-77 yrs) and 72.8% (n= 364) were men and 27.2% (n=136) were females. The vast majority of cases (98.4%) were elective. The right radial artery was used in 98% of cases. Procedural success was achieved in 90.6% cases (453/500). No case of vascular complications such as major access site bleeding, vascular perforation, radial artery occlusion, forearm ischemia, compartment syndrome or MACE was observed.
Conclusion: Transradial access for coronary angiography is a safe, effective and elegant alternative to transfemoral access.
Downloads
Download data is not yet available.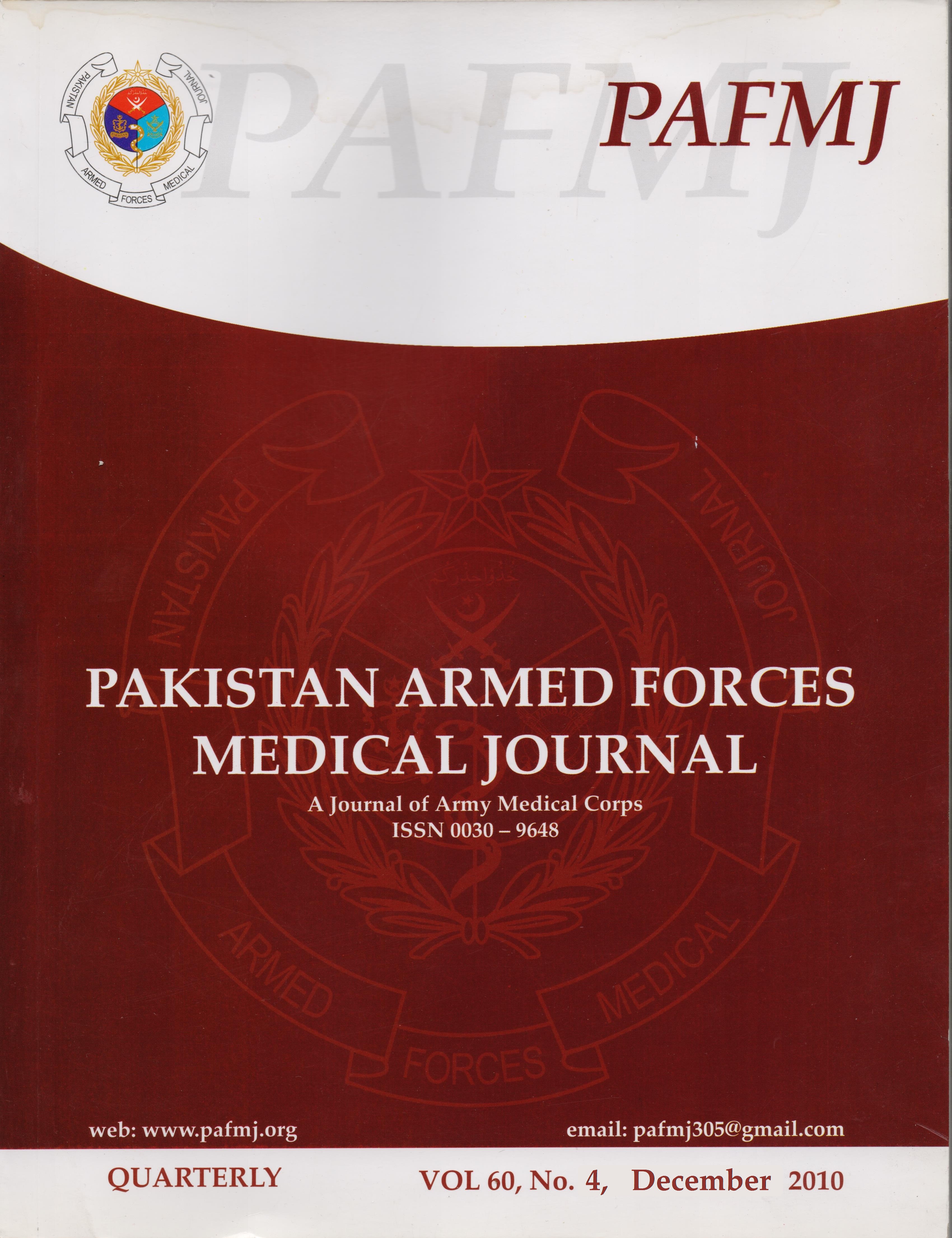 Downloads
How to Cite
Ali, M. J., Aziz, S., Javed, A., & Kayani, A. M. (2010). TRANSRADIAL ACCESS FOR CORONARY ANGIOGRAPHY: A SINGLE OPERATOR'S EXPERIENCE OF 500 CASES. Pakistan Armed Forces Medical Journal, 60(4). Retrieved from https://www.pafmj.org/PAFMJ/article/view/1505
Section
Original Articles