INITIAL EXPERIENCE OF FRACTIONAL FLOW RESERVE IN 30 PATIENTS WITH MODERATE CORONARY ARTERY LESIONS AT ARMED FORCES INSTITUTE OF CARDIOLOGY
Fractional Flow Reserve
Keywords:
FFR, hyperemia, PCI.
Abstract
Objective: To evaluate our initial experience of Fractional Flow Reserve (FFR) for decision making in coronary revascularization in moderate lesions.
Study Design: A descriptive study.
Place and Duration of Study: Armed Forces Institute of Cardiology/National Institute of Heart Diseases from August 2009 to August 2010.
Patients and Methods: A total of 30 consecutive patients who underwent FFR at AFIC/NIHD from August 2009 to August 2010. These were the cases in which decision regarding PCI was difficult on visual assessment alone as experienced operators differed in their opinion. A 0.014" FFR wire was used and pressure gradients across the lesions were noted
Results: A total of 30 patients with 44 moderate lesions on coronary angiography were evaluated in our initial experience. Amongst these, 27 (61.4%) LAD lesions were studied (20 lesions had an FFR > 0.80 while 7 (15.9%) had an FFR 0.80 or less). Seven (15.9%) lesions of LCX were evaluated (5 had an FFR > 0.80 and 2 had 0.80 or less). Seven (15.9%) lesions were of RCA (4 had an FFR >0.80, 3 had 0.80 or less). One case of LMS lesion was found to be non-critical. Two (4.5%) vein graft lesions were included of which one was found to be angiographically critical, (FFR 0.72). Out of the total 44 lesions studied 14 (31.82%) lesions were critical with an FFR 0.80 or less, which were stented. Thus 30 stents were saved. This reduced the cost, as well as the un-necessary hazards and risks associated with PCI and the issue of difference in opinion was put to rest.
Conclusion: We thus conclude that FFR is a very important tool in guiding the interventionist for planning PCI in moderate lesions
Downloads
Download data is not yet available.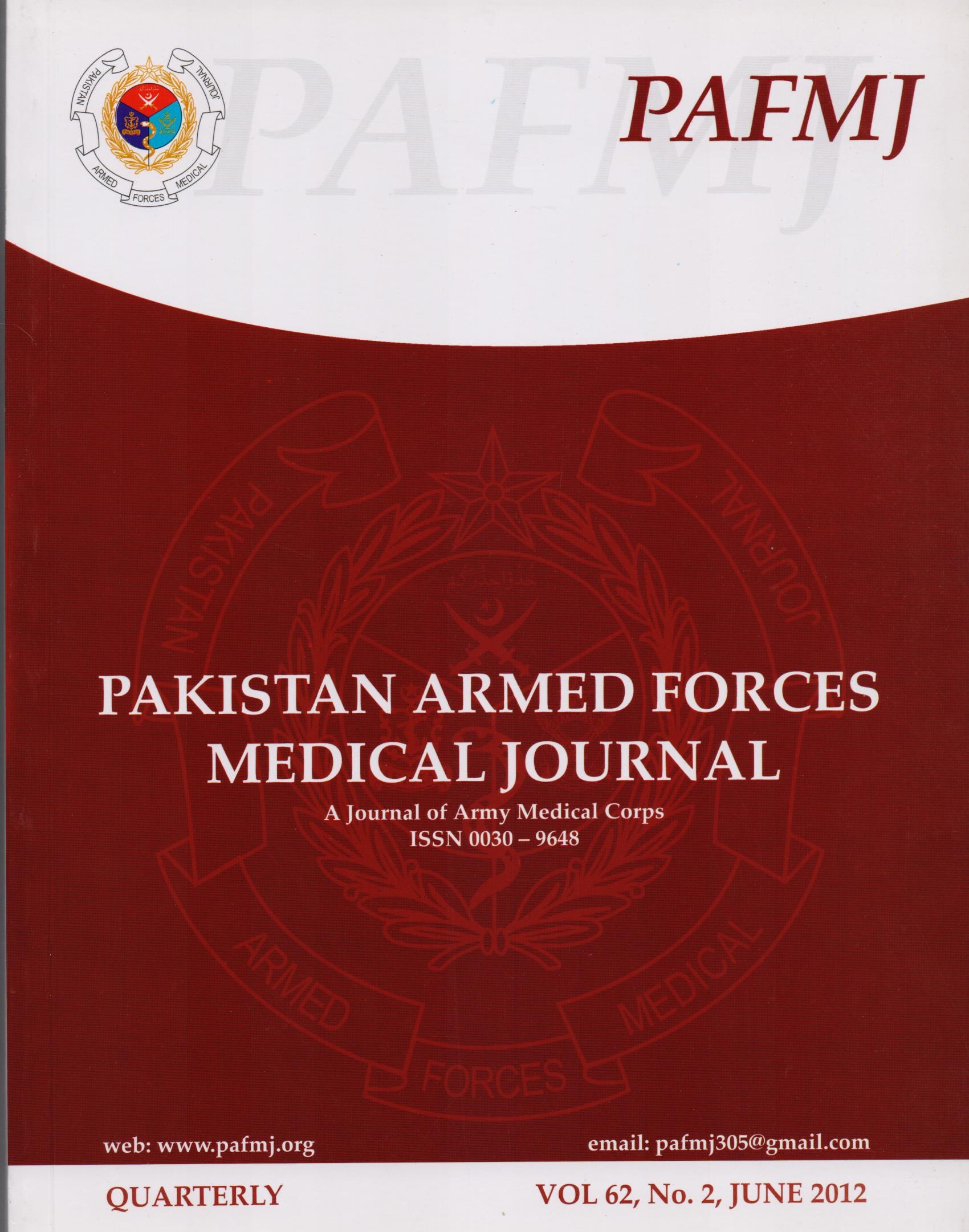 Downloads
How to Cite
Nadeem, L. C. A., Aziz, S., Kayani, A. M., Ali, J., Khan, A. N., & Javed, A. (2012). INITIAL EXPERIENCE OF FRACTIONAL FLOW RESERVE IN 30 PATIENTS WITH MODERATE CORONARY ARTERY LESIONS AT ARMED FORCES INSTITUTE OF CARDIOLOGY: Fractional Flow Reserve. Pakistan Armed Forces Medical Journal, 62(2), 241–4. Retrieved from https://www.pafmj.org/PAFMJ/article/view/1704
Section
Original Articles