ANATOMIC VARIATIONS OF ORIGIN AND BRANCHES OF COMMON HEPATIC ARTERY - A CADAVERIC AND PEROPERATIVE STUDY
Common Hepatic Artery
Keywords:
Cadaver, Common hepatic artery, Hepato-biliary- pancreatic surgeries, Pancreaticodoudenectomy, Whipples
Abstract
Objective: To find out the variational pattern of common hepatic artery and to contribute to the knowledge of the hepatic vascular anatomy with the experience obtained in the dissection of the hepatic vascularization on cadavers as well as during peroperative procedures.
Study design: A Descriptive study.
Place and duration of study: Study was of six months duration conducted at the department of Anatomy, Army Medical College Rawalpindi, in collaboration with the departments of Anatomy of medical institutes on cadavers and in hospitals, where surgeries were performed on patients on hepato-biliary-pancreatic areas.
Materials and methods: A total of 70 cases were included, out of which 60 cadavers were dissected in various medical institutes while ten cases were assisted/observed during surgery in various hospitals. After identifying common hepatic artery, any abnormality or variation in its course/branching pattern were noted and pictures were taken with Nikon coolpix 4 Megapixel digital camera with 3 X optical zoom. Significance of the results was determined by comparing the results with the classification of origin of hepatic artery, its relations and branching pattern in relation to studies already conducted.
Results: Common hepatic artery was present and originated from celiac trunk in all 70 (100%) specimens. In all cases, common hepatic artery was entirely to left of common hepatic duct and common bile duct and was ventral to portal vein. Forty eight (68.5%) cases had typical classic textbook branching pattern. Overall result showed variational pattern in 22 (31.4%) cases, observed in branching pattern and relations. Regarding the aberrant arteries a total of 18 (25.7%) were present in relation to common hepatic artery and its branches, out of which 9 (12.8%) were present as single (accessory/replaced) and 9 (12.8%) were present as more than one (accessory/replaced). In 13 (18.6%) cases, aberrant arteries originated from common hepatic artery directly.
Conclusion: This study highlight the fact that the hepatic arterial supply is variable and that different anatomic variants can occur in a high percentage of cases.
Downloads
Download data is not yet available.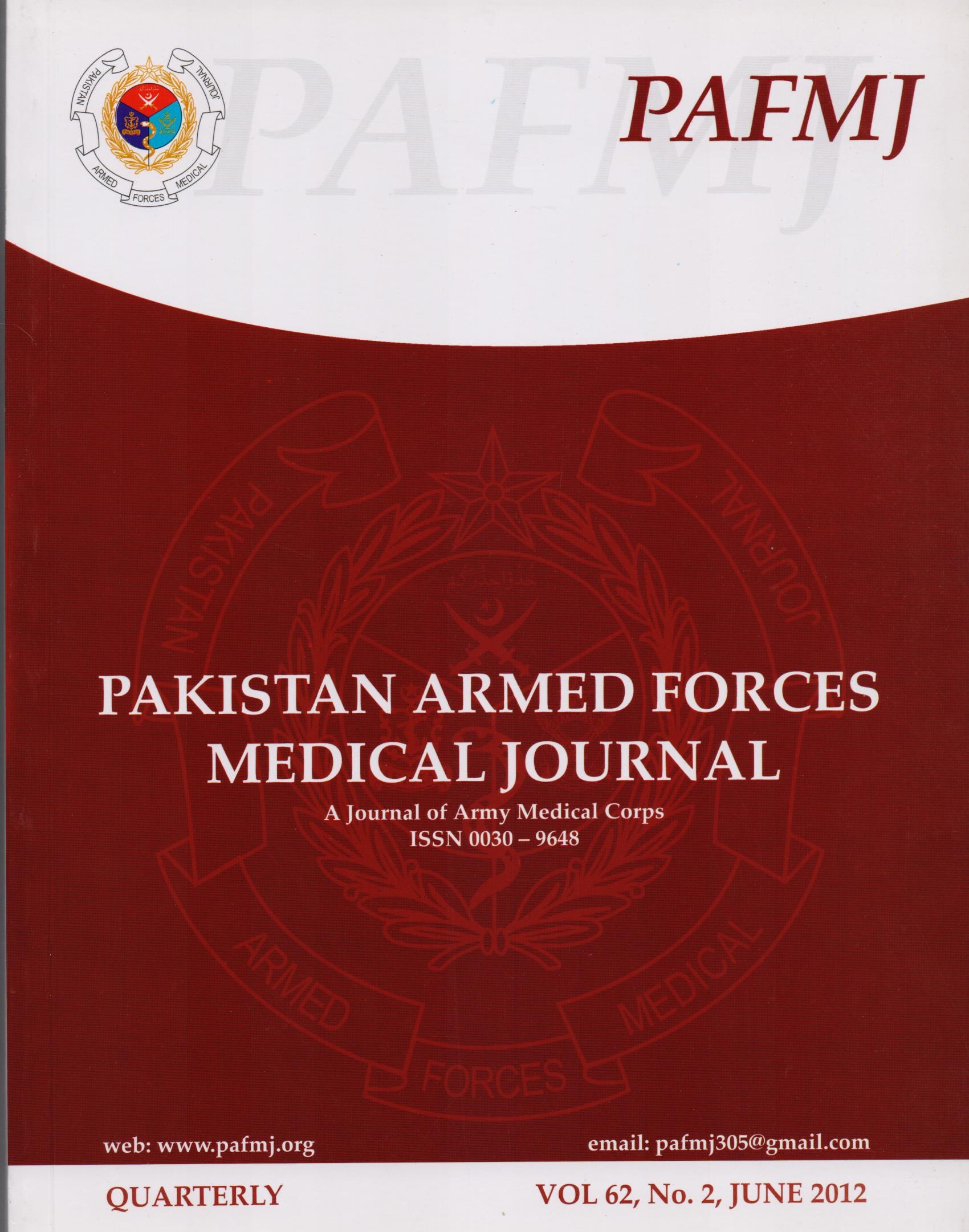 Downloads
How to Cite
Khan, M. M. M., Butt, S. A., Qamar, K., & Khursheed, A. (2012). ANATOMIC VARIATIONS OF ORIGIN AND BRANCHES OF COMMON HEPATIC ARTERY - A CADAVERIC AND PEROPERATIVE STUDY: Common Hepatic Artery. Pakistan Armed Forces Medical Journal, 62(2), 261–6. Retrieved from https://www.pafmj.org/PAFMJ/article/view/1720
Section
Original Articles