CHARACTERISTICS AND OUTCOMES IN PATIENTS WITH ANTI N-METHYL-DASPARTATE RECEPTOR AUTO-IMMUNE ENCEPHALITIS
Anti N-Methyl-D-Aspartate Receptor Auto-Immune Encephalitis
Syed Onaiz Zulfiqar Anwar

Combined Military Hospital Multan Pakistan

Jahanzeb Liaqat

*Military Hospital/National University of Medical Sciences (NUMS) Rawalpindi Pakistan

, Waseem Alamgir

*Military Hospital/National University of Medical Sciences (NUMS) Rawalpindi Pakistan

, Waseem Alamgir

*Military Hospital/National University of Medical Sciences (NUMS) Rawalpindi Pakistan
Keywords:
Anti-n-methyl-D-aspartate, Cerebrospinal fluid, Cyclophosphamide, Electro-encephalogram, IV immunoglobulin, Plasma exchange
Abstract
Objective: To study characteristics and outcome in patients with anti-N-Methyl-D-Aspartic Receptor encephalitis.
Study Design: Retrospective observational cohort.
Place and Duration of Study: Neurology Department Military Hospital Rawalpindi, from Feb 2015 to Sep 2016.
Material and Methods: Data of patients admitted with anti-n-methyl-D-aspartate receptor encephalitis was analyzed retrospectively. Patients were classified as having definite or probable anti-N-methyl-D-sspartate receptor encephalitis whether antibody testing in CSF was positive or negative respectively and fulfillment of other defined parameters. Patient characteristics, treatment protocols and outcomes were noted.
Results: Eleven patients were included in this cohort. Six (54.5%) were males and 5 (45.5%) were female. Mean age was 31.18 years (SD 14.865). Mean day to symptom onset was 18.51 days (SD 16.646). Abnormal behavior was seen in 90.9%, Seizures and movement disorder in 81.8%, speech dysfunction in 72.7%, decreased level of consciousness in 63.6% and autonomic dysfunction in 54.5% anti-N-methyl-D-aspartate receptor antibodies were done in CSF in 3 patients only out of which 2 were positive. In remaining nine patients antibody testing was not done due non availability of facility and or affordability. Out of eleven patients 2 (18.25%) had definite
encephalitis and 7 (81.8%) had probable encephalitis. CSF was abnormal in 63.6% with pleocytosis in 18.2% and oligoclonal bands in 45.5%. EEG was abnormal in 72.7% and MRI was annormal in 36.4%. Outcome was favorable in 63.6% and unfavorable in 36.4%.
Conclusion: In this study we were able to determine that patients with anti-N-Methyl-D-Aspartate Receptor encephalitis have a favorable outcome if diagnosed and treated aggressively early in the course of disease.


Downloads
Download data is not yet available.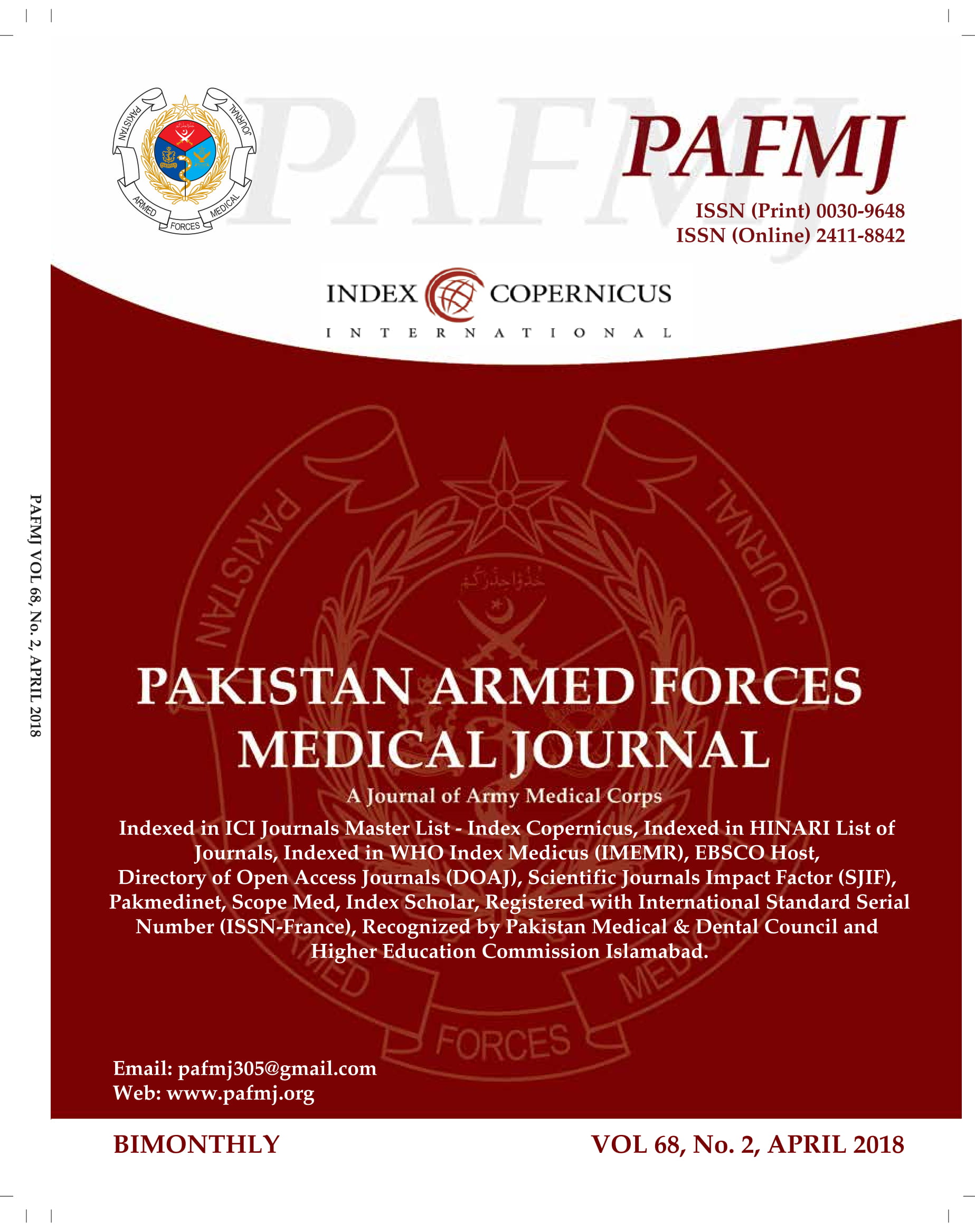 How to Cite
Anwar, S., Liaqat, J., Alamgir, , W., & Alamgir, , W. (2018). CHARACTERISTICS AND OUTCOMES IN PATIENTS WITH ANTI N-METHYL-DASPARTATE RECEPTOR AUTO-IMMUNE ENCEPHALITIS. PAFMJ, 68(2), 202-06. Retrieved from https://www.pafmj.org/index.php/PAFMJ/article/view/192
Section
Original Articles