COMPARISON OF URINE WITH PLASMA NEUTROPHIL GELATINASE– ASSOCIATED LIPOCALIN IN DETECTING ACUTE KIDNEY INJURY AFTER CARDIOPULMONARY BYPASS SURGERY
Plasma Neutrophil Gelatinase
Keywords:
Neutrophil gelatinase–associated lipocalin, cardiopulmonary bypass surgery, acute kidney injury
Abstract
Objective: To compare the accuracy of urine with plasma neutrophil gelatinase-associated lipocalin (NGAL) in early detection of acute kidney injury (AKI) following cardiopulmonary bypass (CPB) surgery.
Study Design: A prospective cohort study.
Place and duration of study: Department of Chemical Pathology and Endocrinology, AFIP from December 2011 to July 2012.
Patients and Methods: Ninety three adult patients planned for CPB surgery in AFIC/NIHD were consecutively included. Blood for serum creatinine were collected preoperatively, 4, 24 & 48 hours (h) after CPB surgery. Blood and urine samples for NGAL analysis were collected only at 4 h. Serum creatinine, plasma and urine NGAL samples were analyzed on UniCel® DxC 600 (Beckman), TRIAGE meter pro (Biosite) and ARCHITECT i2000SR analyzer (Abbott) respectively.
Results: Out of 93 patients undergoing CPB surgery, 12 (13%) developed AKI. AKI patients had significantly higher median interquartile range (IQR) urine NGAL of 180 ng/ml (105-277 ng/ml) as compared to control of 6 ng/ml (2-15 ng/ml) and median plasma NGAL of 170 ng/ml (126-274 ng/ml) as compared to control of 75 ng/ml (61-131 ng/ml). The patients had increased urine vs plasma NGAL area under curve (AUC) [ 0.91 vs 0.70 (p = <0.001)], better sensitivity (91% vs 82%) and specificity (98% vs 65%).
Conclusion: Plasma and urine NGAL values increased significantly in AKI patients as compared to serum creatinine values. Urine in comparison to plasma NGAL revealed more sensitivity and specificity in detecting AKI following CPB surgery.
Downloads
Download data is not yet available.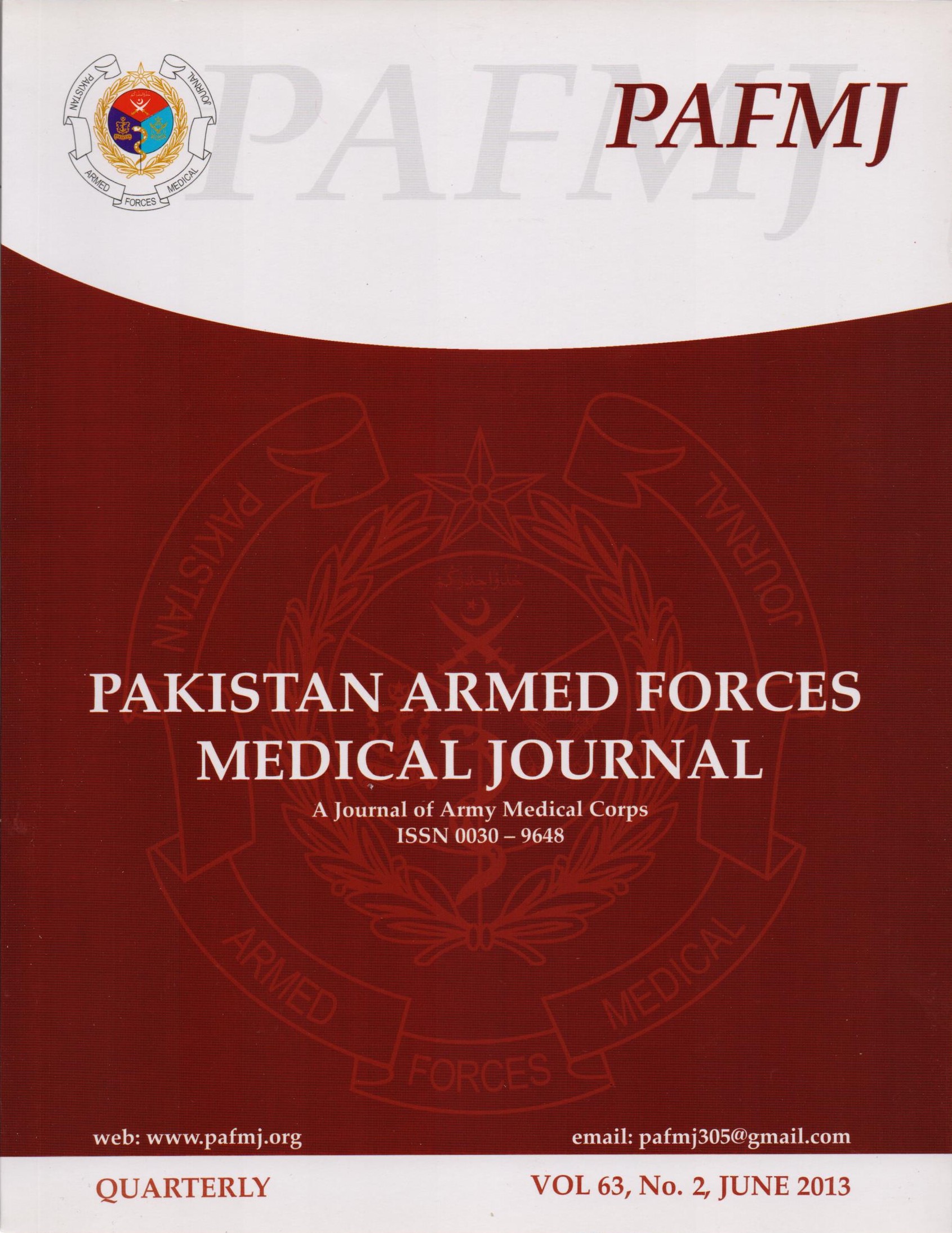 Downloads
How to Cite
Khan, B. D. A., Munir, M. U., Khan, F. A., & Naqvi, S. M. S. (2013). COMPARISON OF URINE WITH PLASMA NEUTROPHIL GELATINASE– ASSOCIATED LIPOCALIN IN DETECTING ACUTE KIDNEY INJURY AFTER CARDIOPULMONARY BYPASS SURGERY: Plasma Neutrophil Gelatinase. Pakistan Armed Forces Medical Journal, 63(2), 179–183. Retrieved from https://www.pafmj.org/PAFMJ/article/view/2219
Section
Original Articles