COMPARATIVE ANALYSIS OF CEREBROSPINAL FLUID ADA LEVELS IN TUBERCULOUS AND NON-TUBERCULOUS MENINGITIS
Keywords:
ADA, CSF, Meningitis, Tuberculous meningitis
Abstract
Objective:
To find out the association of Cerebrospinal Fluid (CSF) adenosine deaminase (ADA) Levels with tuberculosis meningitis.
Study Design: Case control study.
Place and Duration of Study: This study was conducted in the department of Medicine, Pak Emirates Military Hospital, Rawalpindi over a period of six months from May to Oct 2015.
Material and Methods:
One hundred and ten participants i.e. 55 cases and 55 controls were included in the study. Lumbar puncture were done and 2cc CSF was obtained. CSF for routine examination and ADA levels were sent to a single lab and pathologist verified report. Based on CSF report, patients were classified as tuberculous meningitis (TBM) and Non- tuberculous meningitis and comparative analysis of ADA level were done in both groups.
Results:
Mean age of the patients was 51.33 ± 21.60 and 41.76 ± 18.66 in tuberculosis meningitis and non-tuberculosis meningitis participants. In Tuberculous Meningitis patients, 33 (60.0%) were males while in non Tuberculous Meningitis participants, 35 (63.6%) were males. Mean ADA level in CSF (13.71 ± 4.25 vs. 4.76 ± 3.49, p<0.001), cerebrospinal fluid (CSF) protein level (144.71 ± 99.15 vs 58.27 ± 15.62, p<0.001) and mean cell count (185.00 ± 97.29 vs. 73.71 ± 111.38, p<0.001) were significantly higher in Tuberculous meningitis patients as compared to non Tuberculous Meningitis participants. However, mean glucose was significantly (p<0.001) lower 29.42 ± 8.63 in Tuberculous Meningitis patients in comparison to 57.38 ± 9.13 non-tuberculous meningitis participants.
Conclusion:
In conclusion, the estimation of CSF-ADA level is a speedy and simple method, which can be confidently used for diagnosis of tuberculous etiology in TBM patients and differentiating it from non- tuberculous etiology.
Downloads
Download data is not yet available.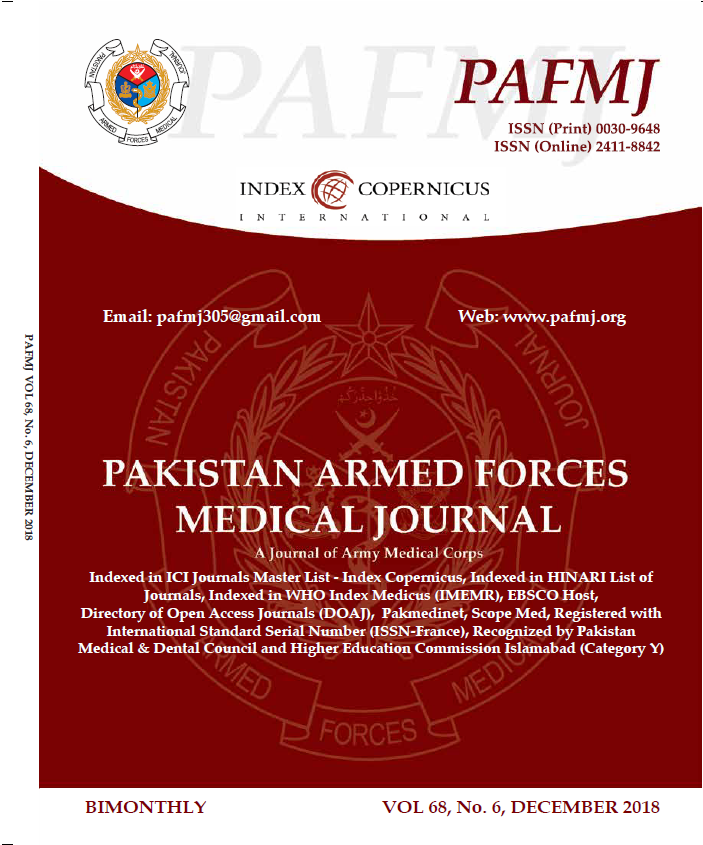 Downloads
How to Cite
Ullah, Z., Nisar, S., & Wali, W. (2018). COMPARATIVE ANALYSIS OF CEREBROSPINAL FLUID ADA LEVELS IN TUBERCULOUS AND NON-TUBERCULOUS MENINGITIS. Pakistan Armed Forces Medical Journal, 68(6), 1614–18. Retrieved from https://www.pafmj.org/PAFMJ/article/view/2558
Section
Original Articles