COMPARISON OF PROKINETIC ACTIVITY OF RANITIDINE AND NEOSTIGMINE ALONE AND IN COMBINATION- AN IN VITRO STUDY
Keywords:
Prokinetic, Ranitidine, Neostigmine, Powerlab
Abstract
Objective: To explore the prokinetic effect of Ranitidine, to compare it with the prokinetic effect of Neostigmine
and to observe the potentiating prokinetic effect of Ranitidine and Neostigmine in combination.
Study Design: Randomised controlled trial (experimental study).
Place and Duration of Study: Multi disciplinary centre, Army Medical College, Rawalpindi, from Jan to Dec 2015.
Methodology: Experiments were performed on three groups of rabbits (n=6) and Cumulative dose response
curves were plotted using isolated duodenal tissue on power lab (USA). In the first two groups of experiments,
cumulative concentrations of Neostigmine and Ranitidine were studied separately with neostigmine acting as a
control and in the third group the potentiating effect of a fixed dose of ranitidine on neostigmine was evaluated.
Results: Neostigmine's response was taken as 100 percent and Ranitidine's response when compared to it came out to be 197 percent. The dose response curve of Neostigmine was shifted to the left and upwards in the presence of Ranitidine. The percent response with Neostigmine alone was taken as 100 percent and increased to 212 percent when the tissue was pre-treated with Ranitidine.
Conclusion: Our study has indicated that Ranitidine has marked prokinetic effect which is found to be greater
than Neostigmine. It is also inferred that Ranitidine can potentiate the prokinetic effect of Neostigmine.
Downloads
Download data is not yet available.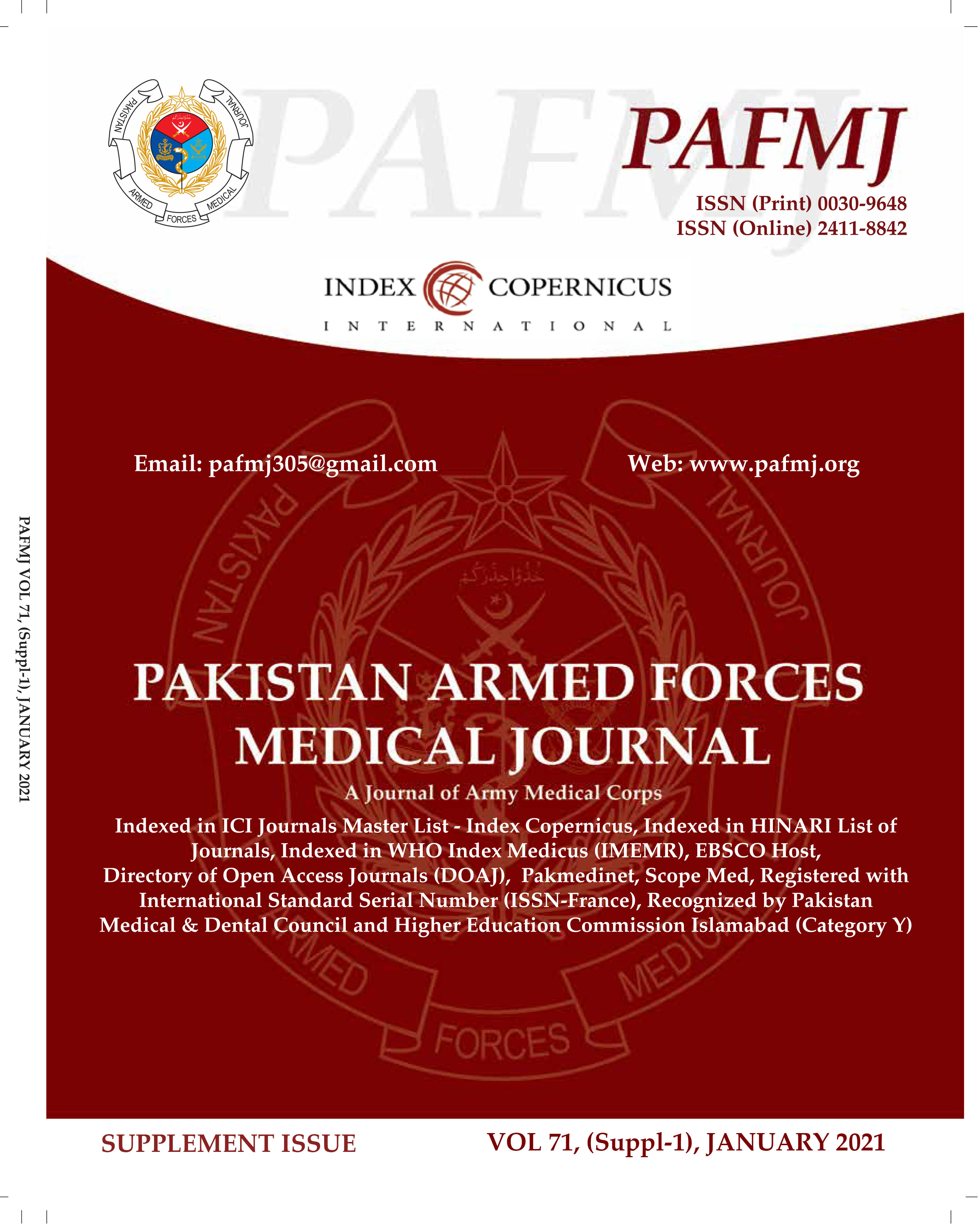 Downloads
How to Cite
Butt, A. I., Khan, A., Mazhar, W., Khan, Q. uz Z., & Maqsood, I. (2021). COMPARISON OF PROKINETIC ACTIVITY OF RANITIDINE AND NEOSTIGMINE ALONE AND IN COMBINATION- AN IN VITRO STUDY. Pakistan Armed Forces Medical Journal, 71(Suppl-1), S66–70. https://doi.org/10.51253/pafmj.v71iSuppl-1.2677
Section
Original Articles