COMPARISON OF EFFICACY OF TOPICAL CALCIPOTRIENE PLUS BETAMETHASONE WITH CALCIPOTRIENE ALONE IN LOCALIZED VITILIGO
Keywords:
Betamethasone dipropionate, Calcipotriene, Vitiligo
Abstract
Objective: To evaluate the efficacy of topical calcipotriene in comparison with topical calcipotriene plus betamethasone dipropionate in the treatment of localized vitiligo.
Study Design: Randomized controlled trial.
Place and Duration of Study: Study was carried out at department of Dermatology, Pak Emirates Military Hospital (PEMH) Rawalpindi and Combined Military Hospital (CMH) Lahore from June 2015 to December 2015.
Material and Methods: Informed consent of the patients and approval of the hospital ethical committee were duly obtained. A total of 60 patients aged 15-40 years of either gender with localized vitiligo were included in the study. The disease was diagnosed on the basis of clinical features and wood's lamp examination. Patients were randomly allocated into two groups (30 patients in each group) by lottery method. Group A patients, were given topical 0.005% calcipotriene ointment twice daily. Group B patients were given combination of topical 0.05% betamethasone dipropionate and 0.005% calcipotriene ointment twice daily. For evaluation of comparative efficacy, patients of both groups were examined every 4 weeks and at the end of 12th week of treatment. Repigmentation greater than 75% of the affected area in any case was documented as effective response.
Results: Total 60 patients were inducted in the study, out of them treatment was effective in 35 (58.3%) patients whereas in 25 (41.7%) patients the treatment was ineffective. In-group A (calcipotriene), 13 (43.33%) patients had more than 75% repigmentation where as in group B (calcipotriene plus betamethasone), 22 (73.33%) patients had more than 75% repigmentation. Group B was numerically and statistically superior to group A in terms of effectiveness of drugs.
Conclusion: Based on our study combination of topical betamethasone dipropionate with calcipotriene was found to be more effective than topical calcipotriene used alone in the treatment of localized vitiligo.
Downloads
Download data is not yet available.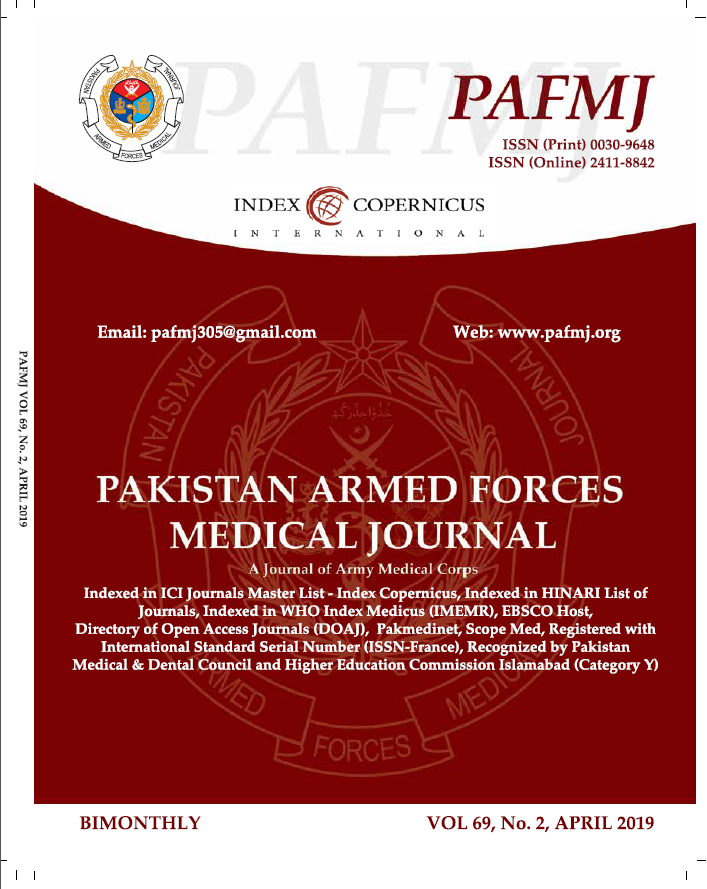 Downloads
How to Cite
Riaz, U., Shaikh, Z. I., & Islam, A. U. (2019). COMPARISON OF EFFICACY OF TOPICAL CALCIPOTRIENE PLUS BETAMETHASONE WITH CALCIPOTRIENE ALONE IN LOCALIZED VITILIGO. Pakistan Armed Forces Medical Journal, 69(2), 383–90. Retrieved from https://www.pafmj.org/PAFMJ/article/view/2760
Section
Original Articles