ASSESSMENT OF CLINICAL EFFICACY OF COOLING GEL PATCH
Keywords:
Cooling gel patch, Fever, Heat exhaustion, Muscle cramps, Pain management, Water spray
Abstract
Objective: To determine the efficacy of cooling gel patch in various clinical indications and comparison of cooling gel patch with water spray and cold sponging in fever and heat exhaustion.
Study Design: Comparative cross sectional study.
Place and Duration of Study: Garrison Medical Centre Okara Cantt, from Sep to Dec 2018.
Methodology: A total of 48 male patients, age ranges from 20-40 years were assessed with different clinical indications of cooling gel patch. Patients with fever, heat exhaustion, headache, muscle cramps and toothache were included in this study and patients with acute illness other than fever were excluded. A control group of 20
individuals was also analyzed against fever and heat exhaustion in which water spray and cold sponging was
used. Frequency and percentages of each indication were calculated and chi square test was applied.
Results: Total of 48 individuals living in plain terrain with various clinical indications of cooling gel patch were
assessed. Cooling Gel Patch was tested on 16 sportsmen with heat exhaustion out of which 2 (12.5%) individual
had minimal effect whereas control group of 10 showed good response in 8 (80%) sportsmen with water spray
and cold sponging with p-value .000578. Six patients with headache and 4 individuals with toothache reported
no reduction in symptoms. Two out of 6 patients with muscle cramps reported mild relief in symptoms. Sixteen
patients reported with high grade fever and out of these, 12 (75%) individuals showed no reduction in temperature after 4 hours of application......
Downloads
Download data is not yet available.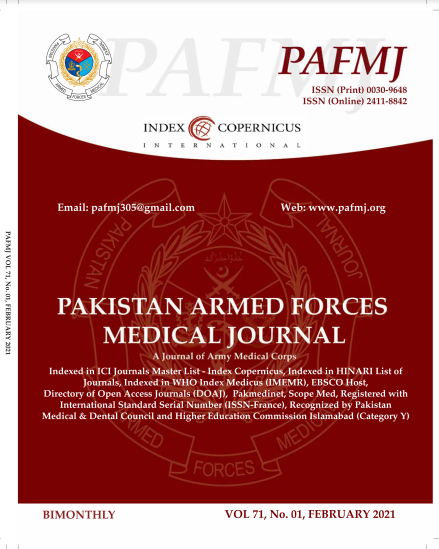 Downloads
How to Cite
Hussain, `Muhammad, Asim, M., Atif, M., & Anjum, N. (2021). ASSESSMENT OF CLINICAL EFFICACY OF COOLING GEL PATCH. Pakistan Armed Forces Medical Journal, 71(1), 328–32. https://doi.org/10.51253/pafmj.v71i1.2903
Section
Original Articles