INTEGRATED-MODULAR SYSTEM FOR UNDER GRADUATE MEDICAL STUDENTS: FACULTY'S PERCEPTION
Keywords:
Integrated curriculum, Medical education, Modular system
Abstract
Objective: To explore perception of Pakistani faculty working in medical college of Saudi Arabia regarding their experience of teaching in integrated modular system.
Study Design: Constructivist approach using qualitative phenomenological design.
Place and Duration of Study: Rabigh Medical College, King Abdul Aziz University Jeddah Saudi Arabia, from Nov 2016 to Apr 2017.
Material and Methods: Perception of 11 Pakistani faculty working in Rabigh, Saudi Arabia regarding integrated modular system (IMS) was explored through interviews. Interviews were audiotaped, transcribed and analyzed through thematic analysis. Triangulation of themes was done through audit by second author and content analysis by relating to their respective frequency of quotes.
Results: Overall the participants considered integrated modular curriculum a better system to provide holistic approach in teaching and learning. They believe the system provides relevance to basic and clinical sciences with real life situations in clinical context. The participants support the view that integrated system can create longlasting professional foundations for future doctors. They emphasized the importance of faculty development,
faculty and student training to increase the awareness of this system and considered it fundamental for successful implementation of integrated modular system.
Conclusion: The findings suggest that if integrated modular system is implemented in true spirit, it is more effective than other teaching systems. IMS facilitates contextual and applied learning thus it not only enhances students' levels and depths of knowledge, but also develop learners' critical thinking to perceive in a diverse and wide range of situations.
Downloads
Download data is not yet available.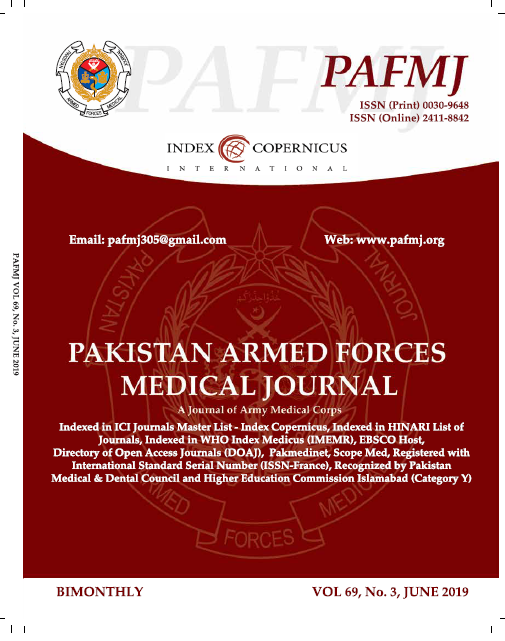 Downloads
How to Cite
Waqar, T., & Khaliq, T. (2019). INTEGRATED-MODULAR SYSTEM FOR UNDER GRADUATE MEDICAL STUDENTS: FACULTY'S PERCEPTION. Pakistan Armed Forces Medical Journal, 69(3), 465–71. Retrieved from https://www.pafmj.org/index.php/PAFMJ/article/view/3010
Section
Original Articles