FREQUENCY OF INSULIN RESISTANCE IN PATIENTS OF POLYCYSTIC OVARY SYNDROME
Keywords:
Homeostasis model assessment for insulin resistance (HOMA-IR), Insulin resistance (IR), Polycystic Ovary Syndrome (PCOS)
Abstract
Objective: The objective of this study was to determine frequency of insulin resistance (IR) in patients of polycystic ovary syndrome.
Study Design: Cross sectional analytic study.
Place and Duration of Study: This study was conducted in at Department of Chemical Pathology and Endocrinology, CMH Lahore for a period of 6 months, from Oct 2015 to Mar 2016.
Material and Methods: Fifteen to thirty five years old female patients already diagnosed to have polycystic ovary syndrome (PCOS), according to Rotterdam Criteria 2003 for at least 6 months were included in this study. Patients who had pregnancy or history of childbirth less than three months back, diabetes mellitus, adrenal or thyroid dysfunction or taken insulin sensitizing agent within last three months were excluded. Two hundred patients fulfilling inclusion criteria were enrolled and blood samples were drawn for analysis of fasting plasma glucose and serum insulin from all of them. Data was entered in a specially designed proforma. The data was analyzed by using SPSS version 17.0
Results: Insulin resistance was found in 137 (69%) enrolled patients in our study. Out of 200 patients 94 (47%) were >25 years and 106 (53%) were <25 years of age.
Conclusion: The results of our study showed that a significant proportion of PCOS patients had insulin resistance. A strategy should be made to screen all patients for IR and promote treatment which could prevent IR and its adverse effects.
Downloads
Download data is not yet available.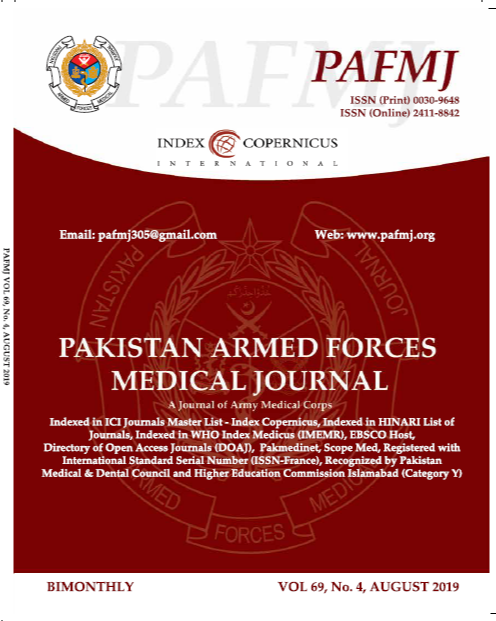 Downloads
How to Cite
Farooq, M., Farooq, M., Butt, M. R., Alam, S., Zubair, M., & Shaheen, S. (2019). FREQUENCY OF INSULIN RESISTANCE IN PATIENTS OF POLYCYSTIC OVARY SYNDROME. Pakistan Armed Forces Medical Journal, 69(4), 808–13. Retrieved from https://www.pafmj.org/PAFMJ/article/view/3204
Section
Original Articles