EFFECT OF LONG ACTING β2-AGONISTS ON GROSS MORPHOLOGY OF SKELETAL MUSCLES AND CREATINE PHOSPHOKINASE LEVEL IN SIMVASTATIN INDUCED MYOPATHIES IN RATS
Keywords:
Creatine phosphokinase, Formoterol, Myopathy, Skeletal muscle, Statin
Abstract
Objective: To study the gross morphology of skeletal muscles and plasma Creatinine phosphokinase levels of rats and find effect of long acting β2-agonists co-administration in Statin induced myopathies.
Study Design: Quasi experimental study.
Place and Duration of Study: Department of Anatomy, Army Medical College Rawalpindi in collaboration with National Institute of Health (NIH) Islamabad and Armed forces institute of Pathology (AFIP) Rawalpindi, from Jan 2015 to Jun 2016.
Methodology: Adult male Sprague-Dawley rats were procured from NIH Islamabad. Their average approximate age was 70-80 days with weight range 250 ± 50 grams. The animals were randomly selected and divided into three groups. Group A was the control. Each rat of group B received Simvastatin dissolved in distilled water, by oral gavage (60mg/kg/day) once daily, for 12 weeks. Animals of Group C received simvastatin dissolved in distilled water, (60mg/kg/day) once daily plus for dissolved in distilled water (3μg/kg/day) once daily for 12 weeks. 5ml sample of blood was taken in a plain tube directly from the heart for the quantitative measurement of creatine phosphokinase (CPK) levels before sacrificing of the animals. The animals were sacrificed after three months of the experimental period.
Results: Examination of plasma levels of CPK of the control group revealed the normal values. It was significantly higher in group B as compared to the control group A. The serum creatine phosphokinase levels showed a decrease in the mean levels after treatment with Formoterol in group C
Conclusion: Simvastatin induced the myopathic changes in the skeletal muscle of experimental rats which was shown by increased CPK levels. Formoterol co-administration decreased CPK levels in simvastatin induced myopathies.
Downloads
Download data is not yet available.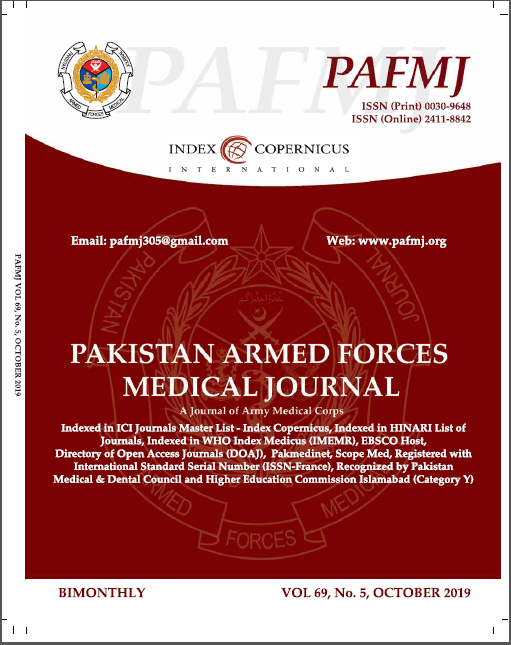 Downloads
How to Cite
Qamar, A., Kundi, H., Yousaf, M., & Ali, S. (2019). EFFECT OF LONG ACTING β2-AGONISTS ON GROSS MORPHOLOGY OF SKELETAL MUSCLES AND CREATINE PHOSPHOKINASE LEVEL IN SIMVASTATIN INDUCED MYOPATHIES IN RATS. Pakistan Armed Forces Medical Journal, 69(5), 1065–70. Retrieved from https://www.pafmj.org/PAFMJ/article/view/3415
Section
Original Articles