MORBIDITY AND MORTALITIES BY ROTAVIRUS: REVIEW FOR STRATEGIC MEASURES
Keywords:
Barriers, Coverage, Diarrhea, Morbidity, Mortality, Rotavirus infection, Vaccination
Abstract
Despite, the improved healthcare system, diarrhea is considered as leading cause of child morbidity and mortality. Young children under age of 5 years have more propensity to be affected by water-borne infections particularly diarrhea, according to an estimation over 200,000 mortality of children occur annually by preventable diseases due to poor hygienic conditions, lack of sanitary facilities and contaminated water. Rotavirus is the main causative agent for inducing diarrheal hospitalization. Since 2006, vaccines for rotavirus has introduced by WHO and recommended for countries to make the part of their national immunization program. Generally, 2 licensed vaccines are used internationally and these have high effectiveness. Many other vaccines are still in developing phase. Though, some others pre-qualified vaccines are used in developing countries. Yet, coverage for rotavirus vaccination is not reached to satisfactory level. Except the efforts, certain barriers exist for vaccination including high cost of vaccine, limited perception and knowledge of families and health priorities. To overcome these barriers, there is need of distinguished role of community health workers and pharmacists.
Downloads
Download data is not yet available.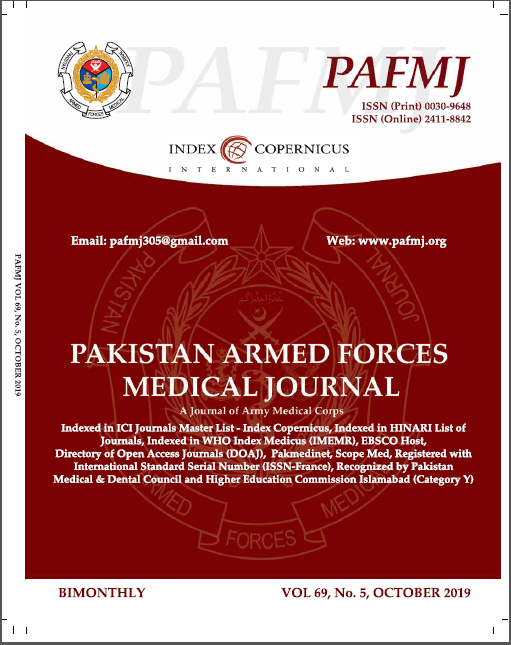 Downloads
How to Cite
Hamid, H., Tabassam, N., Mehboob, T., Aslam, R., Bashir, I., & Khan, K. I. (2019). MORBIDITY AND MORTALITIES BY ROTAVIRUS: REVIEW FOR STRATEGIC MEASURES. Pakistan Armed Forces Medical Journal, 69(5), 1149–53. Retrieved from https://www.pafmj.org/index.php/PAFMJ/article/view/3432