MIDDLE EAR DISORDERS AMONG CLEFT LIP AND PALATE IN CHILDREN: A CONJOINT EXPOSITION
Keywords:
Cleft lip/palate, Developmental anomalies, Hearing loss, Middle ear disorders
Abstract
Objective: To analyze the frequency of middle ear disorders among the cleft lip and palate and association with hearing Loss.
Study Design: Cross Sectional analytical study.
Place and Duration of Study: Audiology Department of Cleft Hospital, Gujrat and ENT department of National Institute of Rehabilitation Medicine, Islamabad, from Oct 2018 to Mar 2019.
Methodology: We recruited a sample of 100 cleft lip and palate children of both genders, aged 3 month to 12 years, using nonprobability sampling. Screening was performed with otoscopy, tympanometry and hearing assessment.
Results: Out of sample population, 62% were males and 38% females with a mean age of 2.27 ± 2.73 years. The middle ear disorders were found to be 70%. Among these otitis media with effusion was the most common 43 (61.43%), followed by Acute otitis media 8 (11.43%) and Eustachian tube dysfunction 6 (8.57%). Tympanosclerosis and dry tympanic membrane perforation were the least common. Statistically significant association of hearing loss was found with the middle ear disorders (p<0.001).
Conclusion: Middle ear disorders especially otitis media with effusion are common in cleft lip/ palate children.
Downloads
Download data is not yet available.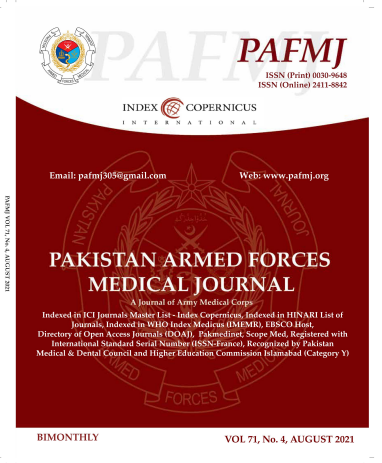 Downloads
How to Cite
Islam, S., Mumtaz, N., & Saqulain, G. (2021). MIDDLE EAR DISORDERS AMONG CLEFT LIP AND PALATE IN CHILDREN: A CONJOINT EXPOSITION. Pakistan Armed Forces Medical Journal, 71(Suppl-3), S457–61. https://doi.org/10.51253/pafmj.v1i1.3687
Section
Original Articles