EFFECT OF NIGELLA SATIVA ON SERUM TESTOSTERONE LEVELS IN LETROZOLE INDUCED POLYCYSTIC OVARIAN SYNDROME IN MICE
Keywords:
Fasting blood glucose, Letrozole, Nigella sativa, Polycystic ovarian syndrome, Serum testosterone level
Abstract
Objective: Monitor the ameliorative impact of Nigella sativa on fasting blood glucose and serum testosterone
levels in polycystic ovarian syndrome caused by letrozole in mice.
Study Design: Laboratory based randomized control trial.
Place and Duration of Study: Anatomy department, Army Medical College in teamwork with National Institute
of Health. Time span is Dec 2014 Dec 2015.
Methodology: Total 40 mature female BALB/c mice were chosen and distributed in four groups (ten mice in each one). Group 1 was given normal diet. Rests of three groups were treated with Letrozole at dose of 1 mg/kg body weight once daily for eight weeks. Group 3 was also given Nigella sativa seeds powder at dose of 10 g/kg body weight once daily starting at 22 day and continued up to eight weeks. Group 4 was treated with Nigella sativa oil at a dose of 4 ml/kg body weight once daily starting at 22 day and continued up to eight weeks. At termination of trial, fasting blood glucose level (FBG) was recorded by taking blood sample by glucometer from mouse lateral tail vein after 12 hours fasting. Mice with blood glucose level 250-464 mg/dl were marked hyperglycemic. Final blood sample was taken through cardiac puncture for serum testosterone evaluation.
Results: Fasting blood glucose and Serum testosterone levels were raised in group 2 animals in comparison to
group 1 while they were reduced remarkably in group 3 and 4 in comparison of group 2.
Conclusion: Nigella sativa seeds in both solid and liquid state leave..................
Downloads
Download data is not yet available.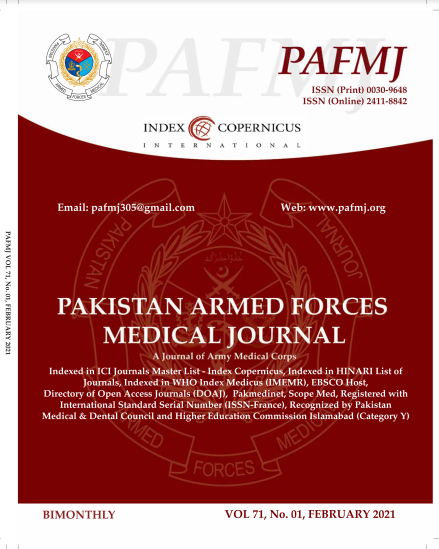 Downloads
How to Cite
Anwar, N., Hamid, S., Nadeem, A., Asad, A., Waseem, N., & Mehmood, N. (2021). EFFECT OF NIGELLA SATIVA ON SERUM TESTOSTERONE LEVELS IN LETROZOLE INDUCED POLYCYSTIC OVARIAN SYNDROME IN MICE. Pakistan Armed Forces Medical Journal, 71(1), 338–42. https://doi.org/10.51253/pafmj.v71i1.3693
Section
Original Articles