LOW AMNIOTIC FLUID INDEX (AFI) AS A PREDICTOR OF ADVERSE FETAL OUTCOMES IN THE THIRD TRIMESTER OF PREGNANCY
Sadaf Moin

Combined Military Hospital, Hyderabad Pakistan

Rabia Mushtaq

Sargodha Medical College, Sargodha Pakistan

Bushra Iftikhar

Karachi Institute of Medical Sciences, Karachi Pakistan

Maimoona Khan

University of Zimbabwe, Harare, Zimbabwe

Nuzhat Aisha Akram

Karachi Institute of Medical Sciences, Karachi Pakistan

Sarah Fatima

Karachi Institute of Medical Sciences, Karachi Pakistan
Keywords:
Adverse fetal outcome, Low amniotic fluid index, Pregnancy
Abstract
Objectives: To determine the association of low Amniotic Fluid Index with adverse fetal outcome in females presenting in third trimester of pregnancy.
Study Design: Prospective comparative study.
Place and Duration of Study: Department of Obstetrics & Gynecology, CMH Hyderabad, from Apr to Sep 2018.
Methodology: A total of 178 pregnant patients with parity <5, presenting at gestational age between 37-42 weeks with singleton pregnancy were included in the study. Patients with multiple pregnancy, intrauterine fetal anomaly or fetal demise, ruptured membranes, placental abruption, gestational hypertension, and diabetes were excluded. Patients were divided into 2 groups of 89 patients each i.e. group A with Amniotic Fluid Index ≤5cm and group B with Amniotic Fluid Index from 11-21 cm. Frequencies of adverse fetal outcomes in both groups were recorded.
Results: The frequency of low Appearance, Pulse, Grimace, Activity and Respiration (APGAR) score was 15.73% in group A versus 3.39% in the group B (p=0.005) while abnormal fetal heart rate (FHR) was seen in 29.21% patients amongst group A versus 13.48% in group B (p=0.010). The rate of neonatal intensive care unit (NICU) admission was 15.73% in group A as compared to 4.49% in group B (p=0.013), while meconium stained liquor was 41.57% in group A versus 13.48% in group B (p<0.01). All adverse fetal outcomes varied between the two groups by a statistically significant proportion.
Conclusion: Amniotic Fluid Index of ≤5 cm was found to be a reliable predictor of adverse fetal outcomes in the last trimester of pregnancy. Keywords: , ,.
Downloads
Download data is not yet available.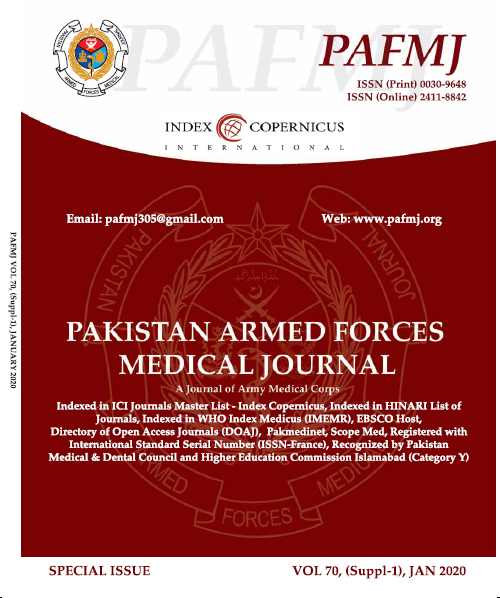 How to Cite
Moin, S., Mushtaq, R., Iftikhar, B., Khan, M., Akram, N., & Fatima, S. (2020). LOW AMNIOTIC FLUID INDEX (AFI) AS A PREDICTOR OF ADVERSE FETAL OUTCOMES IN THE THIRD TRIMESTER OF PREGNANCY. PAFMJ, 70(Suppl-1), S69-73. Retrieved from https://www.pafmj.org/index.php/PAFMJ/article/view/3796
Section
Original Articles