PERSPECTIVE OF FUTURE HEALTH PROFFESSIONALS ON HAND HYGIENE IN A MEDICAL SCHOOL OF A DEVELOPING COUNTRY
Rizwana Kamran

Combined Military Hospital Lahore/Medical College & Institute of Dentistry/National University of Medical Sciences (NUMS) Pakistan

Attia Bari

Children's Hospital and Institute of Child Health Lahore Pakistan

Rehan ud Din

Combined Military Hospital Lahore/Medical College & Institute of Dentistry/National University of Medical Sciences (NUMS) Pakistan

Hira Sohail

Combined Military Hospital Lahore/Medical College & Institute of Dentistry/National University of Medical Sciences (NUMS) Pakistan
Keywords:
Nurses, Practices, Undergraduate medical students, Hand hygiene
Abstract
Objective: To determine the knowledge, attitude and practices of undergraduate medical and nursing students about hand hygiene.
Study Design: Cross-sectional study.
Place and Duration of Study: This study was conducted in Institute of Nursing at Combined Military Hospital (CMH) Lahore Medical College & Institute of Dentistry, from Dec 2018 to Feb 2019.
Methodology: A self-administered inventory was distributed to all fourth, final year undergraduate medical students (UGMS) and second, third and fourth year undergraduate nursing students (UGNS). The inventory consisted of 31 items. Descriptive statistics were used for calculating percentages of all items. Percentage >75 showed good awareness, while percentage <50 showed poor awareness.
Results: A total of 285 students, 195 (68.4%) undergraduate medical students and 90 (31.6%) undergraduate nursing students filled out the inventory with the response rate of 77%. Only 176 (62%) had good knowledge regarding hand hygiene. The attitude of students on hand hygiene was good with highest percentage score of 85%. The practice subscale score of students was 73.2%. The overall score of the whole group was 70%, indicating the moderate awareness of students regarding hand hygiene. No significant differences were found between percentages of correct answers of the two cohorts of participants (p>0.05).
Conclusion: Both undergraduate medical and nursing students showed positive attitude with moderately satisfactory knowledge and practice towards hand hygiene. No difference was found in both groups with almost similar knowledge, attitude and practices.
Downloads
Download data is not yet available.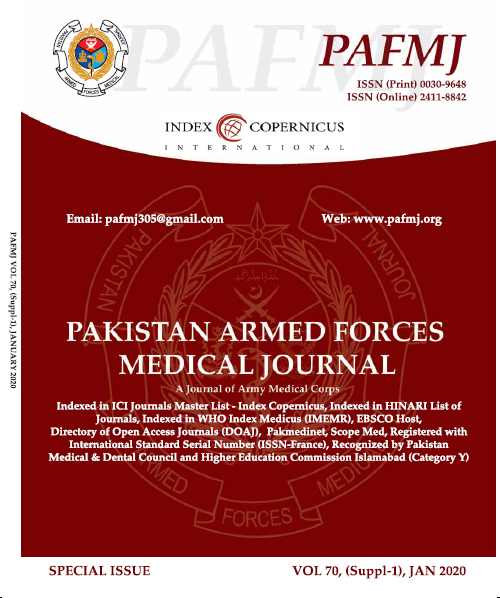 How to Cite
Kamran, R., Bari, A., Din, R., & Sohail, H. (2020). PERSPECTIVE OF FUTURE HEALTH PROFFESSIONALS ON HAND HYGIENE IN A MEDICAL SCHOOL OF A DEVELOPING COUNTRY. PAFMJ, 70(Suppl-1), S78-82. Retrieved from https://www.pafmj.org/index.php/PAFMJ/article/view/3798
Section
Original Articles