DISORDERS LEADING TO INFERTILITY IN MALES AND FEMALES
Sayed Tanveer Abbas Gilani

Combined Military Hospital Bahawalnagar Pakistan

Ghazala Iftikhar

Social Security Hospital, Lahore Pakistan

Badar U Nisa

Akhtar Memorial Hospital, Lahore Pakistan

Iqtidar Raheem

Combined Military Hospital Bahawalnagar Pakistan

Shazia Choohan

Combined Military Hospital Bahawalnagar Pakistan

Musharraf Imam

Combined Military Hospital Lahore/National University of Medical Sciences (NUMS) Pakistan
Keywords:
Infertility, Poly cystic ovarian syndrome, Semen analysis
Abstract
Objective: To determine the frequency of disorders causing infertility in patients reporting to CMH Bahawalnagar.
Study Design: Cross-sectional analytical study.
Place and Duration of Study: Department of Pathology and Gynaecology/Obstetrics, Combined Military Hospital (CMH), Bahawalnagar in collaboration with Armed Forces Institute of Pathology (AFIP) and Pak Emirates Military Hospital (PEMH), Rawalpindi, from Apr 2013 to Apr 2015.
Methodology: A total of 200 infertile couples who were married, living together and reported to CMH Bahawal-nagar for the workup of infertility were included. Serum follicle stimulating hormone, luteinizing hormone, prolactin, testosterone, thyroid stimulating hormone, free thyroxin were performed in all patients. Serum estradiol, progesterone, liver function tests, plasma glucose, high vaginal swab and ultrasonography pelvis in all females. Semen analysis was performed in all males. Endocrinological profiles were analyzed by chemiluminescent enzyme immunoassay on Immulite 2000 at AFIP Rawalpindi.
Results: Out of total 200 infertile couples, 156 with infertility due to different identified causes comprised of 18 percent because of male factors, 37% female factors and 23% contributed by both partners and age of 30 ± 5 years in males, 28 ± 5 years in females and mean duration of marriage 6 ± 4 years. Varicocele was the cause of infertility in 12.5% males while poly cystic ovarian syndrome was the most common cause of infertility in 12.5% females.
Conclusion: Varicocele was found to be the commonest cause of infertility, followed by genital tract infection and immunological causes in males. Whereas polycystic ovarian syndrome was the commonest problem causing infertility in females.
Downloads
Download data is not yet available.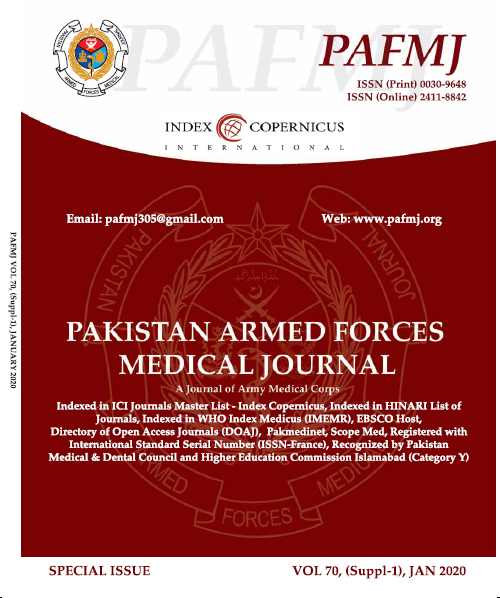 How to Cite
Gilani, S. T., Iftikhar, G., Nisa, B., Raheem, I., Choohan, S., & Imam, M. (2020). DISORDERS LEADING TO INFERTILITY IN MALES AND FEMALES. PAFMJ, 70(Suppl-1), S95-100. Retrieved from https://www.pafmj.org/index.php/PAFMJ/article/view/3802
Section
Original Articles