CLINICAL PROFILE AND SHORT TERM OUTCOME OF HYPOXIC ISCHEMIC ENCEPHALOPATHY AMONG BIRTH ASPHXIATED BABIES IN A TERTIARY CARE HOSPITAL
Keywords:
Hypoxic ischemic encephalopathy, Birth asphyxia, Mechanical ventilation
Abstract
Objective: To determine the clinical profile, selected antepartum and intrapartum risk factor for adverse short
term outcomes of hypoxic ischemic encephalopathy in babies with birth asphyxia.
Study Design: Cross sectional study.
Place and Duration of Study: Neonatal Intensive Care Unit of Pak Emirates Military Hospital, Rawalpindi, from
Jan to Dec 2018.
Methodology: This study including all birth asphyxiated babies born who fulfilled the inclusion criteria.
Following data was collected prospectively regarding gender, gestational age, birth weight and mode of delivery, maternal age, antenatal follow up, history of premature rupture of membranes and meconium stained liquor. Babies were categorized into different stages of hypoxic ischemic encephalopathy according to Sarnat and Sarnat staging. Selected antepartum and intrapartum risk factors leading to hypoxic insult at birth were studied and short-term outcome was recorded in the form of need of mechanical ventilation, mortality and discharge from the hospital.
Results: The frequency of birth asphyxia turned out to be 122/5986 (2.03%) at our center. Thirty four (27.87%)
required mechanical ventilation, mortality was recorded at 20/122 (16.39%). While 61 (50%) babies suffered from stage I hypoxic ischemic encephalopathy, 13/20 (65%) of newborn who expired were suffering from grade III hypoxic ischemic encephalopathy.
Conclusion: The severity of hypoxic ischemic encephalopathy affects the outcome of newborns having birth
asphyxia with hypoxic ischemic encephalopathy grade III associated with maximum mortality. Early identifycation of pregnancies at risk for asphyxia, with appropriate intervention in selected cases is the key to prevent birth asphyxia and its ensuing neonatal complications.
Downloads
Download data is not yet available.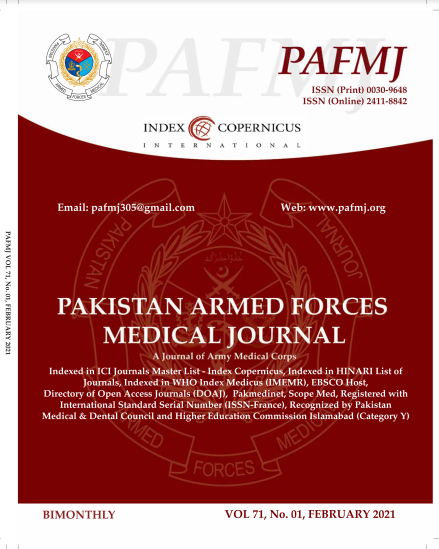 Downloads
How to Cite
Niaz, H., Jalil, J., Khan, Q. U. Z., Basheer, F., Akhtar, S., & Hamid, N. (2021). CLINICAL PROFILE AND SHORT TERM OUTCOME OF HYPOXIC ISCHEMIC ENCEPHALOPATHY AMONG BIRTH ASPHXIATED BABIES IN A TERTIARY CARE HOSPITAL. Pakistan Armed Forces Medical Journal, 71(1), 24–28. https://doi.org/10.51253/pafmj.v71i1.3847
Section
Original Articles