EVALUATING CONCEPT OF HEALTHY EATING IN RELATION WITH PHYSICAL ACTIVITY AND DIETARY HABITS AMONG UNIVERSITY STUDENTS
Healthy Eating in Relation with Physical Activity and Dietary Habits
Keywords:
Dietary propensities, Nutritional information, Physical movement
Abstract
Objective: To evaluate the physical activities and dietary habits and to determine the concept of healthy eating among university students of Pakistan.
Study Design: Cross sectional survey.
Place and Duration of Study: Three well reputed educational institutes of Lahore Pakistan, from Jul 2019 to May 2020.
Methodology: A questionnaire was used for data collection and validated scientifically as well as linguistically by experts. The questionnaire consists of 4 parts demographic and basic profile of participants i.e., body mass index, age, gender. The rest of parts used to evaluate dietary patterns, physical activities and participant's concept for healthy eating. A total of 324 participants were included in the study and sample size was calculated by using Raosoft sample size calculator by keeping the population size as 200000. The data was collected through online protocols such as by sharing in social media groups of relevant universities. All the collected data was entered and analyzed by using SPSS-21.
Results: Out of 324 participants, there was a major cohort of female participants 202 (62.3%) as well as 209 (64.5%) participants were day scholars. The key findings of current study were observed that the students have satisfactory eating habits and 103 (31.8%) have an active lifestyle; 130 (40.1%) have a normal body mass index; only 142 (43.8%) have quite good nutritional knowledge.
Conclusion: The results specified detrimental behaviors influencing student's dietary habits and they must be considered inevitable for interventions to be made and refining student's responsiveness for acquiring a healthy lifestyle.
Downloads
Download data is not yet available.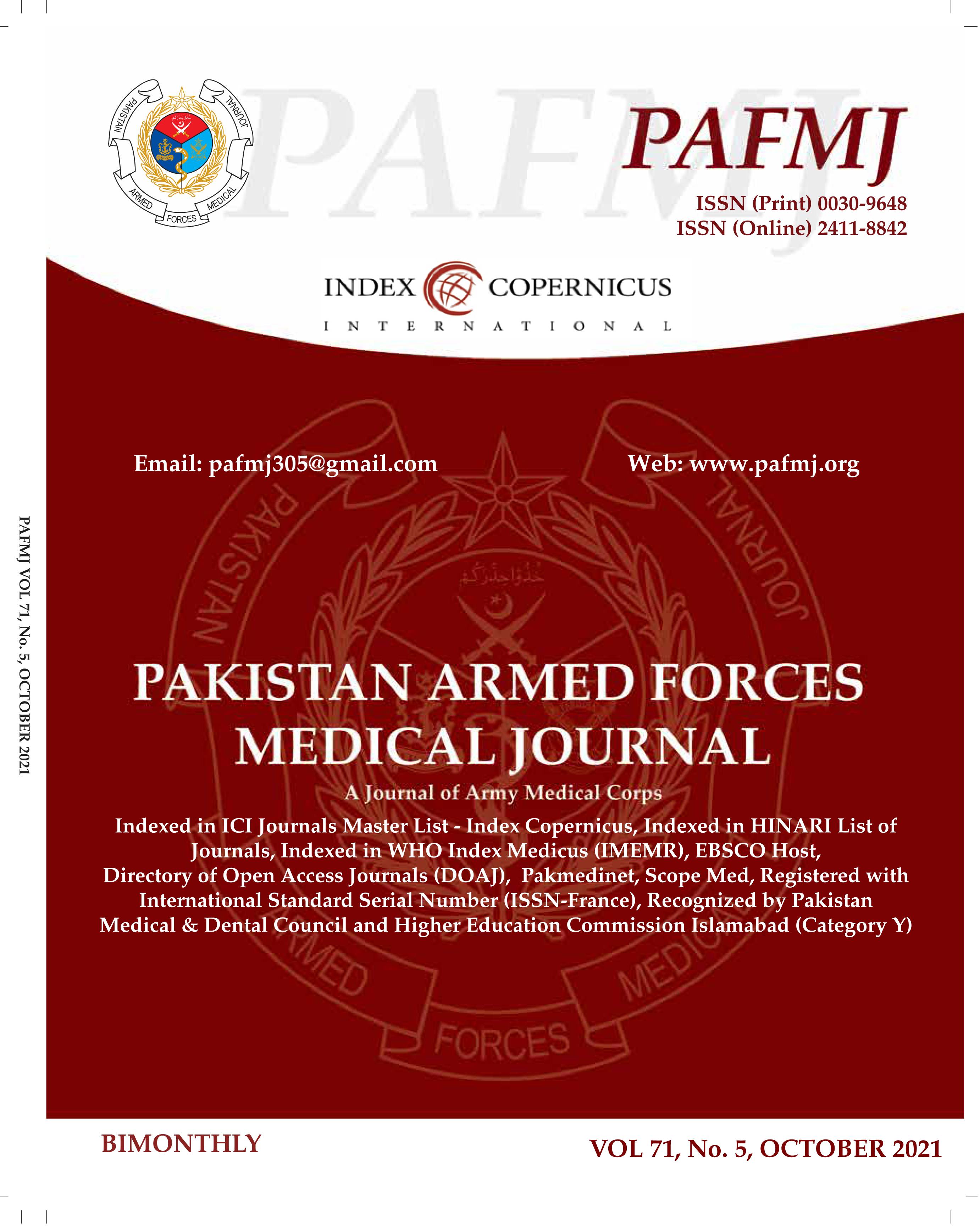 Downloads
How to Cite
Javed, A., Ameer, S., Talib, H., Bashir, I., & Jamshaid, M. (2021). EVALUATING CONCEPT OF HEALTHY EATING IN RELATION WITH PHYSICAL ACTIVITY AND DIETARY HABITS AMONG UNIVERSITY STUDENTS: Healthy Eating in Relation with Physical Activity and Dietary Habits. Pakistan Armed Forces Medical Journal, 71(5), 1603–06. https://doi.org/10.51253/pafmj.v71i5.4466
Section
Original Articles