Reduction of Early Postoperative Pain: Comparison between Port Site and Intra-Peritoneal Infiltration of Local Anaesthetic Agent Among the Patients Undergoing Elective Cholecystectomy
Keywords:
Intraperitoneal, Laparoscopy, Local anesthetic, Pain, Port site
Abstract
Objective: To evaluate the role of port site and intra-peritoneal infiltration of local anaesthetic agent in reducing early postoperative pain in patients undergoing elective cholecystectomy.
Study Design: Quasi-experimental study.
Setting And Duration of Study: Combined Military Hospital, Rawalpindi Pakistan, from Jun 2019 to Mar 2020.
Methodology: This study was conducted on 250 patients who underwent laparoscopic cholecystectomy during the studyperiod. Patients were randomized into two groups. Group-A received the port site infiltration of the local anaesthetic agent, while Group-B received the intraperitoneal infiltration of the same agent after the surgery. The pain at the surgical site was recorded on the visual analogue scale (VAS) 24 hours after the surgical procedure.
Results: Out of 250 patients randomized into two groups, 130(52%) in Group-A and 120(48%) in Group-B. 160(64%) were male, while 90(36%) were female. The mean age of patients in our study was 40.15 ±6.57 years. The mean pain score in GroupA was 7.21±2.11, while in Group-B was 5.42±1.29. There was a significant difference in the pain score of both groups (p-value<0.01).
Conclusion: Intraperitoneal infiltration of the local anaesthetic agent after the laparoscopic surgery emerged as better analgesia for early post-operative pain than port site infiltration of the same agent in the same dose.
Downloads
Download data is not yet available.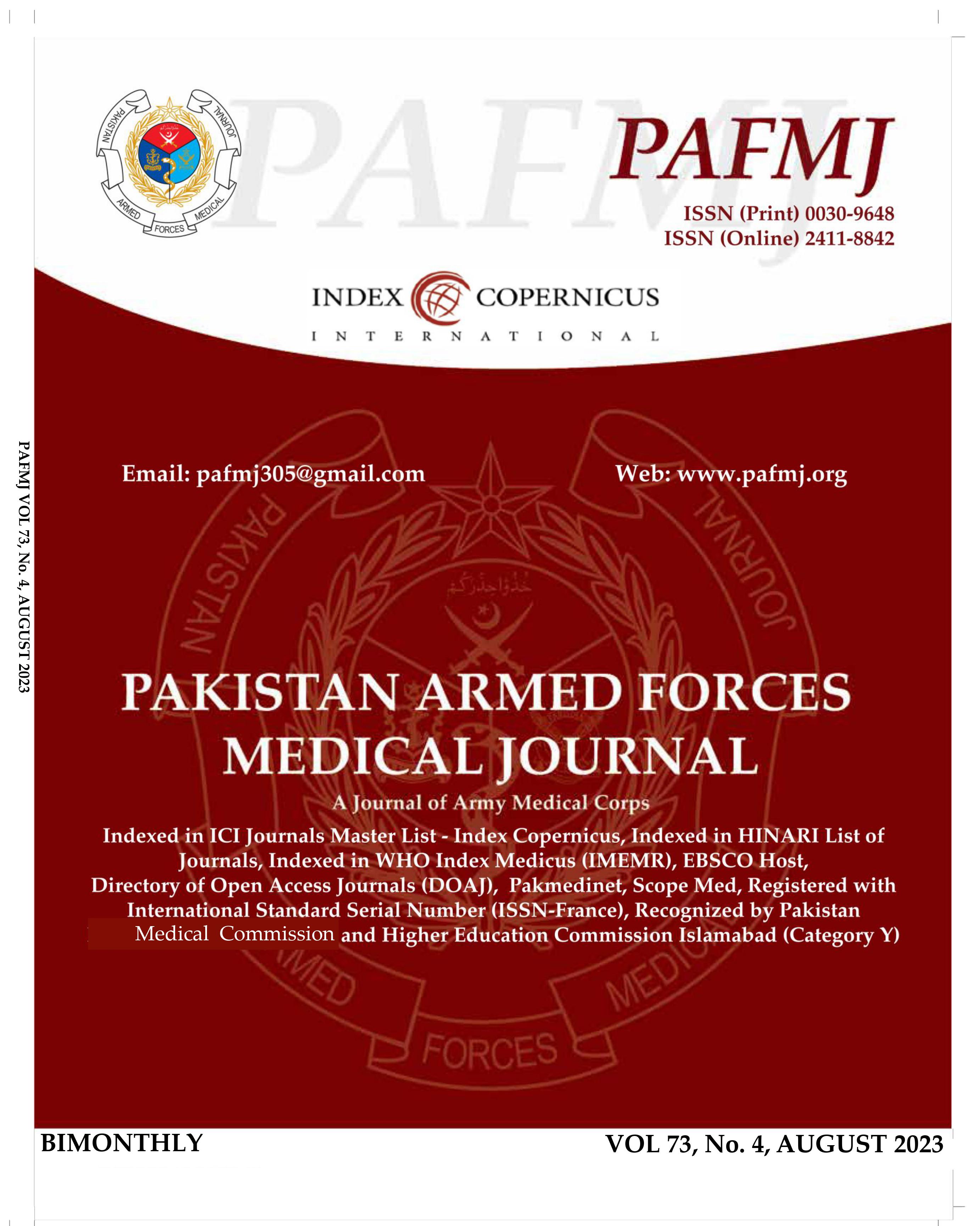 Downloads
How to Cite
Ayaz, M. A., Butt, M. Q., Mehmood, K., Ayaz, M. M., Abbas, M., & Butt, Z. Q. (2023). Reduction of Early Postoperative Pain: Comparison between Port Site and Intra-Peritoneal Infiltration of Local Anaesthetic Agent Among the Patients Undergoing Elective Cholecystectomy. Pakistan Armed Forces Medical Journal, 73(4), 973–976. https://doi.org/10.51253/pafmj.v73i4.4534
Section
Original Articles