CANCER AND QUALITY OF LIFE: IMPORTANCE OF GENDER AND MARITAL ADJUSTMENT IN PSYCHO-SOCIAL ONCOLOGY
Amina Hanif Tarar

Government College University, Lahore Pakistan

Abeeha Shaloom

Kinnaird College for Women Lahore, Lahore Pakistan
Keywords:
Breast cancer, Gender, Prostate cancer, Pscyho-social Oncology, Quality of life
Abstract
Objective: To study the breast and prostate cancer patients' quality of life and marital adjustment along with gender differences on these variables.
Study Design: Correlational study.
Place and Duration of Study: The study was conducted at Cancer Care Hospital and Research Centre Foundation, from Jun 2017 to Nov 2018.
Methodology: A sample of 100 cancer patients 50 women with breast cancer and 50 men with prostate cancer were procured using purposive sampling strategy. Two self-report scales namely World Health Organization Quality of Life (Brief version) for measuring quality of life and marital adjustment test for measuring marital adjustment were used for data collection.
Results: Results suggested that mean scores of women was significantly lower than men on physical (Men = 52.95 ± 8.47, Women = 48.40 ± 11.06), environmental (Men = 63.80 ± 7.74, Women = 53.70 ± 15.06) and psychological (Men = 46.55 ± 6.52, Women = 40.35 ± 12.07) domains of Quality of Life and marital adjustment (Men = 93.82 ± 19.14, Women = 85.20 ± 17.89). Pearson correlation values suggested that all domain of quality of life have significant positive relationship with marital adjustment (Physical = 0.49*** Psychological = 0.21* = 0.25** Environmental = 0.28**). Regression analysis revealed marital adjustment to be the most significant predictor of all domains of quality of life in cancer patients explaining 24% variance in physical, 5% variance in psychological and 8% variance in social and environmental domains.
Conclusion: The study concludes quality of life as an important dimension to be attended to cancer care. Furthermore, it emphasizes the need for psycho-social oncology and taking a gendered approach in cancer patients' counselling.
Downloads
Download data is not yet available.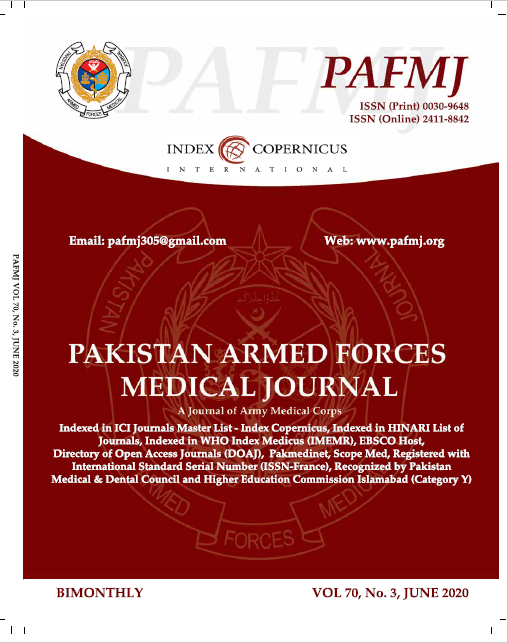 How to Cite
Tarar, A., & Shaloom, A. (2020). CANCER AND QUALITY OF LIFE: IMPORTANCE OF GENDER AND MARITAL ADJUSTMENT IN PSYCHO-SOCIAL ONCOLOGY. Pakistan Armed Forces Medical Journal, 70(3), 734-39. Retrieved from https://www.pafmj.org/index.php/PAFMJ/article/view/4615
Section
Original Articles