INCIDENCE AND RISK FACTORS FOR SCAR DEHISCENCE IN LOWER SEGMENT CESAREAN SECTION
Amina Akbar

Combined Military Hospital, Okara Pakistan

Sadia Zaineb

Combined Military Hospital, Okara Pakistan

Saira Mahboob

Combined Military Hospital, Okara Pakistan

Samra Khan

Combined Military Hospital, Okara Pakistan
Keywords:
Age, Anemia, Gravida, Incidence of scar dehiscence, Last born child, parity, Previous cesarean section, Risk factor
Abstract
Objective: To assess the incidence and risk factor for scar dehiscence in parturient with previous LSCS.
Study Design: Prospective, observational study.
Place and Duration of Study: Department of Gynecology and Obstetrics; department of Anesthesiology, Combined Military Hospital, Okara, from Jul to Dec 2018.
Methodology: After the approval of hospital ethical committee, 300 parturient undergoing cesarean section were included in our study. The outcomes were incidence and risk factors for scar dehiscence. SPSS version 20 was used to analyze data. Descriptive data was presented as frequency and percentage. Chi square was used to calculate significance and p-value less than 0.05 taken as significant.
Results: A total of 300 patients with previous cesarean delivery were included in our study. Our study has shown that no use of antepartum nutritional supplement (30.3% vs 66.7%), early term pregnancy, emergency LSCS (40.9% vs 8.1%), laboring patient (30.3% vs 4.7%) with duration of labor more than 24 hours (3% vs 0.9%) and inter-delivery gap (2.01years ± 1.05 vs 2.3 years ± 0.96) are independent risk factors for scar dehiscence in patient with history of previous cesarean sections, p-value <0.05. However parturient age, anemia, presence of co-morbidity, previous gravidity or parity, previous number of LSCS did not show significant difference between patient with or without scar dehiscence.
Conclusion: Scar dehiscence in setting of previous cesarean section fairly common in our population and high index of suspicion is required for timely diagnosis and management to improve maternal outcomes.
Downloads
Download data is not yet available.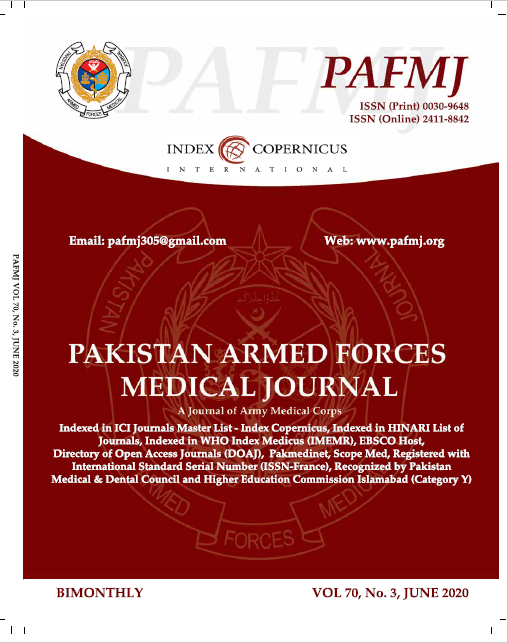 How to Cite
Akbar, A., Zaineb, S., Mahboob, S., & Khan, S. (2020). INCIDENCE AND RISK FACTORS FOR SCAR DEHISCENCE IN LOWER SEGMENT CESAREAN SECTION. Pakistan Armed Forces Medical Journal, 70(3), 862-70. Retrieved from https://www.pafmj.org/index.php/PAFMJ/article/view/4680
Section
Original Articles