ROLE OF HEART RATE REDUCTION WITH IVABRADINE IN LEFT VENTRICULAR FAILURE
IVABRADINE AND HEART RATE REDUCTION IN LEFT VENTRICULAR FAILURE
Keywords:
Heart rate, Ivabradine, Left ventricular failure
Abstract
Objective: To compare mean heart rate reduction in Ivabradine and placebo group in left ventricular failure
patients.
Study Design: Quasi experimental study.
Place and Duration of Study: Study was conducted at CMH, Kharian, from Jul 2018 to Dec 2018.
Methodology: 64 patients participated in the study. They were randomly divided into two groups of 32
each. One group was given Tab Ivabradine (10 mg twice a day) while second group received a placebo for a
period of 4 weeks. After 4 weeks each patient was evaluated and heart rate, systolic and diastolic blood pressure were recorded. Mann-whitney U test selected to compare heart rate and ages of both groups t- test used to compare systolic and diastolic blood pressure among both groups. Chi-square test used to determine the association of heart rate between two groups. A p-value ≤0.05 was considered significant.
Results: Median (IQR) heart rate was significantly lower in Ivabradine group 58.3 (4) as compared to placebo
64.1(1) (p<0.01). Systolic blood pressure (132.8 ± 3.6) was significantly lower in ivabradine group as compared
to placebo group (137.1 ± 4.5) (p<0.01). Difference in diastolic blood pressure was insignificant in both groups (p=0.55). There was a significant association between heart rate of 55-60 beats per minute and ivabradine use
(p<0.01).
Conclusion: Ivabradine is safe and efficative drug in reducing heart rate and systolic blood pressure for patients suffering from left ventricular failure. Early detection and management of left ventricular failure with ivabradine use leads to better prognosis of the disease.
Downloads
Download data is not yet available.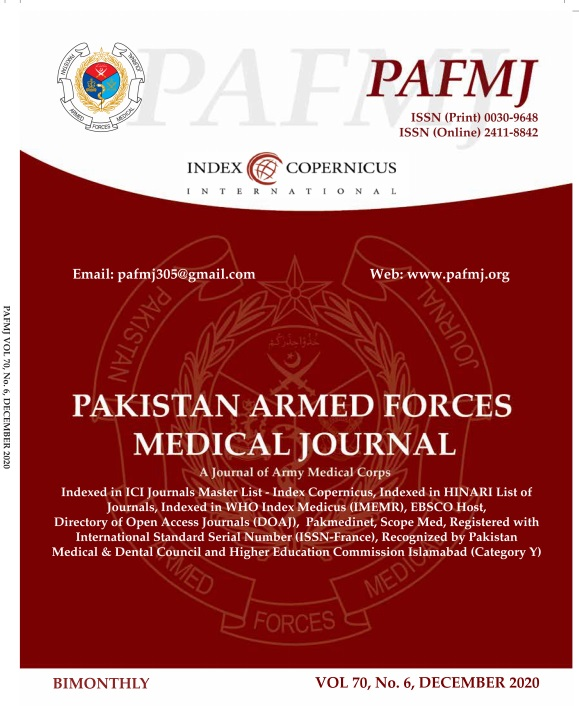 Downloads
How to Cite
Batool, S., Waris, J., Sajid, M. U., Nisar, S., Khan, I., & Mushtaq, H. (2020). ROLE OF HEART RATE REDUCTION WITH IVABRADINE IN LEFT VENTRICULAR FAILURE: IVABRADINE AND HEART RATE REDUCTION IN LEFT VENTRICULAR FAILURE. Pakistan Armed Forces Medical Journal, 70(6), 1839–42. https://doi.org/10.51253/pafmj.v70i6.4869
Section
Original Articles