A SURVEY REGARDING PROPHYLACTIC USE OF HYDROXYCHLOROQUINE / CHLOROQUINEFOR COVID-19 AMONG HEALTHCARE WORKERS OF PAKISTAN
Keywords:
Chloroquine, Chemoprophylaxis, COVID-19, Hydroxychloroquine
Abstract
Objective: To ascertain the trend of healthcare workers of Pakistan towards prophylactic use of Hydroxychloroquine/Chloroquine.
Study Design: Cross-sectional study.
Place and Duration of Study: Rawalpindi Institute of Cardiology, Rawalpindi, from May 2020 to Jun 2020.
Methodology: The online survey included Health care workers of Prominent Medical Institutes of Pakistan which were selected using non-probability consecutive sampling technique. The respondent"s identity was kept anonymous. All Healthcare workers, asymptomatic at the time of study were included. Those who were already COVID-19 positive, had any symptoms of COVID-19 or were hospitalized because of any illness were excluded from the study.
Results: Data collected from 500 Healthcare workers showed that 130 (26%) of them used Hydroxychloroquine /Chloroquine for prophylaxis. Hydroxychloroquine was consumed by 119 (91.5%), and Chloroquine by only 11 (8.5%). Furthermore, 61 (47%) used the medication only once, while 46 (35.38%) took stat doses and once weekly. The rest, 15 (11.5%), and 8 (6.1%) took medication at 3 weeks and 2 weeks intervals after stat doses respectively. Out of 130 Healthcare workers, 43 (33.1%) were still using the medication one week, two weeks, and three weeks apart.
Conclusion: In order to establish the prophylactic role of Hydroxychloroquine /Chloroquine effectiveness against COVID-19, clinical trials are direly needed and in the meantime Healthcare Workers of Pakistan need to keep in mind the lack of data regarding the efficacy of these drugs as prophylactic agents and also the potential safety concerns with their use.
Downloads
Download data is not yet available.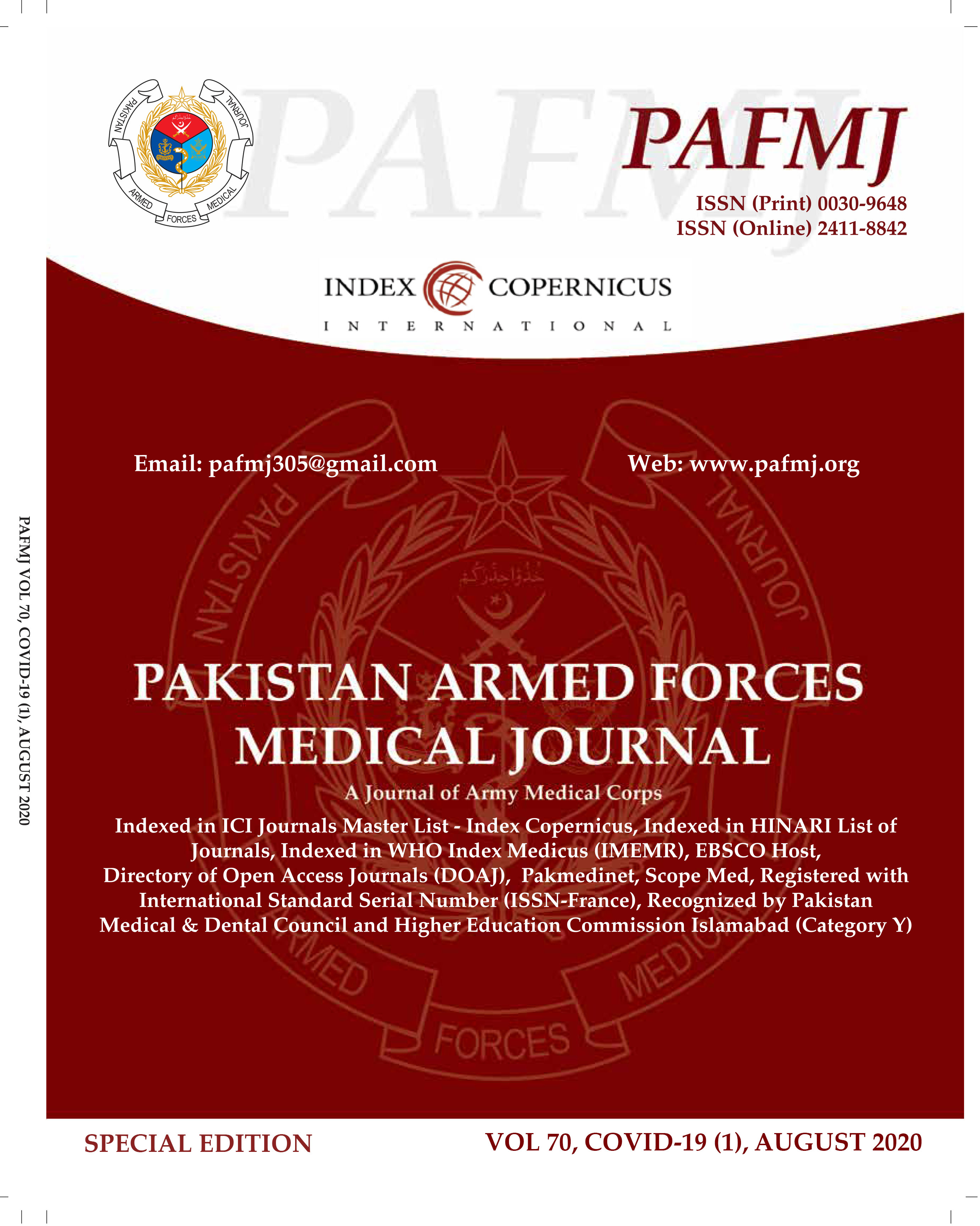 Downloads
How to Cite
Mirza, W. J., Javed, A., Siddique, M., Ghauri, H. A., Azad, M. A. S., & Ahmed, S. (2020). A SURVEY REGARDING PROPHYLACTIC USE OF HYDROXYCHLOROQUINE / CHLOROQUINEFOR COVID-19 AMONG HEALTHCARE WORKERS OF PAKISTAN. Pakistan Armed Forces Medical Journal, 70(1), S375–80. Retrieved from https://www.pafmj.org/index.php/PAFMJ/article/view/4937
Section
Original Articles