OUTCOMES OF VIDEO ASSISTED THORACOSCOPIC DECORTICATION VERSUS CONVENTIONAL OPEN DECORTICATION IN PATIENTS WITH STAGE II OR STAGE III EMPYEMA
Ibrahim Baloch

Combined Military Hospital/National University of Medical Sciences (NUMS) Rawalpindi Pakistan

Bilal Umair

Combined Military Hospital/National University of Medical Sciences (NUMS) Rawalpindi Pakistan

Asif Asghar

Combined Military Hospital/National University of Medical Sciences (NUMS) Rawalpindi Pakistan

Muhammad Imtiaz Khan

Combined Military Hospital/National University of Medical Sciences (NUMS) Rawalpindi Pakistan

Muhammad Shoaib Hanif

Combined Military Hospital/National University of Medical Sciences (NUMS) Rawalpindi Pakistan

Azfar Bilal

Combined Military Hospital/National University of Medical Sciences (NUMS) Rawalpindi Pakistan
Keywords:
Conventional open decortications (COD), Empyema thoracic, Video-assisted thoracoscopic decortication (VATD)
Abstract
Objective: To compare outcomes of video assisted Thoracoscopic Decortication (VATD) with conventional open decortication (COD) in patients with stage–II or stage–III empyema thoracic.
Study Design: Prospective comparative study.
Place and Duration of Study: Department of Thoracic Surgery, Combined Military Hospital, Rawalpindi, Pakistan, from Jun 2018 to May 2019.
Methodology: A total 60 patients underwent in this study. Patients of both gender who reported for decortication of empyema thoracic were evaluated. All patients diagnosed to have Stage II or III empyema with age 25-50 years were studied for outcomes. All patients were evaluated for operative time, blood loss, post-operative pain, pneumonitis, duration of airleak and post-operative drainage, duration of chest drains and length of hospital stay.
Results: Mean operative time in group-1 was 133.63 ± 8.55 min and in group-2 was 147.83 ± 10.36 min (p-value 0.037). Mean blood loss in group-1 was 296.66 ± 46.11 while in group-2 was 207.30 ± 53.81. Post-operative pain score on VAS for pain was 5.8 ± 1.7 for group-1 and 4.06 ± 1.4 for group-2 (p-value 0.032). Chest tubes were retained for an average of 5.58 ± 0.8 days in group-1 while 3.86 ± 0.8 days in group-2 (p-value <0.001).
Conclusion: Video-Assisted Thoracoscopic Surgery Decortication is superior to open decortication in operative management of Stage II and Stage III Empyema thoracic in terms of post op pain, duration of chest intubation, air leak and hospital stay of the patient.
Downloads
Download data is not yet available.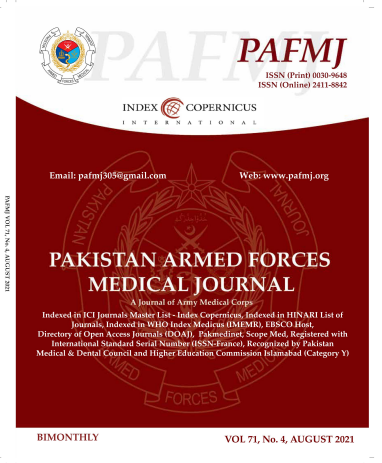 How to Cite
Baloch, I., Umair, B., Asghar, A., Khan, M., Hanif, M., & Bilal, A. (2021). OUTCOMES OF VIDEO ASSISTED THORACOSCOPIC DECORTICATION VERSUS CONVENTIONAL OPEN DECORTICATION IN PATIENTS WITH STAGE II OR STAGE III EMPYEMA. PAFMJ, 71(4), 1261-64. https://doi.org/10.51253/pafmj.v71i4.5436
Section
Original Articles