Aetiology, Clinical Presentation and Outcome of Patients Presenting with Acute Flaccid Paralysis in a Tertiary Care Hospital
Abstract
Objective: To determine the aetiology, clinical presentation and outcome of patients presenting with acute flaccid paralysis.
Study Design: Cross-sectional study.
Place and Duration of Study: Department of Pediatric Medicine, Agha Khan Hospital, Karachi Pakistan, from Jan 2015 to Dec 2019.
Methodology: Medical record of 150 children fulfilling the selection criteria were selected. The clinical presentations of the patient were recorded in terms of the following: fever, cough, vomiting, weakness, difficulty in swallowing, altered sensorium, changes in heart rate and blood pressure and difficulty in breathing. The outcome of children with acute flaccid paralysis, i.e. clinical improvement in symptoms, complete recovery or death during the hospital stay, was noted.
Results: The mean age of patients was 10.13±5.01 years. The most common disease at presentation was Guillain bare syndrome 55(36.7%), followed by viral myositis 37(24.7%). Weakness was noted in all patients (100%), fever and headache in
64(42.7%), vomiting in 25(16.7%), and difficulty in breathing in 19(12.7%). After treatment, some improvement was noted in 104(69.3%) cases, while 27(18.0%) patients had no improvement; residual neurological disability was noted in 19(12.7%) cases, and 3(2.0%) died during follow-up.
Conclusion: Acute Flaccid Paralysis (AFP) in children is a big challenge for physicians, and Guillian Barre Syndrome is the most common cause of acute flaccid paralysis in children. It almost invariably presents with weakness of the body.
Keywords: Acute flaccid paralysis, Aetiology, Clinical presentation, Residual neurological disability.
Downloads
Download data is not yet available.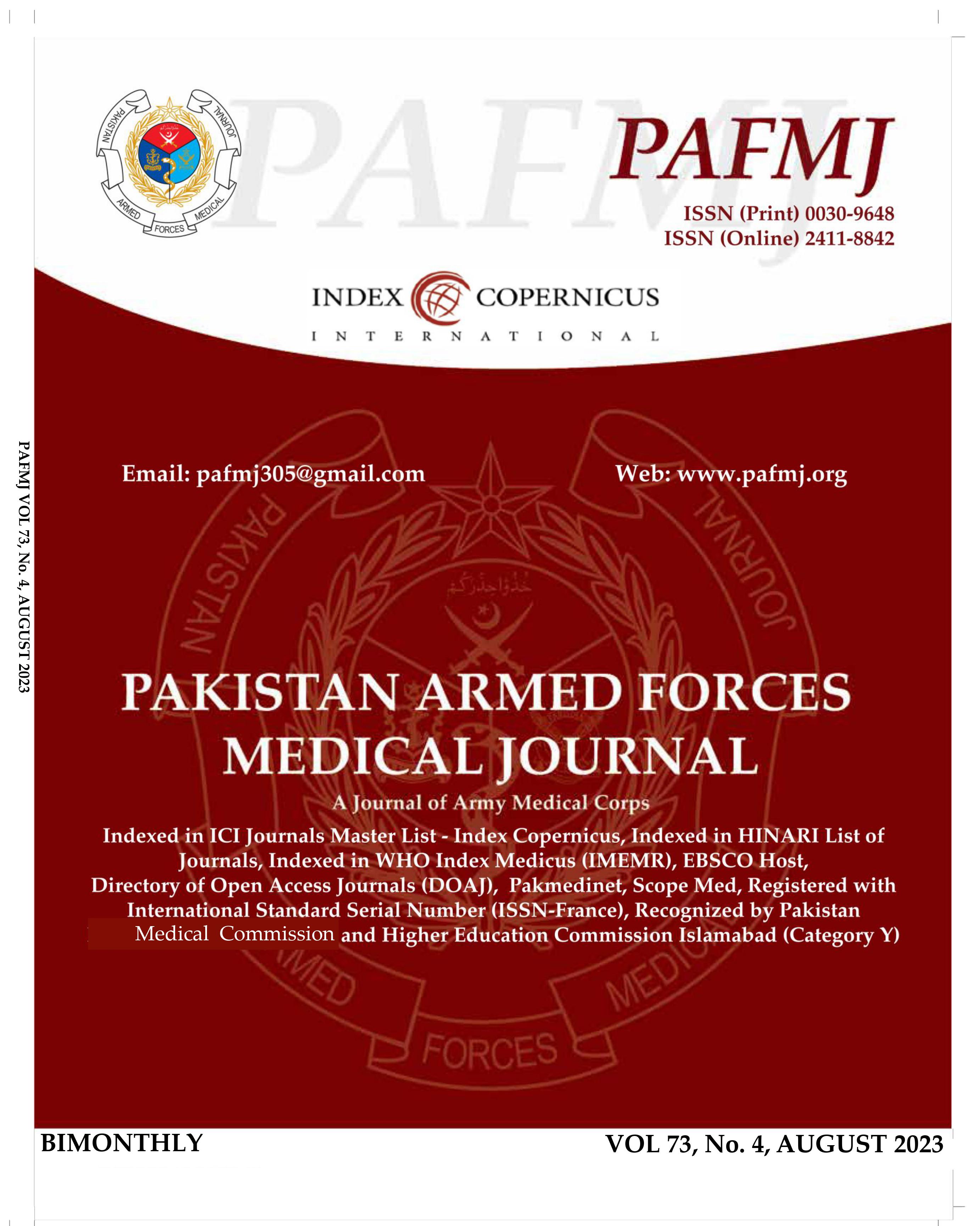 Downloads
How to Cite
Khalid, Q. ul A., Mukhtiar, K., Baloch, F., Iqbal, N., Ibrahim, S., & Chand, P. (2023). Aetiology, Clinical Presentation and Outcome of Patients Presenting with Acute Flaccid Paralysis in a Tertiary Care Hospital. Pakistan Armed Forces Medical Journal, 73(4), 996–999. https://doi.org/10.51253/pafmj.v73i4.5890
Section
Original Articles