PROCEDURAL ANALYSIS OF PERIPHERAL ARTERIAL STENTING � 37 PATIENTS AT AFIC/NIHD RAWALPINDI
Peripheral Arterial Stenting
Keywords:
Endovascular procedures, arterial occlusive diseases
Abstract
Objective: The objective of this study was to determine in hospital outcome of peripheral (excluding carotids and
coarctation of aorta) arterial stenting at AFIC/ NIHD Rawalpindi by collecting and analyzing retrospective data
from June 2007 to October 2011.
Study Design: Retrospective descriptive study.
Patients and Methods: We collected data from the medical records of 37 patients who underwent endovascular
procedures for occlusive arterial diseases at AFIC/ NIHD Rawalpindi from June 2007 to October 2011. Selective
angiography of patients was done, who were clinically suspected to have vascular occlusive disease. Details of
vascular territories intervened were collected and facts about various types of wires, balloons and stents used for
percutaneous interventions were gathered. Data was analyzed using SPSS version 17 and descriptive statistics
were used to describe the results.
Results: Mean age of the patients was 49.4 ± 15.4 years. Twenty five (67.5%) were males and 12 (32.5%) were
females. Sixteen (43%) patients had endovascular interventions to renal arteries, 10 (27%) patients to subclavian
arteries, 5 (13%) patients to iliac arteries, 4 (11%) patients to femoral arteries, one (3%) patient to popliteal artery
and one (3%) patient underwent stenting to vertebral artery. Conventional wires, balloons and stents were used
in most of the cases but provision of equipment was required in some cases. Biliary stents were deployed in 4
patients who required large stents. Strong muscles in lower limbs may crush or compress the stents. Either POBA
(Plain Old Balloon Angioplasty) or larger self-expanding biliary stents were preferred in this set of patients, with
over all good outcomes. No complication was observed in any patient during index hospitalization.
Conclusion: Percutaneous peripheral arterial intervention is a safe and effective modality of treatment. With
availability of appropriate equipment and technical expertise, this form of management can benefit a large group
of patients especially those who are considered high risk for surgery. 
Downloads
Download data is not yet available.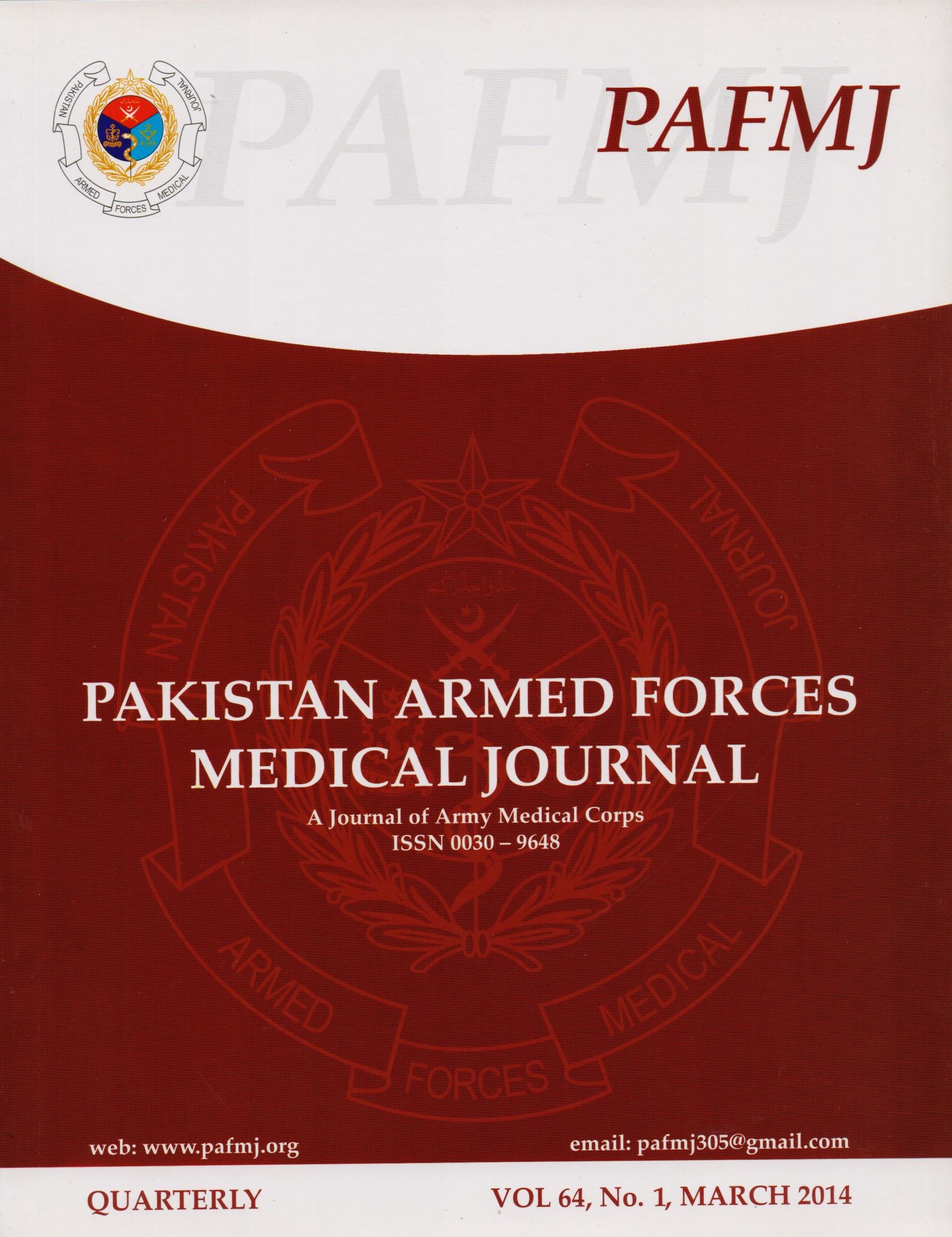 Downloads
How to Cite
Maken, G. R., Tayyub, F., Javed, A., & Saif, M. (2014). PROCEDURAL ANALYSIS OF PERIPHERAL ARTERIAL STENTING � 37 PATIENTS AT AFIC/NIHD RAWALPINDI: Peripheral Arterial Stenting. Pakistan Armed Forces Medical Journal, 64(1), 139–144. Retrieved from https://www.pafmj.org/PAFMJ/article/view/601
Section
Original Articles