THE ROLE OF WORLD THE FIGHT AGAINST COVID-19
Muhammad Nadir Shabbir

Central University of Finance and Economics, Beijing China

Kainat Iftikhar

Quaid-e-Azam University, Islamabad Pakistan

Mudassar Mustafa

Virtual University of Pakistan, Rawalpindi Pakistan

Muhammad Usman Arshad

University of Gujrat, Gujrat Pakistan

Imran Ullah

Central University of Finance and Economics, Beijing China

Mubashir Mustafa

PMAS Arid Agriculture University, Rawalpindi Pakistan
Keywords:
Biosynthesis, COVID-19 Nucleic Acid Testing, COVID-19 Serological Testing, Genetics, Mortality, Pathology, SARC-COV-1, SARC-COV-2, SARS CoV2 RT PCR, Vaccines, COVID 19
Abstract
In under two decades, the world has encountered three flare-ups of fatal Coronaviruses, including the ongoing pandemic of Coronavirus Disease 2019 (COVID-19) in China. COVID-19 represented a crisis of worldwide concerns, and cases have been accounted for more than 200 nations/districts that came about in wellbeing, lives, and monetary misfortunes. China's financial development is anticipated to tumble to 5.6% this year, the International Monetary Fund (IMF) anticipated that arrangement venture and expense strategies to execute $3.3 trillion and contributes further $4.5 trillion. IMF conjectures develop from 3.7% of worldwide total national output (GDP) in 2019 to 9.9% in 2020. Gross domestic product proportion anticipated from 3.0% in 2019 to become 10.7% in 2020, the US proportion expected to increment from 5.8-15.7%. There is a desperate requirement for local and universal co-activity to stretch out hands to forestall further spreading of COVID-19. The IMF has reacted to the COVID emergency with exceptional speed and greatness of financial aid. This paper shows the response of the world against COVID-19. How the countries are helping each other to control the spread and discovering the cure of this virus. Asia has survived usefully and also defending the second wave of virus, but on the other hand, the Europe is the most infected region with the highest rate of death. Why Asia is near to win this fight with a stable economy, but the Europe is not, instead of this the economy is going to be crashed. These questions raises to the Economy, Behavior and...........
Downloads
Download data is not yet available.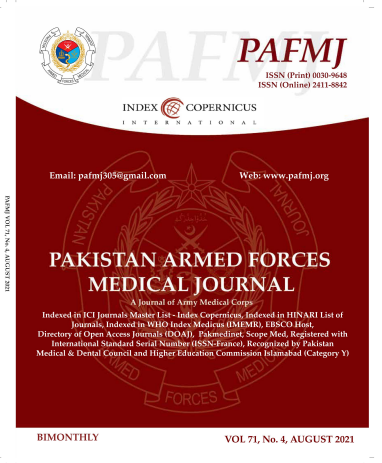 How to Cite
Shabbir, M., Iftikhar, K., Mustafa, M., Arshad, M., Ullah, I., & Mustafa, M. (2021). THE ROLE OF WORLD THE FIGHT AGAINST COVID-19. PAFMJ, 71(4), 1489-95. https://doi.org/10.51253/pafmj.v71i4.6256